[Game] Clone Evolution – RPG Battle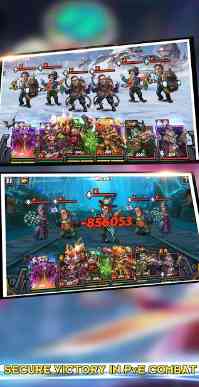 Clone Evolution : The future of science fiction and clone themed card games has come to the Google Store!
Download this amazing idle RPG PvP fight battle game to begin commanding the evolution of your next generation clone army today!
CLONE EVOLUTION BACKGROUND
It's the year 2045 and on the borderlands of South America's Atacama Desert one of the expert scientists teams under the command of the evil F-Tec are presenting their findings of a series of never seen before biological experiments to senior F-Tec officials.
Within the capsule surrounded by the crowd, stands a familiar figure, one of the clones comprised of the strongest genes ever synthesized in the history of cloning. As the onlookers stare intently, the eyes of the mutant inside slowly begin to open…
The news of F-Tec's success in developing this threat of mutants to mankind has now spread to all corners of the world. Fortunately, a former F-Tec scientist has been working from the inside to uncover this conspiracy and has all the evidence he needs to conduct his own research and develop the means to defeat the clones and to resist the company's evil plan in the battle for dominate the evolution.
Are you ready to take over our scientist team and start creating your own mutant army of clones and mutants to destroy this enemy and win war of clones from your gene secret lab?
FEATURES OF THIS FUTURIST SCI-FI IDLE BATTLE/RPG ACTION CARDS GAME
Automatic system of intelligence: Free up your hands and enjoy the fun as the system takes the strain!
As progress continues in the background, put your trust in this action game to receive rewards, train and evolve your clones and develop your legion to fight on your behalf, even when you're away from this idle RPG card game!
A.I. Gene cloning army: The most comprehensive gene bank in the universe is ready for you to explore. Enjoy the science in this evolution RPG battle games with your hero fighter.
The intelligence and evolution gene pool contains six clone combat attributes, weapons and more than a hundred genes of numerous historical heroes including Alexander and Pharaohs who are eager to do battle and fight in the arena.
Multi-line idle RPG development: Equip your clones army with a chip from our dual system to success in the arena of this idle war of clones!
Receive awesome equipment, special access and generous packages to aid you to collect and create unique and invincible heroes with fearsome, unrivalled combat attributes and evolution idle rpg army weapons. Plan your battle strategy, attack and destroy the war boss and win the clone battle against the F-Tec artificial intelligence.
Immersive strategic gameplay: Endless PVE/PVP Sci-Fi idle battle & fight strategy
Wisely select the composition of your clone army, evolve its skills and weapons that will secure victory and challenge F-Tec's impending domination of the world with your attack! Compete with players everywhere to determine who will lead the world's fightback of clones after this idle war!
Unrivalled aid: Register and log-in to receive colossal bonuses!
Download and log-in to Clone Evolution today to take part in thrilling events and missions to begin calling your heroes to the ranks of your awesome, F-Tec opposing army of mutants as well as receiving legendary techy equipment to help you in your idle Sci-Fi war campaign quest.
Select and evolve your best clone fighter from your cards deck, plan your evolution battle and combat strategy and strike with your mutants in the arena of this idle RPG army. Take part in the ultimate duel against the F-Tec corporation and master the future of evolution science! Are you ready for a science fiction fight?
Clone Evolution user reviews :
One of the best Idle Heroes clones. Game is free2play, but VIP3 is required($25). Another problem – the game is poor optimized. You should wait 2-5 seconds when location or interface will load and this is so nerving, because the gameplay of this type of games is all about opening different interfaces. Actions that you can do in Idle Heroes in one minute, you will do 2-5 there. Usually, if gameplay is OK, I put 3 stars for Idle Heroes clones, but I can't put this rate there, because of terrible optimization.
Great time waster that ends up dragging you in to play every day. Casino drops are too rare, I've thrown 1000 at it to not pay me the purple. After paying to get to vip lvl3 you need not pay any more to stay competitive.
Very good game. But after last update no longer loads.now. I'm.missing out on two things I bought everyday I can't play.
Contact developer :
Download Clone Evolution from Play Store
Leave your feedback regarding Clone Evolution
Get more android apps/games/updates
Subscribe to our mailing list and get new android apps / games and updates to your email inbox.
Thank you for subscribing.
Something went wrong.