[Game] Conspiracy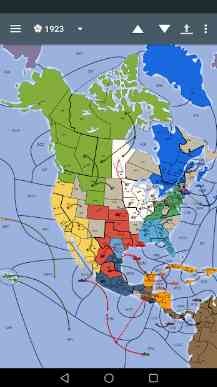 Conspiracy is a Diplomacy-like online turn-based strategy game, developed by Diplomacy fans for Diplomacy fans.
Download Conspiracy and Europe will soon be yours… unless you turn your back on your allies!
You only need one Google account to enjoy the Conspiracy experience on all your mobile devices.
WARNING
This is a game based on the "negotiation" between the players of a game.
No notion of chance comes into play, only your talents as a diplomat and tactician will be challenged.
This game progresses when all players have entered their orders (with a deadline)
With the Conspiracy strategy game (in Classic map),
Control one of the great European empires at the dawn of the 20th century.
Give orders to your troops on each turn after conciliation with your allies.
Get support from your allies to help your expansion.
Betray your allies when they don't expect it.
Conquer new centers to enlarge your army.
Get 18 centers to win the game!
Check your statistics progression as well as your contacts'.
Amazing Conspiracy features:
Create a game and set all its parameters.
Chose between 5 different maps
Join existing games from friends' invitations or among available games.
Smooth & intuitive map browsing
Negotiate with one or more players with the in-app messenger.
Create your avatar.
Add players to your contacts.
Check your statistics and rankings.
Check your contacts' statistics and rankings.
Receive notifications for all game events.
Give orders to your troops and see them on the map.
Smooth & quick browsing in the game history.
Play up to 5 games simultaneously.
Observe up to 5 games simultaneously.
Languages :
English
French
Spanish
Italian
Russian
Portuguese
Turkish
German
Polish
Conspiracy user reviews :
Great implementation. It would have been nice if you put 'Diplomacy' in the title so fans can find this app easier. Also a Wilson implementation would be nice, and maybe support for 3rd party maps, but it's great as it is!
nice game. it would be nice though if one could choose the number of payers in the game
Great game, great concept, also colourful so you don't get bored while playing, it is also not much complicated, simple rules. I just have a request that you could use country flag emojis, that would be great.
There really ought to be a note in the negotiation table when a player is replaced, otherwise a perfect implementation of a great game.
Old-time board game player here and just found this! Absolutely love it – very close to old Diplomacy game I used to play years ago. Simple, hard-core strategy with Machiavellian politics!
Couldn't get past the tutorial which didn't actually demonstrate how to make the moves. The moves you could select had little icons but no words to describe what they are. It would be better if the tutorial highlighted which buttons you have to press rather than having you faff around trying to work it out yourself.
Badfrog

There is a "i" icon in the upper left corner. You just need to click on it and it explains how to make each move. Have fun
One comment says, "The controls are confusing and the game does a horrible job of explaining the rules." This couldn't be more wrong. There's a tutorial in the settings menu and if that doesn't help you enough they have a link to a more detailed guide on their website.
Great game. I really like the idea and have had lots of fun so far. Wish I could play in more games, but I understand how keeping a limit makes the games a better quality
it's a really good tactical game, I love that they don't use in-app purchases and don't push adds on you, only donations. however I think it'd be ok if they would add an turn on adds setting for those who want to support you but don't want to pay out of their own pockets. but yeah a really good game, totally recommended. also would it be possible to add a feature where you can design your own units look somehow, I think that would be an amazing add to public games.
I love this game and I believe it is one of the best games available on the play store. just a few suggestions for maps which I would really appreciate if you consider them. Would you possibly add any of these into the game? – Napoleonic Europe (with a few more provinces than normal europe map espiacly in Germany) – Colonial Africa 1880 or 1890 start (at the time of the "scramble for africa" would be an amazingly fun adittion to this game) – Cival war USA for 1v1 – World map in 1910 or 1920
Contact developer :
Download Conspiracy from Play Store
Leave your feedback regarding Conspiracy
Get more android apps/games/updates
Subscribe to our mailing list and get new android apps / games and updates to your email inbox.
Thank you for subscribing.
Something went wrong.