[Game] Crowd Sort – Color Sort & Fill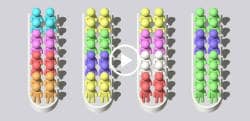 Crowd Sort is a fun and challenging puzzle liquid game!
Try to sort the colored guys in the tubes until all colors are in the same color tubes? it's like water sort puzzle. Be satisfied and entertained as you see the swarm of crowd move quickly to their color tubes.
FEATURES:
Easy To Learn, Hard To Master!
One tap color sorting control.
Unlimited corted undo!
Extremely smooth puzzle gameplay! No need to wait for the crowd to finish moving, you can queue up multiple moves with that big brain!
Night Mode. You can enable/disable it from the settings panel.
A lot of unique sorting levels.
Easy to play, difficult to master!
No time limit puzzle game, just enjoy the game and play sorting puzzle as long as you want.
HOW TO PLAY:
To begin sorting – Tap any lane to move the crowd to another color tubes,
The rule is that people only move to the other lane if it is empty or they can see the same colored crowd runners at the end of the new lane.
If you get stuck or misclick while sorting, you can always undo your move or restart the puzzle game level!
Enjoy and watch the hordes of tiny people collide and interact as the flow like water color sorted from one lane to the next color tubes.
NEED HELP? HAVE ANY QUESTIONS?
Support email: pizzartgames[at]gmail.com
Crowd Sort is a fun and challenging brainteaser like sorted liquid game! Tap to swarm of crowd move quickly to their tubes. Download sorter brain teaser game! Sort it now!
You may also like
Crowd Sort user reviews :
Game does not respond to the touch either at all or only after poking it hard several times. I uninstalled and reinstalled but it didn't fix the problem. Looks like a great game but I'm going to uninstall again.
The game is great. I love the animation and the "music" each move creates. In fact, I was ready to pay for no ads (they are a bit excessive, imo) but when I hit the button I was taken straight to the "you are committing to pay" screen with no indication of how much it cost. So I backed out. How much does it cost?
CASUAL AZUR GAMES

Hi! Thank you for choosing our game! To check the price you can go back to the store and find the app page. The info you seek for must be written in the description of the app.
Game is not bad, but the long ads in between take much more time than it takes to play one round. I clicked the no-ads button, but there's just a button to agree to give your money to them, no info about how much they will take.
CASUAL AZUR GAMES

Hi! We are glad you gave our game a try. To check the price of "No ads" version you can go back to the app page in the store, naturally the price is written in the description of the app's features.
This is a delightfully, deceivingly, simple game. Given a set amount of spaces to move, you simply sort the differently colored little people into columns made up of the same color. It can be quite challenging, however the game is quite forgiving and allows much latitude, without overwhelming one with ads. Quite pleased.
CASUAL AZUR GAMES

Thank you for your feedback! We're doing our best to make the game even better. Stay tuned for the updates!
One of the very few games I have kept on my system for so long. Reasonable amount of ads and they don't interrupt the game as your playing. Good game to keep you thinking ahead for the next move. Good mental exercise for me at 70 yrs old.
CASUAL AZUR GAMES

Hi! We are truly happy that you enjoyed our game! Thank you so much for your evaluation. Your praise will help us to create more interesting games
I can't say enough about these little guys. They are fun, funny and they work hard to get in place. Really love this game… but since updating the game not too happy about it. Bring back the mulitiples ppl. I find the singles boring
For some reason I like to watch the little people walk from here to there. And at the end if you look close, the people dance. I've watched colored balls drop, birds fly and now little people walk. It just keeps getting more stimulating. Thanks
Found this game and so hard to put down,only on level 86 but it's a game worth paying to stop the ads,only one I've ever enjoyed enough to pay.Well Done.
I am surprisingly good at colour sorting. This game just adds a different slant on sorting. Love the crazy little dudes and their dances! Ads are annoying but that's how all games are…
CASUAL AZUR GAMES

Hey! Our team is happy you like the game Contact us info[at]aigames.ae and we will consider your suggestions.
Contact developer :
Video :
Download Crowd Sort from Play Store
Leave your feedback regarding Crowd Sort
Get more android apps/games/updates
Subscribe to our mailing list and get new android apps / games and updates to your email inbox.
Thank you for subscribing.
Something went wrong.