[Game] Conceptis Hashi
 world of solitaire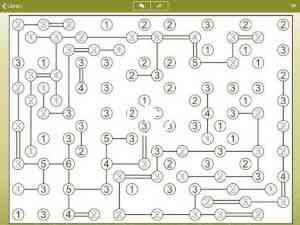 Hashi are addictive bridge-connecting puzzles which were invented in Japan.
Using pure logic and requiring no math to solve, these fascinating puzzles offer endless fun and intellectual entertainment to puzzle fans of all skills and ages.
Each puzzle is based on a rectangular arrangement of circles, where each circle represents an island and the number in each island tells how many bridges are connected to it. The object is to connect all islands according to the number of bridges so that there are no more than two bridges in the same direction and all bridges are interconnected enabling passage from any island to another.
To create a bridge simply swipe your fingertip between two islands. The game also features highlighting options, helping see in which directions bridges are allowed and whether an island segment is about to become isolated.
To help see the puzzle progress, graphic previews in the puzzle list show the progress of all puzzles in a volume as they are being solved. A Gallery view option provides these previews in a larger format.
For more fun, Conceptis Hashi includes a Weekly Bonus section providing an extra free puzzle each week.
PUZZLE FEATURES
90 free Classic Hashi puzzle samples
30 extra-large puzzles bonus for tablet only
Extra bonus puzzle published free each week
Multiple difficulty levels from very easy to extremely hard
Puzzle library continuously updates with new content
Manually selected, top quality puzzles
Unique solution for each puzzle
Hours of intellectual challenge and fun
Sharpens logic and improves cognitive skills
GAMING FEATURES
Concurrently playing and saving multiple puzzles
Puzzle library sorting and hiding options
Graphic previews showing puzzles progress as they are being solved
Unlimited Undo and Redo
Highlight allowed bridge directions
Highlight bridge segments
Optional bridge error warning during gameplay
Check puzzle
Track puzzle solving times
Backup & restore puzzle progress to Google Drive
ABOUT
Hashi have also become popular under other names such as Bridges, Chopsticks and Hashiwokakero. Similar to Sudoku, Kakuro and Slitherlink, the puzzles are solved using logic alone. All puzzles in this app are produced by Conceptis Ltd. – the leading supplier of logic puzzles to printed and electronic gaming media all over the world. On average, more than 20 million Conceptis puzzles are solved each day in newspapers, magazines, books and online as well as on smartphones and tablets across the world.
Conceptis Hashi user reviews :
Nice puzzles. Even the easy ones make you think at least a little. Hard puzzles really take some work, and you can purchase many more puzzles, some large enough for tablets. Controls work the way they're supposed to. Game functionality is very good,.
One of the better versions of this always challenging game. 2. Less showy, more traditional (probably. How would I know?) Anyway, I like it, and I still give it give stars.
This puzzle game is a nice complement to the Conceptis Sudoku puzzle games. The user interface is simple and intuitive like all the other Conceptis puzzle games. The ability to highlight a connected path via long press is especially helpful for larger, denser puzzles. The puzzle difficulty ratings are represented accurately. Hashi is a great way to pass time while still exercising your brain.
Great fun, doesn't take too much time and involvement. Good for short term time filler.
The hard puzzles are not solvable by logic alone, guessing is required. There is a solve option, but no way to indicate a next step. There are much better apps for Hashi available.
Conceptis Ltd.

Thank you for your feedback. Our Hard puzzles are harder than most other apps and that's why you think that guessing is required. However, all puzzles can be solved using logic alone. In case you are stuck on a puzzle please send us a screenshot to support[at]conceptispuzzles.com and we will explain how you can proceed without guessing.
Great app, quite minimal but it has tons of puzzles. They have a wide range of difficulty and a lot of replay value, so it's easy to spend a lot of time on the app. Haven't had any issues with controls, and the ui is pretty intuitive. Also not many ads :D. Definitely recommended!
It has few free levels and then you have to buy extra levels to play more. But it's OK because passing those levels may cost you weeks.
Very good game for keeping the mind busy, the graphic is simple, controls precise, not too much ads intrusions.
Simple rules. Calming play. Like the timed games for self-competition, beating my own best time! I wish there are larger, more difficult boards. Overall good free game. I ran out of boards because I don't pay for additional game packs.
This app is so well made. The UI is super intuitive, the puzzles have a lot of replay value, and the expansions are reasonably priced.
Good game. Well designed. Recommended even to those who don't know it if you like these types of games.
Contact developer :
Download Conceptis Hashi from Play Store
Leave your feedback regarding Conceptis Hashi
Get more android apps/games/updates
Subscribe to our mailing list and get new android apps / games and updates to your email inbox.
Thank you for subscribing.
Something went wrong.