[Game] Crush The Castle
 creative destruction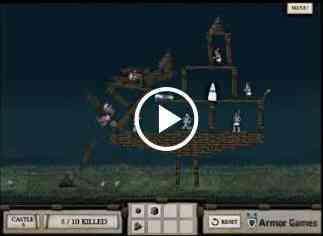 When it comes to ruling a kingdom, you can sway people with kind words and generous deeds, or you can flatten them with a massive trebuchet.
Just tap to launch your projectile of choice and aim for glory… or in this case, shattering intricately balanced castles and flattening their armies and royalty. With over 100 levels, skins to unlock, ranks to attain, and ammo ranging from the humble bolder to the devastating black hole, Crush the Castle is tons of medieval castle crushing fun. Let the Crushing Begin!
Crush The Castle user reviews :
I remember playing this game a lot growing up. I would pay for no ads if that was an option, maybe consider adding that as an option and maybe added Google play achievements.
I've just cleared all castles with gold medals and here's my experience: I agree that the weapons have been nerfed in power, which is why I had more trouble with certain levels and others relied greatly on luck (if you want gold). It still looks the same and I still love it overall, but it didn't feel as powerful as I recall. Ads weren't a problem, as I just turned wi-fi off, so it just took patience to get through the maps. Browser version was definitely better, but this one isn't bad.
If you ever played the original crush the Castle, this will satisfy the urge. However it is a far cry from the original. Less gameplay more adds.
This is the amazing game I played when I was young that Angry Birds idea was stolen from. Throwing something and destroying a structure originated from this game. Thank you armor games for creating a masterpiece. This is the original Angry Birds!
I loved the original, but this has a ton of things I'm not a fan of: -there's no way to mute audio, which I do in most mobile games to enjoy other media like podcasts -ads can't be avoided. I'd have thrown money at this game to get rid of them -sometimes the projectile clips through parts of the castle. Inconsistent physics like that make this a lot less fun That all said I'm still intent on finishing everything in it, so it's still a good game. Just…. Leaves a lot to be desired.
People dont understand that you can just turn off your internet if you are really bothered by ads that much. And also people dont understand that this is also in a way a puzzle game because you have to figure out how to destroy the castle with the least amount of shots as possible. I eventually got all gold medals which was a fun challenge. The only issue i had is the UI is really terribly optimized for phones, waay too small and barely usable
This game is pure nostalgia. I absolutely love everything about this game, from the castle designs, their neat and clever titles, to the different projectiles we can use.
I've played the computer version a lot and this is almost just as good. Idk what all the people who are whining talking about as the amount of ads are perfectly fine. Though it'd be nice if you had way bigger castles and the vortex had a way better radius. Other then that I'm in love with this game again! Good job guys
A great walk through nostalgia getting to relive a once PC Classic; it's a good way to casually pass the time, and can be quite amusing when you get your ammo launched just right. It also can be rather strategic and make you think in order to pass some levels…besides improving your fingertip-tap-eye-coordination. Regarding what a Jack Brown reviewed about the "Invention of the musket" level, I found that with both that one and the "Flintlock" level, you have to throw your first load of large cluster balls to the ground and get them to roll up to the first obstacle, then with your second shot, get your fused bomb to butt up against the boulders, hence, like a flintlock or musket, you fire your boulders/bullets/shot into the castle, of which is out of reach for the trebuchet alone. That is something I noticed; I'm pretty certain the level names give you hints on how to proceed.
Contact developer :
Video :
Download Crush The Castle from Play Store
Leave your feedback regarding Crush The Castle
Get more android apps/games/updates
Subscribe to our mailing list and get new android apps / games and updates to your email inbox.
Thank you for subscribing.
Something went wrong.