[Game] Darkest Winter – Last Survivor
 free apps android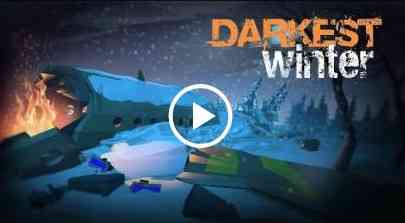 Try to survive in a blood freezing zombie action game Darkest Winter: Last Survivor.
All around you there is only snow and the remains of an aircraft you were lucky to buy a ticket on. Your blood runs cold when you see fluorescent eyes watching you from the twilight. Should you build a shelter or take up arms? Every decision matters if you want to survive in this boundless cold world. Gather resources, build up a camp, equip your character and set off exploring new territories. You'll meet wild animals, zombies, mutants and other players. Will you just pass the other survivor by or fight with them for the last piece of meat? It's you who makes the choice!
HUNT WILD BEASTS AND ZOMBIES
A good zombie is a dead zombie. Even better if it has some loot in its pockets. And wild animals will supply you with meat and leather.
BATTLE WITH OTHER PLAYERS
This cold world is not a place for compassion. Defeat other players to grab their goods!
BUILD UP A CAMP AND EQUIP YOUR CHARACTER
Create a base to produce better weapons and equipment and store food and resources. Return to the camp to get some rest and get ready for new adventures
EXPLORE NEW TERRITORIES
Get to the most distant corners of the snow forests, where you will meet more dangerous enemies and find more precious resources!
SURVIVE!
Hunger and freezing conditions. Wild beasts and ruthless monsters. Treacherous attacks from other players. Prove that you can get through all these dangers and survive!
Darkest Winter user reviews :
You can only play each area once a day so there is nothing to do in this game. It takes 24 hours for them to reset. It's like its half finished. One of the timed levels popped up and it had no resources, no enemies, and one chest with a single object in it. After level 10 it takes hours to craft things like an iron bar. I wouldnt even call this a game. It's like they started to make a game and then stopped and released it. Was this meant to be a beta?
Would have been nice if It was OFFLINE. Why do u need to connect it online? Now look.. Its not even doing its job when attacking or picking an item.. Its delayed and the action button is really not working. Make it OFFLINE..or fix this BUG. U got a lot of BUG!!
I like it! But the game is buggy. Can't pick up, hit mobs most of the time and some quests are not counting. Glitchy, died once because can't hit zombies. Can't open my own chest most of the time.
Pretty good survival game. Supposedly in parallel universe to game of thrones. The controls are sluggish and the character kind of slow. A work in progress.
the game is good, i like to play it for hours, but there is a battery drain problem in game! i set graphics to low, then played just 5 minutes, it used 9% of my battery.even more that heavy games like pubg. its not good. really I like to play game but with this problem, i cant. i dont want to. please mr developer, fix this….
Things wont open easily, attacking button doesnt work half the time. Just a few bugs but seems like a really good game to play
Extremely buggy and very frustrating to try and play, enough bugs to make me hard it after 5 minutes.
Game play is slow, graphics are good,, need to be able to move and build things easier, when buying things need option to buy multiple insted of just 1,
Awesome game with unique graphic but control not responsive enough. Gathering & crafting was hard because of that. Please kindly fix this.
It kept glitching when trying to attack and pick up items…
So crafting will take for EVER!! If you want to waste your life away play this.
Kindly fix the game to improve the graphics of the game Nice game, please work on it a bit
Has a potential, needs lots and lots of improvement, pls keep up.
This is a very nice game I like it a lot
Contact developer :
Video :
Download Darkest Winter from Play Store
Leave your feedback regarding Darkest Winter
Get more android apps/games/updates
Subscribe to our mailing list and get new android apps / games and updates to your email inbox.
Thank you for subscribing.
Something went wrong.