[Game] Death City Zombie Invasion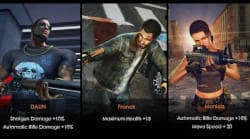 The virus broke out and a mutation accident struck suddenly.
P City is a quiet and peaceful town, but this is only the past. Now it is the paradise of the dead, the forbidden place of the living. You will play as a survival man, and use the weapon in your hand beat out a road to survival for you and your companions.
You will have two companions and join them to make a road to survival. In order to survive, cooperation is essential. Sometimes you need to take some dangerous work, but this does not mean that your companions are lazy, they are also struggling to survive.
Fortunately, this is not a desperate situation. The DNA of zombies can be used to strengthen your body and unlock stronger weapons. These will help you become more and more brave and stronger! Don't forget to upgrade and strengthen your weapon after each battle.
The environment is always complex and varied. Cities, rainforests, ruins, highways, every new scene will give you new experience. Every new challenge is a new opportunity. The weak will die, the strong will only become stronger!
Beat out a road to survival, survive to the end. Baptize the zombies with a torrent of iron and rage! God forgot to forgive the sins of zombies, let us do it ourselves.
Game features:
Refreshing zombie gaming
HD city survival map
Rich story dialogue
Exciting BOSS challenge
You may also like
Death City Zombie Invasion user reviews :
Nice game, good controls & graphics. The reason why I give 4 stars its beacuse at the "Hospital stage" its stuck & it can't go on. I've also noticed other players are having the same problem & the developers of this game are quite doing nothing its very disappointing. Oh wait a sec I'll reverse my 4 stars to 2 for all the trouble & for not responding until further notice.
Great game , lots of fun , and you don't have to spend money to win! This game is great however there's a feature I'd like to see in future updates like a co-op mode where you can fight zombies with other players ! Just a suggestion but if you added it I'd appreciate it
I downloaded level 5 but I'm unable to play the stages. Please rectify this problem before I delete your game from my because I wasted alot of data to play this game n I enjoyed it so far until level 5. It takes forever to load n it doesn't open up for me to play the first stage.
This Zombie Virus Game is better than other zombie virus games, but in this game last two chapters don't open. Kindly solve this problem. After solving this problem, this game will be best game from all other games, and then I will give it five stars.
This is a great game and a more updated and new version would be nice in the future but u should be able to purchase weapons.
Game is good, nice graphics but there's a lot to improve. I not sure but "investigate the hospital" seems dead end to me. Cant play it no more
My game is froze at chapter 5 and when I try to play it just freezes everytine for weeks now. Great game until I reached chapter 5
The game is good to keep your mind right when you are bored at home….Try it because it is good..
This was the first game of its kind that I first played and I love it today as much as yesterday. Thank you for keeping this one alive. I love it. Way to go. Keep up the great work.
i thought it was in the other box not sure what i did prior to this hopefully 1st to read that one as well as this one but if not I'll sum up what i said in a few words it's a great game with good graphics try it out most won't be disappointed
Game was great up to level 5. After I downloaded the stages I am unable to play it.
This game is awesome. I like this game. No 1 zombie game. Graphics is very high. Has lot of fun. A big story. Thanks for made this game. I give 5star
This is Offfline game and it provides lot of enjoyment as well… This is really a story based game and well as with good graphics… Best offline zombie shooting game.
the game is fun but it cost so much to upgrade weapons with very little returns.. for example…. im asked to upgrade my weapon for the next mission…$6,000 to upgrade and the winnings are only $440. what gives????? its almost too hard to play cuz you run out of money trying to upgrade guns. i had to upgrade my gun 6times in one mission. thats way too much!
Contact developer :
Download Death City Zombie Invasion from Play Store
Leave your feedback regarding Death City Zombie Invasion
Get more android apps/games/updates
Subscribe to our mailing list and get new android apps / games and updates to your email inbox.
Thank you for subscribing.
Something went wrong.