[Game] Dragons – Rise of Berk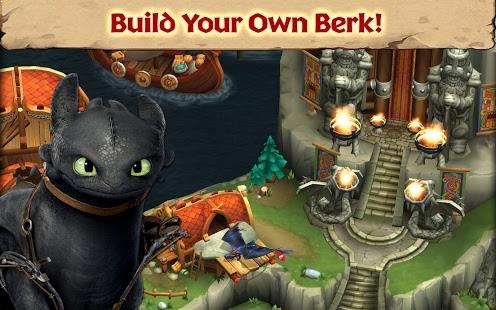 Build your OWN Berk!
Rescue, hatch and train your favorite DreamWorks Dragons! Explore uncharted lands in a vast Viking world!
Join Hiccup, Toothless and the gang to protect your village from the mysterious strangers that threaten peace on Berk. Who are they? And, what do they want from your harmonious homeland? Train your DreamWorks Dragons successfully and they'll reveal new powers that will help to ensure the future of your island.
Remember…it takes a village…and DRAGONS!
Features:
Discover 12 of your favorite DreamWorks Dragons from the movie, including Toothless, Stormfly,Hookfang and Skullcrusher
Collect and grow 18 different Dragon species, like Deadly Nadders, Monstrous Nightmares andTyphoomerangs
Explore 25 unique islands throughout the Viking territory
Complete missions with all the characters from DreamWorks Dragons
Stunning visual & audio effects with 3D animations
This is YOUR Berk. It's time to RISE!
Please note: Rise of Berk is completely free to play but offers some game items for purchase with real money. If you choose not to use this feature, you can disable in-app purchases in your device's settings.
© 2014 Ludia Inc. 'How to Train Your Dragon 2' © 2014 DreamWorks Animation L.L.C. All Rights Reserved.
Also see our list
Dragons user reviews :
It is a great game, I love it, but requires a lot of work. For me is the best game I ever played. And please don't make Light Furry for free
Ludia Inc.

Hello! I'm glad to hear you are enjoying our game; we appreciate that you took the time out of your day to share your thoughts with us.
Sorry guys, this game had potential but it's either pay up or get bored in 10 minutes. I would have gladly supported the game with some bucks, but it's not well deserved when paying to win(could call it pay to play tbh) is not a choice, but a must. Having to pay monthly for Light Fury and having her removed if you stop the subscription is a bit of a scam, don't you think? Especially for a game that functions exactly like the other 3000 free dragon games on playstore, but with different design.
Ludia Inc.

Hello kaleido4, I am sorry you're having such a negative experience, but I want to thank you for your review. We are forwarding your review to the development team, but if there's anything you want to add or would like help with please reach out to us at dragons[at]ludia.com. Thank you.
Hello!The game itself is amazing,I must say.It doesn't take time to get rare stuff but it's quite pay to win most of the time.And in-game items are wayyy too overpriced,for example 3 pears or the cost of some speed ups.But this is not the problem,I can't get into the game anymore,I don't know what is wrong,it worked just fine but now when I click on the game it loads a bit then closes,I tried a lot of things but it just doesn't work.Could you fix it? Do I have to reinstall it?
Ludia Inc.

Hello squalicorax, I'm sorry to hear that you are having loading issues with your game. Please ensure that you have a stable internet connection and enough internal memory available on your device. If this issue persists, however, please contact us at dragons[at]ludia.com, including your support key in the email. Thanks!
The game is slow if you are in for the building part. The dragons have a nice design, but you don't see them closely, like flying in close-up. You can't turn off the music. You don't get better dragons as you progress, just different, and you just stick them in hangar, because there is no space for them. I guess if you like the fighting part, it is an alright game, but for me, it is pretty boring at this point. I am not sending you any mail.
Ludia Inc.

Thank you for that feedback, salahhe Sali! We appreciate you taking time out of your day and sharing your thoughts. If you want to go more in-depth or add further details please email us at dragons[at]ludia.com.
I absolutely love it.Not everything is perfect,but I know it might get fixed so that's why I'm rating 5 stars.Its a very good game always exciting to play.So,I have only 3 problems.1-When I collect a pack from the mail it glitches and I have to re-enter to be able to open.2-The dragons make the same sounds when they hatch.A bit of variety would be good.Now my 3rd problem is just 1 legendary dragon that isn't in the game.Ludia,I beg you,add the red death.That was all,hope you have a nice day!!!
Fun I enjoy this game a lot. I think its stupid that u have to spend a ton of coins to get character dragons though. It would be better if we could search for them
Not gonna lie its the same kinda game like Dragon vale but it's the show that got me enthralled in this game! Keep it up, I might just spend money
Latest Update :
Snoggletog, is almost here, and it's feeling frosty on Berk!
The Night Lights have grown up! Be the first to unlock them in the Seasonal Snoggletog Event and Limited Collection & Exploration Events!
Compete in Brawl with new abilities and the NEW Teenage Night Lights!
Seasonal event returns: Collect Nog Nuggets and exchange them for Dragons, Costumes, and brand new Decorations!
Find the Snowmen Event returns, along with special limited-time Gauntlets!
Contact Developer :
Video :
Download Dragons from Play Store
Leave your feedback regarding Dragons
Get more android apps/games/updates
Subscribe to our mailing list and get new android apps / games and updates to your email inbox.
Thank you for subscribing.
Something went wrong.