[Game] F18 Carrier Landing II changed to Carrier Landings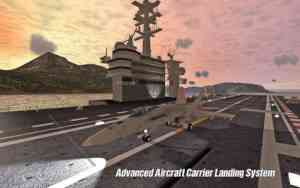 Landing on an aircraft carrier is one of the most difficult tasks a pilot has to execute.
The flight deck is only 150 meters long, just enough to stop the aircraft.
Accept the challenge, take on over thirty missions in the world's most dangerous and spectacular scenarios and join the best Top-Gun pilots.
Take control, climb into the realistic 3D cockpits and fly the most famous military aircrafts, faithfully reproduced.
Exceed your limits and get the excellence in all 90 engaging challenges!
Discover the REAL WORLD TECHNOLOGY and begin now to plan your flight!
WORLDWIDE NAVIGATION and FLIGHT PLAN with 500+ accurate AIRPORTS, DAY&NIGHT CYCLE, REALTIME METAR weather conditions, AIR SPACES CARTOGRAPHY with over 8,000 WAYPOINTS.
Try out the latest evolution of the RORTOS flight system, already appreciated by millions of users around the world: unprecedented graphics, realistic weather conditions and a REPLAY function that lets you review your flight moves.
For an even more thrilling experience, connect two devices online and activate the multi-screen mode.
Featuring:
Game campaign with 6 training missions and 30 missions in 5 different scenarios (4 availables for purchase)
WORLDWIDE TERRAIN AND NAVIGATION SYSTEM (availables for purchase)
90 engaging challenges (72 available to buy)
Free flight with choice of weather conditions and time
Landing competitions with worldwide ranking
Multi-camera Replay with dynamic CINEMA view
Aircraft carrier landings, airbase landings and emergency landings
Take-off, practice, transfers, recon and flights in formation with a flight guide
Vertical take-off and landing (F35B Lightning II, AV-8B Harrier II)
In-flight refuel
More realistic extreme conditions with wind, rain, snow and lightning
3D virtual cockpit with integrated instrumentation, rain/snow effects and 6 different camera angles
visual perspectives
Radar with runway and aircraft carrier orientation
Realistic fuel consumption
Approach system I.F.L.O.L.S.
Radio communication
REMOTE CONTROL: you can connect two devices and use one of them like a remote control with a complete instrumentation view
Aircraft:
F/A-18 Super Hornet
F-14 Super Tomcat [available with Canyon]
C-2A Greyhound [available with Arctic]
F-16 Fighting Falcon [available with Canyon]
AV-8B Harrier II (vertical) [available with Arctic]
F35B Lightning II (vertical) [available with Arcs]
MiG-29K Fulcrum [available with Volcano]
F4E Phantom II [available with Volcano]
A-6 Intruder [available with Arctic]
A-7 Corsair II [available with Arcs]
F-22 Raptor [available with Flight Simulator]
SU-47 Berkut [available with Flight Simulator]
C-130 Hercules [available for purchase]
EF Typhoon [available for purchase]
Dassault Rafale [available for purchase]
Scenarios:
Islands
Canyon [available for purchase]
Arctic [available for purchase]
Arcs [available for purchase]
Volcano [available for purchase]
Flight Simulator [available for purchase]
CHECK OUR CARRIER LANDINGS PRO FOR FULL BUNDLE
F18 Carrier user reviews :
Carrier landings is actually pretty fun the additional map packs and jets that you can purchase are at a reasonable price I really enjoy playing this game it's challenging enough to keep you playing and not so bad that you'll want to throw your phone across the room However there are no bad guys to shoot down.
As a retired US Marine, I spent 2 1/2 years abroad the Nuclear Air Craft Carrier USS Enterprise. I've called in combat air to ground support and I love this game. I play it for hours for fun, stress management and recall of flight operations abroad the Big E. I wish it had the ability to attack ground targets with an assortment of weaponry. Refuling is my biggest challenge but I love it. Keep up the great work on this game.
If you want to fly & fight, try AirFighters. This is a very specific flight sim, focused on landing & taking off in traditional fixed-wing & V/STOL aircraft. Challenges involve air bases & carriers, while testing one's ability to multitask in various weather-based environments and/or under certain limitations (altitude, speed, distance, etc.). To progress, you must spend some money: purchases make an impressive variety of aircraft & missions available, while exclusive aircraft cost more.
This game is awesome! There's no reason why this game is good, except for graphics and everything in the game… Just I want to select a scenario at the start of the game and choose for free
Great overall, a very good flight engine, although I have noticed a bug with the base free version. It now definitely counts – this has only started to happen recently – all my 3 carrier wire landings as 1 carrier wire in my pilot's log / profiles (it also conversly counts my 1 wire as 3 carrier wire landings); very annoying and presumably easily fixed, so would be good if this can be fixed. Has anyone noticed this? Seems like 3 wires are now counted as wires 1 all of a sudden!
Very good Worth buying everything . This game works fine nd smooth in my galaxy s dous it's not a high end device but game still works better . Thank you hope all rotros games get better like this ..
This is great!!! Hi there RORTOS could you give me a walktrough at mission 4 recon?
Love it Best landing game ever , but if you want a better flight simulator game than download x plane 9 for free
Contact Developer :
Video :
Download Carrier Landings from Play Store

Leave your feedback regarding Carrier Landings
Get more android apps/games/updates
Subscribe to our mailing list and get new android apps / games and updates to your email inbox.
Thank you for subscribing.
Something went wrong.