[Game] Draw a Stickman EPIC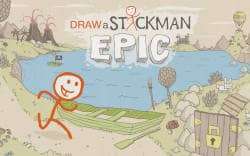 Pencil your way into one of the most creative drawing puzzle games ever designed: Draw a Stickman: EPIC! Play the first 3 levels for FREE!
In this uniquely crafted cartoon RPG, you become the artist and create your very own stick man hero! Sketch and doodle your way through the cartoon obstacles the evil stick man Zarp throws at you!
As the artist behind the adventure, start the game by drawing an original cartoon hero. Your hero also needs a friend, so sketch his buddy and give him a name! But as you watch your cartoon creations hop right off the page, your stick man hero's friend heads straight into the dangers of the cartoon adventure book! Send your doodle dude into the book to save his cartoon friend!
As the artist, you'll guide your sketched hero through the dangerous drawing world to save his friend. You'll use various pencils and creativity to animate solutions to puzzles or obstacles!
Need to get past a pile of dynamite sticks? Use the flame pencil to doodle a fire and blow them up! Bees in your way? Use the cloud pencil to sketch some rain to grow a pollinated distraction! Ward off dragon enemies, draw a spider to fight attacking troll hordes, and supercharge a toaster with the lightning cloud! There is plenty to do in the world of Draw a Stickman: EPIC! Features:
Customizable stick man feature that lets you animate your own hero
Unlockable colors for drawing life into your character
Plenty of cartoon levels to play through
Multiple pencil types for creating and animating solutions to obstacles:
A fire pencil to burn down obstacles
A cloud pencil to create rain or lightning
A key pencil to help you unlock doors and other objects
An axe pencil to help you chop down trees
An armor pencil gives you added protection to in-game hazards
Draw a Stickman EPIC user reviews :
I love the game but I wouldn't suggest others to install it. The game says it's free, but when you get to a certain level you have to pay to unlock the other levels. Plus it's not just this apps it's all the Stickman draw apps like Epic, Epic 2, and Sketchbook. What I'm saying is I just wish that I was able to play more of the game without buying stuff. It's not fair, please fix this please.
I've loved this game since the age of 8, and now that I've played it at an older age, I must say, it still blew me away! All of the little characters are adorable, and the game gives you many different ways to go about finishing a level. The only problems I have with the game are the drawing mechanics (which aren't very important) and some of the achievements that are available in the demo that seem impossible to do. All in all, a great game that I 100% recommend!
It's a great game, and i love it, but there's one problem that makes me go from love to hate. You have to PAY to get the full game. When i downloaded it, the title of thd game said "Epic free." It's said to be free in the name, but NO! You have to pay to get the full game! And if you don't pay, you only get like 4 short levels. Normally i wouldn't be annoyed by this, but the developer put in the word "Free," so naturally i would be thinking "Great! I can get the full game!"
I love this game before but I noticed that we have to pay for other levels I got offended after that my brother did too (he was beside me playing it) so we uninstalled it can you please make it so we cannot pay for other levels and make it free I just want to save my friend! I'm giving it 5 stars Because I love it (I still want to save my friend tho). Thank you.
i have loved this game for years! but… i dont like how you have a free version telling you that you have to buy the full version to do stuff! but it is only three dollars for the whole set includeing the second one! try out the free first to see if you like it then buy it. other than that its a really fun game!!!
Its me again! I rated your Epic Stickman 2 game and had a kind response!Once again an incredible game made by HitCents! You are a great company with alot of potential for future games! I feel like the first stickman game in the series is the best! It's simple yet thrilling and hard to not get addicted to! This game has hours of game play and smooth, beautiful graphics and controls. I really hope you continue to make games! Your staff seem to be wonderful, kind and caring people! I love your games!
Thank you again for your kind review and support! We appreciate your support!
Contact developer :
Download Draw a Stickman EPIC from Play Store
Leave your feedback regarding Draw a Stickman EPIC
Get more android apps/games/updates
Subscribe to our mailing list and get new android apps / games and updates to your email inbox.
Thank you for subscribing.
Something went wrong.