[Game] Elvenar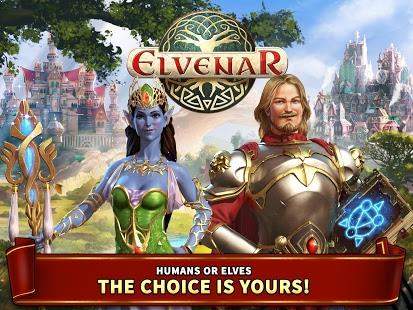 BUILD THE CITY OF YOUR DREAMS IN MAGICAL ELVENAR
Choose between elves and humans to build a beautiful, fantasy city. Discover a world of magic and mystery as you constantly build, develop and expand your realm. You decide how to advance your city as you gather resources, trade with other players and research ancient technologies. Whether you want to build a whimsical paradise or a well-organized metropolis, it's easy to create a home for fantasy creatures and enjoy the detailed beauty of Elvenar.
CHOOSE YOUR RACE
Play as powerful humans or magical elves to build as you see fit
START INSTANTLY
City building is quick and easy with a friendly introduction and active community
EXPLORE THE WORLD
Discover new provinces to expand your city
TRADE WITH FRIENDS
Trade goods and resources with fellow players and merchants in the marketplace
ADVANCE YOUR CIVILIZATION
Upgrade your buildings to supply your growing population
WELCOME NEW CREATURES
Create a home for dwarves, fairies, dragons and other charming fantasy races
Elvenar is based on the successful browser city-builder, published by InnoGames. Now players can enjoy the online fantasy fun on mobile, tablet and PC browser – all from the same account.
Elvenar is free to download and install. However, some game features can also be purchased for real money. If you don't want to use this feature, you can disable in-app purchases in your device's settings. A network connection is also required.
Imprint: legal.innogames.com/portal/en/imprint
You may also like
Elvenar user reviews :
Needs better instructions for playing. The wiki instructions are very basic and seem to be for computer play only. Tells you what you need but fails to be clear on the how's and why's. Pretty confusing. Takes quite a bit of money, if you want gems and if you want to advance at a decent pace compared to having to wait lengthy times for build up of inventory. Working with the fellowship on tournament times is fun. Would be so nice to be able to move buildings around easier like a temporary storage
InnoGames GmbH

Thank you, Cinde, for your comments. We will pass them on to our game Developers. Did you know that there actually IS a temporary storage function in the game? It's a spell called "Teleport Building" and can be won in the Spire and in various events. It allows you to move one building per spell out of your city and into storage until needed.
Fun quests and good graphics. It can be as intense or laid back as you want. Very few updates to disrupt play. Very good if you are methodical and like to plan. Actually left the game for a break but came back because I missed it. Support isn't brilliant but thankfully haven't had to use them much. Very hard though if your city is in a dead part of the world. Apparently support has no control to move you to a better place
InnoGames GmbH

Thank you, Jon!
A very kind a nice game. Peaceful with very good graphics and fun to actually manage your layout and build strategy. Any Battles are optional and against computers but thankfully never monotonous as you do get to use strategy to overcome the challenges. You can always negotiate instead of fight which is nice. Overall it's very peaceful and relaxing, just don't get addicted to it, even though it rewards you for being so.
Nice Game. I lowered the rating because your devs don't have mail on the app, that's just plain dumb. your controls need a bit of tweaking I have to tap the bottom left corner of everything to access specific units. Well after a month the controls still bite. Still no mail on the app, it is on the web interface, still dumb. Telling people to join the forums is being a shill, and it is pathetic.
InnoGames GmbH

Please keep an eye on the Forum for latest updates: open the setting cog then the help tab, and finally enter the Forum
We have no space to put buildings down!! It's so hard to come by expansions, negociation cost a fortune or the enemy army is too strong for mine (i did research squad size). Also, surprise, upgraded buildings take more space, so you have to re-arange your city or stop building. and now with the new event, they gives 3 buildings that are 3 x 3 that i'll never be able to place.
Great progress with the updates, but can we please get the option to switch realms in the app soon?
It is fun… They want you to buy time and goods but I refuse… Gotta wait or earn it!
best strategy in android.. but,it takes more than one hour to train a soldier(axeman,archer…..
Great game… needs to be able to do the events through the app too.
Latest Update :
New things to explore in Elvenar, with updates every two weeks.
New to Elvenar? Check our tips and tricks on YouTube and learn what Pros do!
Go on your magical journey in Elvenar today!
Contact developer :
Video :
Download Elvenar from Play Store
Leave your feedback regarding Elvenar
Get more android apps/games/updates
Subscribe to our mailing list and get new android apps / games and updates to your email inbox.
Thank you for subscribing.
Something went wrong.