[Game] Fate Grand Order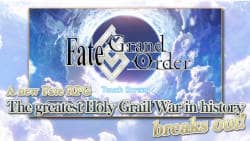 A new mobile "Fate RPG," presented by TYPE-MOON!
With an impressive main scenario and multiple character quests,  the game features millions of words of original story!
Packed with content that both fans of the Fate franchise and newcomers will be able to enjoy.
Summary
2017 A.D.
Chaldea, an organization tasked with observing Earth's future, has confirmed that human history will be eliminated at 2019.
Without warning, the promised future of 2017 disappeared.
Why? How? Who? By what means?
AD. 2004. A certain provincial town in Japan.
For the first time ever, a region that could not be observed appeared.
Assuming that this was the cause of humanity's extinction, Chaldea carried out its sixth experiment – time travel into the past.
A forbidden ceremony where they would convert humans into Spiritrons and send them back in time. By intervening in events, they would locate, identify, and destroy the space-time Singularities.
The mission classification is an order to protect Humanity: Grand Order.
This is the title for those who would take a stand against human history and battle fate in order to protect mankind.
Game Introduction
A command card battle RPG optimized for smart phones!
Players become Masters and together with Heroic Spirits, defeat enemies and solve the mystery of human history's disappearance.
It's up the players to form a party with their favorite Heroic Spirits – both new and old.
Game Composition/Scenario Direction
Kinoko Nasu
Character Design/Art Direction
Takashi Takeuchi
Scenario Writers
Yuichiro Higashide, Hikaru Sakurai
Smartphones or tablets with Android 4.1 or higher and 2GB or more RAM. (Incompatible with Intel CPUs.)
*It is possible that the game will not work on some devices, even with the recommended version or higher.
*Incompatible with OS beta versions.
This application uses "CRIWARE (TM)" from CRI Middleware Co. Ltd.
You may also like
Fate Grand Order user reviews :
Really amazing game but it's very dated in some aspects. For instance, the only thing you can buy is star quartz. That's it. No special packs, no skins to buy, no monthly currency subscription and the list goes on. Don't get me wrong, it's still really good but with the money this game pulls in every year (hundreds of millions) it's baffling that they don't try to improve qol features more. Maybe the are using resources to make fgo2?? Dunno. Still one of my favorites regardless lol.
Pros: free!, great story, lots of awesome heroes to collect, easy to learn combat mechanics, fair drop rate on (most) items needed to level up characters, and fun rewarding events. Cons: very low drop rates on heroes, overpriced in game currency with no special offers or deals and my poor experience with customer service almost lost me my account. Overall: Great game! Especially for fans of the Fate series. 2022: Still going strong! Game is still great! Sadly, the cons haven't changed though.
The game overall is pretty good. The game itself is enjoyable. The servers are 2 years behind Japan's, but that's only because the game was originally intended for only being released there. The game is stable and it has a good plot to it. It can be pretty funny at times, overall really enjoyable. Some characters are completely obsolete, though. Rates are awful but you can still beat the game with only 1*-3s* and welfares.
My 2 main problems are: the aggravating updates, which can sometimes take half a day to implement, which wouldn't be a problem if they weren't so frequent; and the difficulty of summoning 4 & 5 star heroes. Obviously these should be infrequent, but it seems waaaaay too luck based/money hungry to get upper level heroic spirits. That said, the events and story are incredibly engaging, the gameplay is very fun, and the art/graphics are great for a mobile game.
It looks like my original review post was deleted. GG. Way to pad rating stats. 4/7/22 edit: Game still leaves a lot to be desired, especially in the gameplay. This doesn't mean it's a bad game; it's good, just very dated. Also, while there are different modes, each one uses the same stamina, which is in short supply, limiting play time. Try using other types of energy for other modes, especially for those awesome events.
The main pull of the game is its story. It's brilliant! Great characters and world building with some excellent music to go along with it. However it's gacha rates are horrible so good luck trying to get the servant you want. Also the game play is a lot to be desired. It's not bad per se, but it's very lacking. I'm not good at describing the gameplay but if you look at some YouTube videos that will give a great idea on how the system works. So play for the story.
Contact developer :
Leave your feedback regarding Fate Grand Order
Get more android apps/games/updates
Subscribe to our mailing list and get new android apps / games and updates to your email inbox.
Thank you for subscribing.
Something went wrong.