[Game] Fire Strike Online – Free Shooter FPS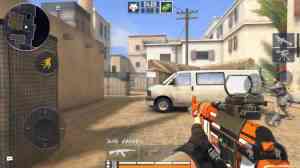 Play 5v5 quick action matches for 5-7 minutes, upgrade weapons and equipment, arrange shooters, use tactical grenades and try to survive.
Learn all the game maps and they will become your weapon in the world of the game engulfed in protests and critical confrontation of different fractions.
Play to Win, not Pay to Win
Join epic PvP battles and become heroes of battlefield. All shooting game items affecting gameplay, you can get just by playing the game. So go get some weapons, gears, and grenades and bang bang bang!
[Fight against gun games players from all over the world in Free to Play FPS game]
Lead military operations in Chernobyl, Japan, USA, and other virtual war zones. Take part in action team battles, plant a bomb, or defuse it. Acquire new weapons, soldiers and armor, try new tactics and install unique attachments.
[5 minutes, 10 players, fast matches and best survival tactics]
-Fast and easy gameplay
-Simple controls, just two fingers
-Autolock and Autofire or hand controls
-Great graphics and effects
-Excellent performance and optimization
[Clash squad with Friends up to 5 people or 10 players FFA]
Get together in online games with your friends in a squad of 5 people against other FPS games players to be the one who get the apex rating. Play custom online game mode up to 10 people.
[4 game modes already available, 4 in development]
-Team fight
-Free for All (Death Match Survival)
-Bomb mode (Defuse)
-Arms Race (Gun Game)
[A wide variety of weapons and equipment, flexible specialist settings]
Choose who to play as a fast SMG assassin, Sniper support or Tank machine gunner. Be whoever you want in one of the most dynamic 3D shooting games!
[15 leagues, convenient rating system]
What is your final league? Become one of the legends, join the Fire Titans league in ranked games. Make your way through the rating as part of a squad or alone and get rampage in defferent shooter games and rounds.
[Regular updates]
In the future, Fire Strike Online players will have new modes: capture, combat arena, 2v2 tournaments. And of course new maps: SLUMS RAID, CAMPO SACRO, etc.
Lots of new shooting content: skins, characters, weapons, attachments.
Please note!
Fire Strike Online Shooter is completely free to play and download, while some in-game content can be purchased for real money.
[Contact us]
For any questions or comments, write to us at info@edkongames.com
We will gladly try to help you
Follow us:
Instagram: www.instagram.com/firestrikeonline/
YouTube: www.youtube.com/channel/UCtVNQDXXPifEsXpYilxVWcA
Facebook: www.facebook.com/firestrikeonline/
VK: vk.com/firestrikeofficialgroup
*Attention! The game requires a stable internet connection
Recommended system requirements: Android 5.1.1 or above and at least 2 GB memory
Fire Strike Online user reviews :
Overall the game is really good and it has a big potential of becoming something really great.The graphics are nice,the controls are not bad,a good number of wepons,knifes,vest,everything u need,u name it.Also,pls deleat the sniper countdown,it's really bothering!A few things i would like in the game: -a revolver,who doesn't want one,right? -a duble-barrel shotgunn -butterfly knife -more skins -more locations -voice chat I know this is a new game but pls consider adding these in the game!
2/5 being considerate. While weapons fire when an enemy is on sight, snipers have a 1 sec delay, and you usually won't kill with just one shot. In that time you can get killed thrice. *When trying to disable aim assist/auto shoot, it bugs out. *Bots can shoot you when you are behind certain covers without a line of sight. *Missions take way too long to complete (1500 triple kills??). *If a game boils down to only using ARs and SMGs cus they are the only "balanced" weapons, its not for me.
Edkon Games GmbH

Hello! If you have any issues you can contact our support team at info[at]edkongames.com. Describe your issue in detail so we can help you
Just another FPS from more greedy devs! Sorry devs but you guy's start out good (not this time) then once the players help to get the game perfect, you guy's ALWAYS raise the prices not just a little, but double or triple on everything, ruining the game for the players and you don't seem to care, cus you just keep doing it over and over! Devs, what I meant is, you fu@ked the game by raising the prices where it's just ruined the damn game, yeah, we know we can watch vids but you ruined it, greed!
Edkon Games GmbH

Hello! In our game you can earn gold bars and credits by viewing ads, opening cases and completing various tasks. However, it takes more time and more effort.
It's so good but my only complain is it keeps on saying internet connection lost but my internet is strong.
Well this is a good game no doubt about it but only one thing that bothers me is that there are very less maps. So,please add more maps in it .
I personally love the game. My only complaint is that there is no benefit for being on a squad. Other FPS or PVP games have weekly squad battles with the opportunity to earn extra gold. Theres really no point in joining a squad, theres no perks or extras for doing so. I think this game could really take off if you did weekly squad battles. Not where your fighting against each other, but see who can rack up the most trophies and have a prize for the winning team. Your downloads will explode!!YW
Contact developer :
Download Fire Strike Online from Play Store
Leave your feedback regarding Fire Strike Online
Get more android apps/games/updates
Subscribe to our mailing list and get new android apps / games and updates to your email inbox.
Thank you for subscribing.
Something went wrong.