[Game] Flyff Legacy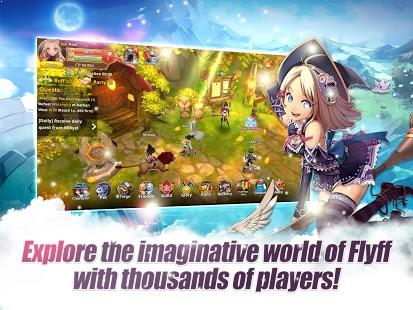 Flyff Legacy combines the charming anime style and social aspects of the original PC MMORPG Flyff Online (Fly For Fun) with new graphics and gameplay that will appeal to longtime fans and new players alike.
Prepare to get immersed in a stunning MMO RPG world of magic!
DISCOVER A NEW 3D ACTION MMORPG
Enjoy a true real-time massively multiplayer online game (MMORPG) experience with open maps, dungeons, pvp, pets, avatars, crafting & more!
Savor a MMORPG gameplay injected with action-packed combat and stunning skills as you hack and slash your enemies.
EXPLORE THE MANGA WORLD OF FLYFF IN THIS EPIC FREE MMORPG
Adventure in the anime style and colorful world of Flyff with thousands of players.
Embark on an epic quest to learn to fly on a broom, party up with other adventurers, and make your way through countless group dungeons.
Millions have already played Flyff PC MMORPG, rediscover the world of Madrigal more beautiful than ever on your mobile device!
CHOOSE AND CUSTOMIZE YOUR HERO
Select your preferred character class: Mercenary (melee fighter), Acrobat (ranged damage dealer), Magician (spell caster)
Level up your combat & magic skills to strengthen your hero.
Acquire new weapons & gear sets, or use fantasy costumes such as Pirate or Caveman to customize your champion!
COLLECT GUARDIAN PETS AND FLY ON YOUR BROOM!
Collect unique and cute Pets: Rabbit, Lion, Tiger, Unicorn, Dragons, and more!
Use your Guardian Pets as mounts or just companions to help in your adventure.
Want to feel like Harry Potter? Ride your Broom and soar through the skies!
BE PART OF AN ONLINE MMO RPG COMMUNITY
Join dedicated servers for your region (North America West & East Coast).
Create or join a Guild and lead it to the top!
Chat with other online players, friends, guild mates in the MMO game world.
Meet & Party up with friends, or make enemies.
Trade with players in the Auction House.
RAID DUNGEONS AND FIGHT EPIC BOSSES (PVE)
Go solo or group with up to 3 other players in countless PvE Dungeons and collect epic loots.
Challenge the 7 fearsome World Bosses!
Raid with your guild mates to defeat the Boss in the Guild Dungeon.
PREPARE FOR WAR WITH PLAYER VS PLAYER (PVP) COMBAT
Fight or Flee: free open PVP and PK in the MMORPG world!
Challenge other players to 1v1 PvP Duels and gain honor and titles!
Combat with your 4 Guild mates in the 40 players Guild Battlefield, or enter the 20vs20 Team Battlefield.
Become the Champion of the 40 players free-for-all PVP Arena.
AND SO MUCH MORE!
Participate in the daily and seasonal events.
Complete achievements and get Glory Titles and rewards.
Upgrade and craft gear and items in the Forge.
Collect Monster Orbs and finish your Bestiary.
And so many other MMORPG game systems!
Flyff Legacy is a new Free Anime MMORPG that all fans of PVE & PVP MMO games, Fantasy MMORPG, Anime & Manga, and Roleplaying (RPG) should try!
FEEDBACK FROM FLYFF PLAYERS
One of the best cute Anime style MMORPG hands down!
A great spin off that old FlyFF players will love and any RPG/MMO fan
One of the best mobile games I have played
Love the game and graphics are great
Very easy to play and super fun i'm addicted
Amazing game!
CAUTION
Flyff Legacy is a free MMORPG available in English in selected countries. More countries & languages will be released soon with new servers.
Flyff Legacy requires a permanent online connection to play (3D Online RPG :))
After the initial download, please update and patch the whole game (~500MB total, Wi-Fi is highly recommended!)
Flyff Legacy is a new MMORPG with Unity engine and requires good device specs.
The recommended specs are 2GB RAM & 1.6Ghz CPU, a GPU is best (like Samsung S4). Any device will less than 2GB may experience frame rate issues or crashes..
WANT TO KNOW MORE ABOUT THIS NEW MMORPG?
Facebook: www.facebook.com/FlyffLegacy.Global/
FAQ & Help: galalab.helpshift.com/a/flyff-legacy/
Also check our list
Flyff Legacy user reviews :
Love the game it's awesome and fun, very addicting the boss are nicely done to for this type of game but I do have a small problem. When choosing dungeons or missions some will have a recommended CP like 138,752 but I can do them missions with 44,000 CP it would help the players if the Recommended CP for dungeons is lowered, bc I didnt do any of mine cuz I thought I was to weak till I clicked one and I ran through is easy. Thank you it'll just help clear up confusions.
Gala Lab Corp

Thank you for your review! If you have any suggestions on how we could improve and enhance your user experience, please don't hesitate to share them with us at galalab.helpshift.com/a/flyff-legacy/?contact=1
i've waited for an hour just to play this game and it turns out completely wrong but i refreshed all the apps and it worked. And it's really easy to level up unlike the other games
Gala Lab Corp

Thanks so much for the awesome review. Please tell your friends about the game and what they are missing out on
This game surprised me. It's pretty fun. Love that it's open world and whatever you equip actually shows on your character. It would be nice if later they find a way to let us have the gender we want. That would really fix one big issue with the game. Maybe even add a magic forge to change normal equipment to green name equipment. That would be a good addition. I was also thinking if you change it so that joining up in a party automatically uses that new member's buff. I think people would party up more. Half the time people don't use their buff.
Firstly, thanks a lot for finally bringing Flyff to mobile. While it plays differently than the old Flyff , it's still awesome to be back in this game world. The game is the first game with a catch a system that I can stand because you guy also literally hand out premium stuff just by logging in, and also through giving us soulbound premium currency. I hope you guys always stay this generous, because it has already caused me to invest actual money in the game too, because I WANT this game to live. Thanks for making this game.
Last Update :
Added Apple Login on iOS devices
Fixed Minor bugs
Contact developer :
Download Flyff Legacy from Play Store
Leave your feedback regarding Flyff Legacy
Get more android apps/games/updates
Subscribe to our mailing list and get new android apps / games and updates to your email inbox.
Thank you for subscribing.
Something went wrong.