[App] Fotogenic – Body & Face tune and Retouch Editor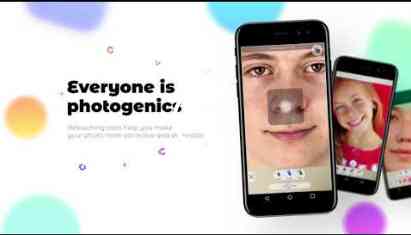 Fotogenic : EVERYONE IS PHOTOGENICS"
Are you searching the right photo editing app for your mobile photography?
"Fotogenic" is the best choices for photo editing app to suit every level of photographer.
We've created an interactive help for you to understand how to use it for each feature. Even if you have never used photo editing app before, you will create wonderful works of art.
It has an innovative and easy to use interface that creates a beautifully simple user experience. It's easy and intuitive for beginners yet capable enough to be appreciated by professional photographers.
Features :
TOOLS
Text On Path : Adding text on a path is an important way to create unique text effects
Speech Bubble : A fun way to perk up your photos is by adding cartoon style speech balloons
Captions : Add a caption below and above your photos
Stretch : Make you taller
Slimmer : It's a snap to get a leaner
Crop : Crop photo
Perspective : Fix Keystone distortion
Rotate : Turn your photo 90 degrees left or right
Straighten : You can easily fix slanted photos
Square Fit : Square photo without cropping
Mosaic : Hide the unwanted parts
BEAUTY
Smooth : Flawless complexion
Whiten : Dazzling white smiles
Detail : It provides unrivaled clarity
Makeup : Adding a shadow for your eyes or paint a nice color for your lip
Clone : Eliminate unwanted objects
Bodybuilding : You can get an attractive and sexy body in seconds
Tattoo : You can get inspiration what symbol to put permanently on your body
Bronze Skin : Making your bronzer appear naturally sun kissed
Defocus : It allows you to focus a subject of your photo
Reshape : Simulate realistic plastic surgeries
COLOR ADJUSTMENT
Vibrance : Well saturated colors
Color Splash : Nice looking abstract artworks
Color Replacement : Easily change the color of objects
Levels : Stretch brightness levels in a histogram
Filters : Hundreds of great photo filters in 5 different categories
Red Eye : Fix red eye effect
Lighting : Add depth and warmth
Channel Mixer : Adjust the percentages for the Red, Green and Blue
Brightness & Contrast : Fix too light or too dark areas
Sharpen : Almost every digital image needs at least a little bit of sharpening
HDR : Achieve an HDR (high dynamic range) look
Highlights & Shadows : Easy method for correcting lighting
PAINT
Signature : Add digital Signature
Paint : Perfect tool for those who love the art of hand painted
Artistic Brushes
Funny Brushes : 40 fun brushes in 5 different categories (Cute,Halloween,Indicator,Kid,People)
Weather : You'll be able to transform the atmosphere of your picture in just a few seconds(Clouds,Lightning,Rain,Rainbow,Snow)
Glowing Lines : Wrap a part of the main object with a glowing beam of light (Glow lamp,sparkle,Fire,Glow Line)
Seagull : Create a wonderful graphic composition (Butterfly, Seagull)
Live Brushes
Flare : Add magic to your photos
Bokeh : Create soft dreamy backgrounds
Money : Take them, they are flying into your hands!
Dandelion : Bring happiness to your photos
Bubble : Add the wonderful flying bubbles
Petals : Falling petals. Your photos will look very elegant and ethereal (Red Rose,Yellow Rose,Daisy,Autumn)
Confetti : Essential part of memorable photos
Shapes : The ideal complement for a fun photo composition
TEXTURES
Mixer : One of the fastest ways to get amazing looking images is by using Blending modes.
Light Leaks :  Add an artistic touch to your photos
Grunge : Convert normal everyday photos into worn out style.
Gradient :  Create natural looking composite images.
Lens Flare : Trendy cool colorized photos
Vignette : A popular photo effect
Mask : Highlight a part of your image in different shapes
Frames : Dozens of Picture frame with 4 different categories
Doodle : Perfect way for you to add humor or feeling to your photo (5 different categories)
Borders : Create a simple but effective border
Fotogenic user reviews :
One of the best and most feature rich photo editing Apps that I have seen available. Most photo editing Apps are really good at one or two features. However, this App excels at all the different features that it has. If you have any interest in editing photos then this is an App that you need to checkout. It by far exceeded my expectations, and I could not recommend it more.
The instructions, and the way this App's set up is 100% fun, easy, friendly and effective! Use their examples and practice! Youll catch on faster, with practice for each example image. Play around with each category… doing so you'll catch on fast! Extremely detailed, easy to use and so much fun! Once installed I couldn't put my phone down hee hee
Excellent ap. Loads of free tools and loads more in the full version which isn't that expensive. I found it much easier to use than Photoshop. Very easy to understand video tutotials showing you exactly what all the features do, unlike a lot of programmes where you have to figure it out yourself. Highly recommended.
Contact developer :
Video :
Download Fotogenic from Play Store
Leave your feedback regarding Fotogenic
Get more android apps/games/updates
Subscribe to our mailing list and get new android apps / games and updates to your email inbox.
Thank you for subscribing.
Something went wrong.