[Game] Gear Club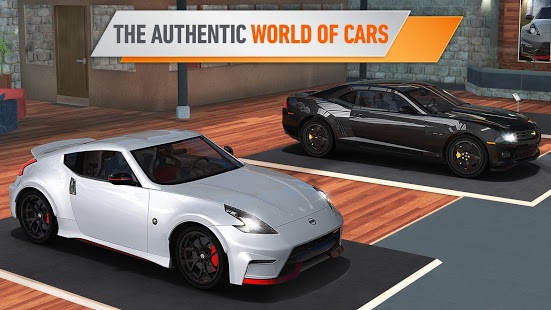 Gear Club is much more than a quick adrenaline rush; it is an authentic world of cars.
Realistic driving experience, with fully simulated engines, powertrains, suspensions and aerodynamics.
You will get to explore breathtaking settings and compete live with your online friends and foes through unlimited races, championships and events.
Gear.Club offers a full range of options for the cars.
Players can collect, upgrade and customize some of the most gorgeous exotic vehicles in their performance shop and enjoy details including engine and interiors in full HD.
FEATURES:
DRIVE with fully simulated engines, powertrains, suspensions and aerodynamics. Multiple control schemes are supported!
EXPLORE breathtaking settings and exotic locations.
RACE against your Friends through Events and Championships.
CREATE and develop the ultimate Performance Shop to collect, upgrade and customize the most gorgeous exotic cars.
ENGINEER specific parts to boost your machines beyond their maximum capacity.
ADMIRE car details such as engines and interiors shown in Full HD!
COLLECT all your favorite cars.
PLEASE NOTE! Gear.Club is completely free to download and play but some game items may be purchased for real money. To disable this, turn off the in-app purchases in your device's settings.
The file-size of Gear.Club is quite significant so make sure your Internet connection is stable when installing the game.
Watch Gear.Club on  www.youtube.com/c/EdenGamesOfficial
Gear Club user reviews :
Absolutely amazingly gorgeous game. Keeps you plugged for days on end , and I never seem to get enough. It just gets better and better the more you play. I love this. Also love the fact that it's so well done , detailed , and has real cars and brands! Though I do wish I could have both brake and acceleration pedal , and the steering buttons in the same control setup. Or maybe add custom game controls , and maybe who knows , engine tuning , turbo kits and internals , exhausts , engine swaps etc!
Fun as fq. Pretty decent option to Asphalt 8. Asphalt 8 is the funnest game for android hands down. Nothing has come remotely close to touching the rate of fun that is in that game. Its took 3 yrs, unfortunately, I'm just burned out on it. I know evey corner, every jump, every nitro, in the game. Great fq'n game. Tremendous job by the creators and the development team. You guys are fantastic. You made that game for us to play and I enjoyed every single second of it. Even when I lost the race.
Dear Gear.Club, Overall I loved the game… It is awesome in every way whether it's graphic or controls… I love everything… But it is malfunctioning sometimes in the middle… After completing a race I tried to reach out the customisation room of my car and suddenly it hanged …. I couldn't control the game at that moment… Pls check out my problem. Love you guys and stay safe
I love this game a lot. The graphics are so good. If someone is thinking that this is waste of data then he/she is wrong. But only one thing is that, we cannot Costumize the controls. Otherwise the game is so nice. And the game is for free,this is so big deal. So don't wait and download it. It doesn't contains additional download. All kinds of super cars. And u don't need to give real money, u can earn gold without giving money. I think this is the best game on play store. Thank you……
Good game but more and more bugs seems to be developing. Crashes regularly when you try and put a car in your garage, flash events don't always load and cars seem to flip up into the air and put you into the scenery for no apparent reason. Hopefully an update will be soon.
I like this racing game! In a way, It kinda reminds me of gran turismo 5 for playstation. It's got awesome 3D graphics, the cars look realistic and shiny as if they just came from the car wash! I like how it gives you step by step instructions how to play. It tells you what you have to do so it doesn't leave you feeling confused. No ifs and's or buts about it, no questions asked. It's a super fun racing game. If there is anyone out there, they should install this game and try it out. 5 stars!.
This game is really interesting and graphic are EPIC!! I don't know why some people telling that the game is not working… But, since I'm playing this game for past few weeks. I didn't face any problems at all, maybe because I'm playing it on my Samsung Note 5 which may met all the recommendations for this game to run. Conclusion, this game is totally EPIC!!!!
Loved it now i can play after update , 15/15 star at performance shop has been fixed. good job. but smtimes this game freeze at loadingscreen. but its not a big deal .
Love it Very very much on point of turning, graphic, race and tuning!!! Straight forward garage and very cool breakdown on upgrades
gr8 keep polish the cars graphic and keep update this game with new cars and some tweaks in customization..others are good
Contact developer :
Video :
Download Gear Club from Play Store
Leave your feedback regarding Gear Club
Get more android apps/games/updates
Subscribe to our mailing list and get new android apps / games and updates to your email inbox.
Thank you for subscribing.
Something went wrong.