[Game] Gigabit Off-Road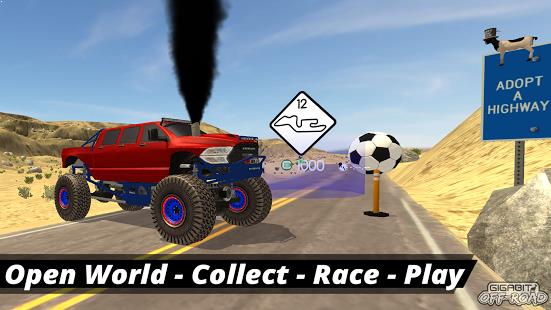 The most realistic off-road game on mobile devices.
This is off-roading done right.
Cruise huge open-worlds while earning money completing tough challenges, races, and gathering collectibles. Upgrade your trucks with thousands of combinations of parts, suspensions, tires, wheels, and colors.
Fair-to-play system means you buy an In-App Purchase, you keep it forever. NO gas meter. NO wait time for parts. NO wait time to continue playing.
Gameplay Features
Tackle rocks and hills with a realistic traction model and winch
Take in your ride and your surroundings with 13 gameplay cameras to choose from
Multiple control options keep you in control no matter your play style
In-game map will ensure you know where you are and what challenge to attempt next
Locking differentials, high/low gear range, and 2wd/4wd give you the tools to conquer anything thrown at you
Levels
Huge, wide-open maps with varied terrain mean you'll be exploring for hours
Hundreds of objectives per level to challenge you
Trucks
Tune your vehicles to suit your driving style
IFS, leaf spring, and 4-link suspensions
Huge list of parts, bumper-to-bumper, to select from to make your trucks your own
Color every part of your trucks to get just the right look
Coming Soon
Multiplayer
More Trucks
More Levels
More Challenges
It's your world, your trucks, your choice, you conquer it.
Gigabit Off-Road user reviews :
Not only is this game the BEST offroad simulator on android, the developers are fantastic as well!!! I have played this game a ton, and then I got a new device and lost my progress. I emailed the support line and they had it fixed in literally a couple days after asking a few questions. It would have been super easy for them to blow me off and say there was nothing they could do, but that isnt the kind of guys we are working with here! Awesome Game, Awesome Developers.
I've played off and on for a few years now and I still love this game the graphics are easy on the eyes the controls are easy to learn and use and there is so much possibility for customization. The mission/objectives keep the game interesting and the different worlds are drastically different from each other giving a great variety and all around great time. I would recommend this game to anyone even if their not a car person or into offroading. Such a great game
I'm sorry to say this but the trucks regardless of suspension settings are nigh uncontrollable. I've tried everything to get any truck I've got to be at least somewhat controllable but nothin's workin'. If suspension is to high it acts like a bouncy ball. Too low and it flips on things it shouldn't. Down the middle and ya can't keep it straight on rough terrain. I'm sorry but the game ain't fun like that.
I've been playing this game for a while now and loved it, though it still could use some improvements For one, you should definitely add some more vehicles like a Toyota land cruiser or a Nissan Safari. And as for sound, I would like to hear the turbo, as most of the cars don't have the turbo sound. Also I've noticed the revs disappear quickly, even when you're moving. A bit wierd, but otherwise a mint game, keep it up
Great game, good cars, awesome graphics. Very addictive game, tons of fun and got a 5 star rating for me which is hard to get. As long as stuff keeps getting added I will continue to play, I also wish that when u went through the mud it stuck to your truck and tires. Love the update, still waiting on multiplayer mode I can't wait for it. Is it going to be where you can free roam with your friends on any map, bc if so that is awesome.
Try adjusting your front and rear spring rates and damping differently. stiff front axle will jump very differently than a stiff rear axle. The center of gravity is nowhere near the back and its just how the suspension tune reacts at the top of the jump that causes this.
The game is awesome. I love the customization, maps and h vehicle selection is also very nice. One thing that I do wish there was more of however are newer style trucks; power stroke replica, Duramax, or even the 1500 models with the option of making them a 2500 like with the smaller ram replica. Adding those would make this game that much better, oh and also a way to transfer save data. I mean $5 can get quite a bit, and isn't much for a game but having to rest Everytime is a little bit of a hang-up.
Mud is currently in development as well as more vehicles. Thanks so much for the review and suggestions!
Contact developer :
Video :
Download Gigabit Off-Road from Play Store
Leave your feedback regarding Gigabit Off-Road
Get more android apps/games/updates
Subscribe to our mailing list and get new android apps / games and updates to your email inbox.
Thank you for subscribing.
Something went wrong.