[Game] Grow Sword Master
 i am innocent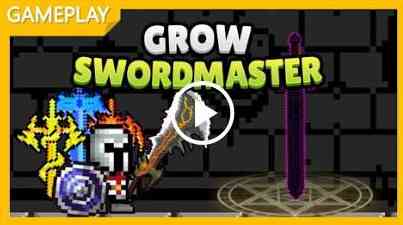 Rpg + Idle + Action + collection
Pixelstar games idle fantasy game ' Grow SwordMaster' has arrived!
Conquer the dungeons through a variety of weapons and crafting and become the ultimate swordmaster
Game feature
Fantastic Action
Various Weapon
Various Skills
Mine System
Skin systems with different abilities
Craft System(weapon, equipment)
This game that dont need wifi and play offline without internet.
This game is pixelstar game's 2d retro idle rpg game.
Grow Sword Master user reviews :
Overall a pretty fun, standard game, but with too many bugs to give it a great rating. Minus 1 star for bugs (mining does not work correctly and daily quests simply don't reset after the very first day) and minus another star for having no support system in place to possibly fix these things or ask questions. As some other reviewers mentioned, emailing the devs gives no response either. Other than that, this game is nice to pass the time, semi-idle and has crafting, different regions etc.
I enjoy the game but collecting gold from the mine doesn't seem to work if its more than 5000. I've missed out on 30k twice and 50k once. There's also no option to double the gold by watching an ad once past the 5k mark as well, but you can double if its a small amount…would be 5 stars if these were fixed seeing as the mines seem like the best way to earn gold.
Pretty standard rpg. Gets very grindy very quick, no bog deal. But, I'm not sure if it's just me, you can't turn off the music.
Excellent game with a good grind. Not made too easy , doeant ask for money all the time. Kinda feels like inflation rpg style grind
It's alright. Good time passer. But there is an issue with the mine where it won't allow you to collect any of the money. Plus I think there should be an option to upgrade the mine
Really fun to play, except that gathering gold from the mine only works about 10% of the time and daily login rewards also have the tendency to just disappear.
This game is really much fun to play, also if it's a little hard to get going. But the bugs with the ,,tower of darkness-" and ,,beast dungeonkeys" have to be fixed. Every ten minutes you should get one key, but very often you dont get one and have to wait another ten minutes, or even more when then next one is not working too… otherwise 5-star
Fun game. Semi-idle, but with enough happening to keep you playing. Well done!
nice 8-bit rpg doesn't really idle much until passing stage 10 which takes a while grinding the prev ones, but not every stage you need to grind the previous and if you lose at a stage, you dont keep anything you found. requires too much time and costs too much compared to that you get. oh and starts the game with another ad of a similar type of game… the concept is there but the gameplay, objectives and story are not that intuitive or enjoyable
Its not bad tho i wish they'd put in a farming add on to it like the restart idea x10 wasn't a bad idea but it doesnt add on towards the gathering of items or xp
Not a bad game. However it does take a long time to really get started. But still fun
I was really enjoying this game, but after countless hours the merge rate, drop rates and summon rates are just awful, i have maybe 2 red items after weeks of starting this game, its a real turn off to continue.. Also there are to many bugs where you cant collect daily items or timers reseting and not getting rewards Its now been 3 days and everytime i collect the daily reward or the mining its not being collected….
Its a good game i feel like the drop rate should be a bit higher i havent gotten any thing from just playing the game i ether have to watch an ad or spend my dimonds on equipment
It's a great game! Very addictive I'd give it 5 stars if equipment upgrade was easier
It's not a bad game a lot of ads this is for me anyway it's kinda hard to get better stuff
Game is good but withdrawing gold from the mine doesn't grant you any, and the stocked up gold disappears. Ill make my review 5 stars once it gets fixed
Fun. Very fun. However one issue. I wish my character looked different when i have different armours and rings equipped
Contact developer :
Video :
Download Grow Sword Master from Play Store
Leave your feedback regarding Grow Sword Master
Get more android apps/games/updates
Subscribe to our mailing list and get new android apps / games and updates to your email inbox.
Thank you for subscribing.
Something went wrong.