[Game] HAWK Freedom Squadron changed to HAWK: Airplane Space games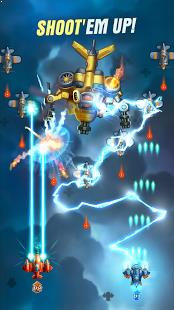 One body is nobody!
Gather your bros and kick the living heck out of tyrannical Autocrat's armadas in a series of breathtaking aerial battles! The enemy outnumbers you, but you're never alone — the unique co-op mode allows you to join forces with either your bro or a new friend! Shooting never ends.
With a broad range of aircraft and upgrades to choose from, a variety of missions and challenges, Hawk is a good ol' adrenaline overdose.
There's absolutely no way you'll ever get bored! So be ready to attack.
Maniac bros will help you choose the best guns and surprise the enemies with destructive missiles. Keep your strongest weapons reloaded to deliver a crucial strike to the enemies' fighter jets. True bullet hell where metal melts.
Exciting campaign: more than 100 levels full of enemies and breathtaking action!
Unique co-op multiplayer: team up with your battle brothers to overcome challenges or join forces with random players for even more fun!
Additional modes: Arcade, Team-up and Assault, each of them radically changing the gameplay!
Perfect Shoot 'em up: Lots of fighter jets, battle companions, ammunition and guns, and devices to choose from: your personal armory is packed with hi tech!.
Huge bosses: battle and defeat enemies that are so big they don't even fit the screen! And wipe out swarms of their minions! Find pieces of the Danmaku barrage of bullets.
Great visuals: Tired of space and lasers? Try out flying! Amazing 3d graphics will make you forget that this game genre is old school. Vertical shooters have never been better. Epic sky wars are full of excitement. Choose your «phoenix» and free the country from invaders. The symphony of air war and heroes' charisma are unforgettable!
Retro modernized: Played Shmup (STG) games before? Think this is retro? We prove you are wrong. This top-down shooter will make you say «wow» and revive the best impressions of your scroll childhood. No matter you are a fan of Strikers, Tyrian, Ace Squad, Razor or Airborn or you participated in battle actions in 1945. You will become the fan of our freedom squadron!
Take your Broforce to victory. Feel the bullet force.
You may also like
HAWK Freedom Squadron user reviews :
Game was kind of fun, until I just hit the hard pay wall, made the mistake of saving all the gems until I could get a plain to 140, but now I can't beat anything because my brobots are stuck at 100 since I won't buy gems, now even the events bump you by level, so good luck getting past them with a 140 plain and 100 brobots
Phenomenal game I don't why people expect the world to be given to them when it comes to a free game, but as it stands I have never played a free game that has so much flexibility and offers so many free perks that allow you to continue to play on as this game does. This game is simply amazing thanks.
I played some missions. So far so good on my Galaxy Note 4. Good graphic, good looking ships and gameplay. The game is not without some downsides. One of them is that some small bullets are easily mistaken as coins and may confuse players. Game was smooth until enemy fire bullet and then it became lag some how. New ship costs a lot of coin, expect some coin grinding but I guess it's just how freemium game goes nowaday. I havent tried coop mode yet. Please keep improving the game.
The game is failing to load on my Samsung Note 3 it just freezes on the load screen. I tried closing g the app and reopening it but no luck. But it works fine on my iPad. Please help
Hello. Please, report your problem to our technical support team, and we will be glad to help you. Best regards, My.com Team.
Adorable, really fun and has many stuff i've never seen before in any shooter games, lovely graphic and can't wait for more contents in the future. Great job guys!
Latest Update :
Pilots, meet Update 38.1! What's new:
The return of the Close Encounters event, where you can get implants for your planes
St. Patrick's Day Holiday Shop
Bug fixes and other improvements
Contact developer :
Video :
Leave your feedback regarding HAWK Freedom Squadron
Get more android apps/games/updates
Subscribe to our mailing list and get new android apps / games and updates to your email inbox.
Thank you for subscribing.
Something went wrong.