[Game] Hello Hero – Epic Battle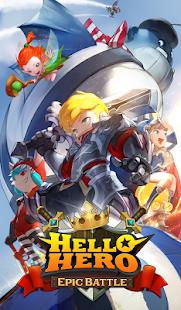 From the makers of Hello Hero, a game that has topped the charts in 49 countries and is played by over 20 million people around the globe, comes its newest installment – Hello Hero Epic Battle!
Set years after the original battle for Armon, a new group of Heroes are here to join forces with the Heroes of old and battle the dark forces of the Keronic!
Recruit over 100 Heroes and fight in multiple modes and stages to become the Top Guardian of Armon!
Key Features:
Over 100 Customizable Heroes!
Stunning 3D Graphics and Gameplay
Various Modes to Fight in (Adventure Mode, Expedition, Conquest, World Boss, Battlefield, and plenty more!)
Immersive storyline filled with eccentric environments and characters
Unlock Ultimate skills and unleash the Hero's full potential
Smart Toy figures with exclusive boosts and rewards
PLEASE NOTE! HELLO HERO EPIC BATTLE™ is completely free to play, however some game items can also be purchased for real money.
Note:
A network connection is required to play
1.6GB RAM Memory required to run the game
Languages Supported:
English
Thai
Pre-Register for the Game NOW: pre.helloheroepicbattle.com
Like us on Facebook: www.facebook.com/helloheroepicbattle
Join us on Plug: www.plug.game/helloheroEB/
Watch us on YouTube: www.youtube.com/fincongames
Also check our
Hello Hero user reviews :
It's a really good game. There are plenty of characters to choose from, and there is also some room in strategizing unlike other games in the same genre. There are also plenty of customization options. I just find a few flaws in the game though. You are limited to fighting current level enemies, so when your party is insufficient, you don't get any rewards, and you can't fight in earlier stages to grind levels. There is voice acting in the game, but the text localization is garbage.
Wow! 5 star 100% once you start playing its very hard to stop cause you only get stronger but please take note, some parts might be hard and take time to complete. With the free rewards like, gems, stones, exp, coins. You don't need to pay to pay. That's the best part.
Honestly, i really am dissapointed with the new version of this game. It is way more better, cool and awesome the last version game of Hello Hero. At that time, i played it on facebook and have no time to play at all because of work. But, now i have a time to play games and started to played it again by downloading the game through my phones, and was a total dissapointment. I don't like this new version of this game compared to last version. Not worth downloading it
Despite being one of the better looking games out there, in this genre, there are plenty of downsides that might make you consider not installing. AFK rewards are tiny, daily rewards are miniscule too, character aand gear upgrades are overly expensive – try upgrading your SS characters past 3 stars and you'll see what I mean! You can't even replay previous game levels, as a means to boost your xp or resources, as everything is bottlenecking you into using the shop to progress.
SKYWALK

Greetings Andy, Thank you sharing your review. Your feedback is important to us and it will surely be noted for the game's future improvements. If you have other suggestions that you want to share, you may send it at support[at]hellohero.zohodesk.com.
I started this game yesterday, and now i do have difficulty in logging in and having disconnection issues. I love the game, but everything is limited unless you pay. Afk rewards is too small. Can't even grind for more exp. Easy at first but as the game progress, you'll be having difficulty in gaining heroes, diamonds, gem and materials that will make the characters strong.
I started playing on July and still up to this date. I really love this game so, please keep it running for lifetime. Looking forward for future events and freebies, great job game dev team.
This is the kind of game that comes once in a lifetime. Hands down, the best game on mobile right now. Top notch graphics, story, gameplay and sound. It's a bit skewed towards paying players but hey, trust me, it's worth it. Thank you Fincon for this gaming masterpiece.
Hi Aubrey de Josep! We are in awe pertaining to your feedback about the game. We are glad as well that you're happy about the game. See you around Guardian!
Its a good game. But when im using my internet WIFI at home with fast connection. The APP is not proceeding in the game. However when im using DATA on my phone, that's the only time I can play this game. I need assistance on this.
Hello Jason, we sincerely apologize for the inconvenience.please restart the game to load the game files properly or reboot your mobile phone. Make sure to have a good internet connection. Closing other running apps can help, too. Thanks and Have a nice day!
Contact developer :
Video :
Download Hello Hero from Play Store
Leave your feedback regarding Hello Hero
Get more android apps/games/updates
Subscribe to our mailing list and get new android apps / games and updates to your email inbox.
Thank you for subscribing.
Something went wrong.