[Game] Island Questaway – Jungle Farm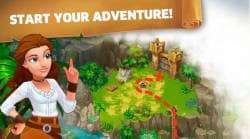 Welcome to the treasure island! Explore mysterious lands and start your own farm town!
The secrets of a lost civilization, family drama, an intricately designed farm story, and landscapes straight from paradise bay await you in this story adventure game!
Emily sailed to the island to find her brother, only to then get tangled in an exhilarating whirl of jungle adventure. In this explorer game, you help her as she develops her family estate on the farm island, makes friends with locals, and traverses picturesque ruins! Join Emily on her jungle adventure where she explores lost lands, discovers ancient mysteries and solves puzzles.
If stories are to be believed, a lost civilization once lived on this island, known for its cutting-edge technological advancements. For reasons unknown, it fell into ruin. Now is the time to find out what fate befell the ancient people and discover their hidden treasure.
Cultivate valuable resources, join exciting expeditions, and travel through the paradise island to uncover the mystery of the ancient civilization and save Emily's brother— all in this puzzle adventure game!
Features:
An intricate story
Throughout Emily's adventures on the treasure island, danger and surprises are always just around the corner. You never know what will happen next in this farm adventure game!
The family estate
A large estate on the ocean shore is yours to manage. Furnish and decorate it as you progress in this farm story. Remember that a bountiful harvest and a high income grant you more resources for exploring the farm island.
Mental exercises
All the minigames, quests and puzzles this story adventure game has to offer assure you'll never get bored!
Secrets of the island
What happened in this paradise bay eons ago? Why did an entire ancient civilization meet its demise? What lurks in the ruins? Uncover answers to all these questions as you delve deeper into this explorer game!
Expeditions
These are not your average camping trips! Enjoy an exciting jungle adventure in the heart of the mysterious island in this puzzle adventure game!
Treasure hunt
Become an avid hidden treasure hunter and add valuable finds to your collection.
Eye-pleasing design
Colorful and captivating graphics with attention paid to every detail brighten up the game, making it stand out from the crowd.
Let this exhilarating puzzle adventure game distract you from the everyday fusses and bustle of life! Solve puzzles to continue the story and learn more about the farm town. Emily, our brave hero, hopes that you will join her in this exploring game on the lost farming adventure.
Farewell!
You may also like
Island Questaway user reviews :
Like most people, I'm frustrated with the lack of energy. Even with the cauldron and dog and the order sends, the energy to need ratio is way off. It's frustrating to play a game that you can only play for 5 minutes at a time. I would think that it would be in the developers best interest to keep the players playing for longer periods of time. Love the game…. Hate the constant wait times.
NEXTERS GLOBAL LTD

Thank you for your review, Heidi! We always carefully consider player feedback and take it into account when planning new updates. Stay tuned! We'll try our best to hit the mark with our future updates
it's a very nice game.. it travels a lot faster than other games with maps.. the energy is found everywhere, tasks are a lot easier to finish. (especially if you can afford to buy gems, if not well you can always wait for its refill.. and believe me it doesn't take long.. ) though it doesn't have any music playing on the background, but it's not an issue for me anyways.. i really really hope this will last and it won't change as my levels go up. Some games do gets harder as the game progresses..
NEXTERS GLOBAL LTD

Thank you for your review! We always carefully consider player feedback and take it into account when planning new updates. Stay tuned! We'll try our best to hit the mark with our future updates
Entertaining and cute characters. Need internet connection to play. A lot of mess to clear which needs a lot of energy so oftentimes after clearing a rock and a tree root I have to exit the game and wait for the next energy full notification. My farm is still a mess but maybe I'm just too excited with the story line. Anyway there's no expiration to quests. Might as well take it slow.
NEXTERS GLOBAL LTD

We completely understand what you mean — it can get quite challenging exploring the mysterious lands of the island Don't forget to use all the means of earning energy! You can create energy in the cauldron, find it in amphoras on the Island, earn energy from completing boat orders Also, reaching a new level fills the energy bar to the max
Contact developer :
Leave your feedback regarding Island Questaway
Get more android apps/games/updates
Subscribe to our mailing list and get new android apps / games and updates to your email inbox.
Thank you for subscribing.
Something went wrong.