[Game] Love Signal – D-Mate
 free apps android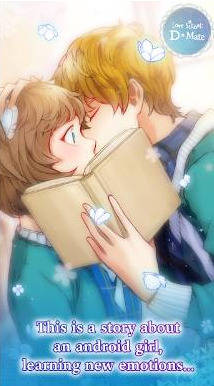 I thought… it had to be you.
The story starts when you find a girl, whose data's been factory reset.
Becoming a loved one from being abandoned is…
A repair shop owner who found the girl, Free spirit, Tay.
I'll give you all my heart
A man with a golden heart, Full of hope and expectations, Simon.
Because you are the only one who sees me as I am!
A cute boy who's bold and slightly perverted.
Love-seeking, Richard.
Did I really see this thing… as a girl?
His actions speak louder than his words.
A guy who denies his feelings, Greg.
Why are you… trying to become different from me?
He's intelligent and kind,
But his expression is odd sometimes, David.
You are the most precious person to me from now on!
An android, just like her.
His love for her is pure, just like his name, P:ure.
Jealousy
Rivalry
Desire
and…
Love
A story of a Girl who's learning new emotions.
Who will be her true love?
requests permissions to provide service.
In-app purchase (Required): Used for in-app purchase.
ID (Required): To log in to the game through Google or Facebook account.
Contacts (Required): Prevents abusing of event participation, and receiving duplicate rewards.
Phone (Required): Identify user's device and/or display appropriate events for users.
Wi-Fi Status (Required): Checks internet connection for data download.
Device and App History (Required): To receive push notifications.
Photos/Media/Files (Required): Saves game resources on device.
Storage Space (Required): Saves game play data.
Device ID and/or Call Info (Required): Receive Push Message.
How to remove permission.
Android 6.0 and above : Settings > Apps > Select app > Permissions > Select to allow or remove permissions.
Under Android 6.0 : Due to the characteristic of the operating system, you can remove permission by deleting the app.
You can purchase in-app products.
('Consumer Protection Laws Under E-commerce' may restrict the withdrawal of applications.)
This game requires additional data download on first play after installation.
This process requires stable internet connection. We recommend connecting to Wi-Fi.
In case of unstable internet or connection loss, an error may occur during download and the app may not run properly.
If you have any inquiries, please send us an E-mail with your phone device model name and detailed information of your problem through following address: day7officialinfo@gmail.com
Terms of Service & Privacy Policy : admin.becomead.com/provision/provision.php?lang=en
Website : www.day7games.com
Developer : 82-10-4182-2221
Love Signal user reviews :
it has a fun story line but it's almost impossible to earn money and eventually u will probably need to spend real money to continue so i think i must delete it.
I really enjoyed this one! Its a pretty game and the characters are great. Totally would play again!
This game is generally ok. Not as good as your other games concerning the concept it tried to use. How d Robots feel was too simple, which isn't completely sensible so I couldn't by into the Female leads emotions being real at all. The routes were very on the surface without having to go through the issues with them personally which was done in other games. The epilogues were then done to make up for that. So far The best epilogues & routes are: P:URE's, David (Yes,he isn't evil) & Tay(just ok).
The game is nice, but it's so hard to get cores, despite them being an important part of the game. You buy emotions with them, which is an important part of the game, as well as clothes. You can earn 40 core a day by watching videos, however sometimes it doesn't reset, so the easiest way to get coins it to buy them, but some people genuinely don't have the money to spend on games. Also, with quests as far as I've seen don't really matter, so maybe you could get cores from them..?
I used to love it until I reached the part where it said "Raise Values" and there was no other option like it had before. I have 5 coins, I only bought Love and Joy, I don't have any bought clothing, I can't do Free Charging, and I can't purchase coins with real money. Uninstalling even though I REALLY don't want to.
It's so heart warming to me, the convicts and storylines were all interesting and I am so in love with this game!!
Oh my god, I read the other reviews and apparently I'm not the only one unable to open the game. The game immediately going to a Black screen before disappearing altogether! I was really looking forward to playing it and finally had some time to play but now I can't and I'm extremely disappointed! Please, for the love of my sanity, please fix this issue!
The game keeps on crashing on me every time I try to load it up it just crashes I don't know what's going on I had this game before and it didn't do this. It was a really fun game too but when my phone broke I had to get a new phone, I really hope that it gets fixed so I can play the game again and be able to finish it.
I absolutely love this game… worth playing more than once, definitely! The free charging makes it a lot easier instead of having to buy cores with real money. But, I do wish you had the choice of no when it asks you do you wanna start over; if you cant pick it… why is it there.
Contact developer :
Download Love Signal from Play Store
Leave your feedback regarding Love Signal
Get more android apps/games/updates
Subscribe to our mailing list and get new android apps / games and updates to your email inbox.
Thank you for subscribing.
Something went wrong.