[Game] MARVEL Future Fight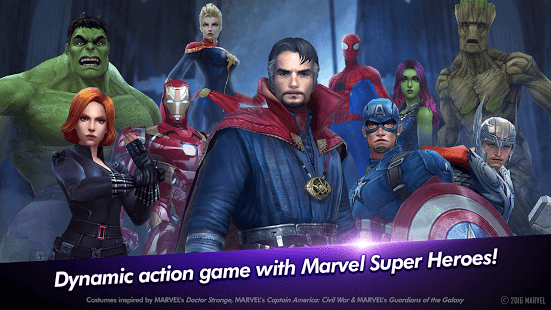 NEW HEROES & NEW UNIFORMS FROM SECRET WARS HAVE ARRIVED
The Avengers…Spider-Man…the Guardians of the Galaxy! You can unite the greatest heroes from all corners of the Marvel Universe for the epic battle that will decide the fate of all realities  MARVEL Future Fight!
S.H.I.E.L.D. Director Nick Fury has sent a dire call from the future: The multiple dimensions of the multiverse are collapsing upon each other – and it's up to you to ensure humanity survives! Gather the mightiest Super Heroes and Super Villains, assemble your team, and protect the universe at all costs!
ASSEMBLE YOUR TEAM! – Create your squad from Avengers like Hulk, Iron Man, and Captain America, as well as other famous Marvel heroes like Spider-Man and Daredevil! Upgrade your weapons and master your skills to give your team the ultimate power-up using a deep RPG leveling system.
LIVE THE STORY! – Explore the Marvel Universe in an original story created by acclaimed writer Peter David!
EPIC 3v3 BATTLES! – Test your mettle against other players in 3v3 battles! Choose from four unique hero types – Combat, Blast, Speed, and Universal – then pit your champions against your opponents' teams for supremacy.
SINGLE PLAYER CAMPAIGN – Wage epic battle against Super Villains in stage-based battles across a deep, immersive single player RPG campaign to unlock exclusive content, new costumes and rewards!
TEAM BONUSES – Team up classic Marvel characters to earn special boosts and bonuses!
SUMMON ALLIES – Need a little help to get through the next Super Villain battle? Summon your friends via the Ally System for reinforcements and claim victory as a team!
EASY TO USE, ONE-FINGER CONTROLS – Play with just a single finger, or use the virtual control pad to guide your team through the Incursion and defeat your foes!
Terms of Service: help.netmarble.com/policy/terms_of_service.asp
Privacy Policy: help.netmarble.com/policy/privacy_policy.asp
MARVEL Future Fight user reviews :
A good game with tons of characters, uniforms and play modes. If you want to be successful in the PvP modes you have to pay out the nose. You can grind and level your characters up and get them to a powerful level, but then they release a new character or uniform and all of your hard work is worthless because of the people who spend hundreds of $'s to get the latest stuff and then wipe you out within seconds.
its been just 4 days and I've already become addicted to this game. Its such a joy to play, easy controls, many missions, alliance events, special events, and it takes long to complete the game, so yeah, this game is long and for sure will keep you engrossed. MARVELous game! Edit in October 2020: Game has become a massive cash grab April 2021: The game is back on right track and I am enjoying every bit of it!
This game is EPIC, I definitely recommend this game to all the marvel fans out there! And the gameplay is awesome not to mention the best graphics I've ever seen. And I love the fact that there are absolutely a ton of stuff to do so you don't get bored. Tons of uniforms to collect and that this game is awesome for F2P players. And it's monthly updates. But I have 1 complaint please bring back the old story mission with all the stages (1-13) I was sad this got removed because I put a lot into it.
The game is perfect! But, I have two problems, when I wish to play legendary battles like Avenges Endgame is difficult for me even to pass the first level, and when I wish to buy a new suit or character, it requires a lot of money or rubies, and I wish that the team could increase like to 6 characters to form my dream team, but everything else is perfect!
I love everything here it is great, but In got a few requests, for the gear, can you reduce the biometric needed to upgrade the gear, I used 300 biometric and I still can't maxed all gear, it is so annoying. Also I want a little more x-gene selector, my kid omega can't ever have enough x-gene. Also can you add back daily mission, villain siege and all those others.
New Character Situation There are characters that are a major part of The Marvel Universe. Characters such as Dead Pool, Wolverine, Storm, Thanos and more should have been part of the update, rather than Agents of Shield….
JUST WOW!!! From the graphics to the chsracters and story line. Future Fight has it all. Single player, multi player, and fighing opponents around the world. There are so many variables to the game I can't believe its on a cell phone. GREAT JOB ALL AND THANKS
Netmarble has been generous with the freebies as of late, and updates have been good so far. Hopefully it stays that way and keeps the proper balance for both pay-to-win/f2p players.
Good day, Robert! We're sorry for the inconvenience, kindly reach our Customer Support at https://goo.gl/BHlqUX regarding this matter. Thank you!
Lastest Update :
Check out 'Infinity Watch' theme update and New World Boss 'Infinity Ultron' in game!
1. New Uniforms Added!
Adam Warlock, Gamora, Drax
2. New Tier-3, Potential Transcended Heroes Added!
Tier- 3: Adam Warlock
Potential Transcended: Gamora, Drax
3. New World Boss: Legend 'Infinity Ultron ' Added!
ⓒ 2022 MARVEL
Contact developer :
Video :
Download MARVEL Future Fight from Play Store
Leave your feedback regarding MARVEL Future Fight
Get more android apps/games/updates
Subscribe to our mailing list and get new android apps / games and updates to your email inbox.
Thank you for subscribing.
Something went wrong.