[Game] Matix – Mental math games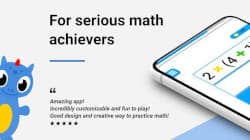 Join hundreds of thousands of players improving their multiplication and mental math, start your math game journey now, climb the leaderboards, collect hats, take on challenges and see your mental math progress in a fun and easy way.
Matix is here to help you, become quicker and more confident with mental math now.
Carefully designed math training scenarios, they will ease you in to larger and more advanced arithmetic question, it is fun when your brain gets better at doing the math questions for you.
Why Matix?
Matix has exiting multiplication math areas for every skill level and age, jump right in to this awesome experience.
By doing daily math training, you will soon see an improvement like many others already have.
Track your progress. Work toward your math learning goals with playful rewards and achievements when you make practicing a daily habit!
The training area is for advanced user, where you can configure your own custom training setup. Practice exactly what your want addition, subtraction, multiplication, division, exponent, square root, percentages and tables.
Become ready for your exam, job interview or just your daily math challenges :)
We wish you all the best with your math training :D
Send any feedback to support[at]onecolorgames.com
Follow us on socials:
Twitter:  twitter.com/MatixApp
Facebook:  www.facebook.com/MatixApp
Instagram:  www.instagram.com/MatixApp
You may also like
Matix user reviews :
All the modules are more interesting and kids would love to interact. It's awesome and the graphics are amazing. the flow is nice, the settings gives the options which you want to get strong. On using this app, i could learn the speed math and play with numbers. Thanks people such a wonderful application for developing to speed up my math ability.
One Color Games ApS

Hi Shalini, thank you so much for the awesome review I'm glad you like Matix and are improving your math skills Wish you a lot of fun with this math game  Have a nice day
I like the look of this app, especially the dino. The dino is very cute for example is when i open this app, the dino appears and says "i just wanted to say you have a wonderful day." hahaha it's cuteee. Of course, this app also helps train my brain in calculating quickly and appropriately. Keep up the good work!
One Color Games ApS

Hi Devi, than you so much for this amazing review I'm glad to hear you like it, and are having fun practicing your mental math Have a wonderful day
The most awesome math game I have found. Developer is also awesome for quickly replying and fixing a bug issue. Highly recommend this game for anyone wanting to practice and train their math skills.
One Color Games ApS

Hi christopher, thank you for the amazing review and recommendation Always happy to help with any issues, thank you for the bug report Have a nice day
An amazing app that helps people who are struggling with math,amazing keep up the good work,I personally use it and it 's helping me multiply numbers faster, overall a fun and a salutary experience
One Color Games ApS

Hi Wisam, that is amazing to hear, thank you for the great review and recommendation I wish you a lot of fun practicing your math skills with this math game  Have a nice day
Ads are not playing for temporary unlocking of features.It shows to play ad but nothing happens You are application is just awesome But ads are not coming for me to temporarily unlock features. It's my bad time. But I can't buy at the moment for features
One Color Games ApS

Hi Movie, please update to lattes version of the app, the rewarded ads should now work better  I hope this fixed the issue you where experiencing  All the best to you and your math training  Have a nice day
Just installed this app. Excellent mental workout. Thank you, I love the training section and how customizable it is. Just paid to fully unlock it. I have a suggestion please, can you add the time option of eg 4, 5, 6 or 10 seconds PER equation? because the current time option only gives an overall time limit for the whole exercise, so there is no sense of trying to solve it quickly before the time runs out. It is also good to display how many rights and wrongs throughout the whole exercise
One Color Games ApS

Hi Olivia, thank you very much for the nice review :D You have some great suggestions, I got a lot on my plate right now, but I will add them to my todo list, so I can remember them later on, new ideas are always welcome
I've only used this app for 20 minutes and I'm ready to give it 5 stars. Smooth operation, slick design and layout, easy to use and easy to find things. Whatever algorithms for arranging the order of the problems is top tier genius. It runs well on my old tablet so far. I'll probably be adding this to my other devices as well. No fooling around, I'm very glad I found this
One Color Games ApS

Hi Gregory Thank you very much for this awesome review, I'm glad you like the app and find it useful :) Have a nice day! :D Sincerely
Contact developer :
Leave your feedback regarding Matix
Get more android apps/games/updates
Subscribe to our mailing list and get new android apps / games and updates to your email inbox.
Thank you for subscribing.
Something went wrong.