[Game] Merge Chicken – Idle Tycoon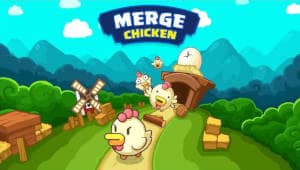 Welcome to the addictive game!
Build your farm and collect a variety of chicken.
Cute and adorable chickens are waiting for you.
Game Features
Easy and simple gameplay
Merge the same chicken to evolve
Earn money with chicken eggs
Collect more than 50 kinds of chickens
Idle system. You can get money even when you are offline.
Play Merge Chicken! and discover more chickens today!
You may also like
Merge Chicken user reviews :
No ads! Only one issue: when the tutorial hand pops up to tell you to tap on something, you can't tap on anything but what it tells you to. While the hand was up, it told me to rate the game. I pressed "Yes," and nothing happened. The same thing happened for "No". You can still get it to work without restarting the game, though. All you have to do is keep pressing where it tells you to, even if you can't see what it's telling you to press. It'll still act like you're pressing it.
Great fun – low pressure game and a treat to play. No ridiculous deadlines, no ridiculously high expectations to pay with actual currency, but yes, ads. After some days of play, I decided to pay 4.99 plus tax for the ad free version because, and why I deducted one star, I spent more time watching ads than playing. I have found that I find this relaxed play time which is very much needed during these trying times.
i love the fact that you merge the chikens into even better and cuter ones and i love the secret chest it gives you lots of money for one add…AMAZING!!!W, W, WOW!!!!the graphics and the controls just WOW and the fact that it is so smooth and it doesn,t use intermet cnecction!!!!!!and i will download all of your games and i have idle chiken ilove them!!!!!!!
It's cute, I paid to remove ads and so far it's been worth it. The only thing I don't understand is in the boosters, what is the e-coin discount for?? I haven't seen 'e-coin' anywhere else in the game besides that menu. Game is pretty good otherwise, one of the better merge games I've played.
It's great i love chickens and there's no ads which is even greater so it's a really great game, i recommend it for chicken lovers and merging fans
This is honestly the best merge game I've tried. I have to rate it 3 stars though because it uses the master audio channel. I mute games so I can play them while listening to an audiobook. Turning the sound down in this doesn't mute it, and since it uses the master channel I cannot play this and oth…
This game is great game and fun, fun to play with you never know what the next one will look like a real life chicken or something else like a pig-chicken for example of what it could be lol. Just never know what to expect for the combination of the animals!
Good Simple fun to pass the time. Nice clean graphics with easy to learn game play. The repetitive theme music even helps my 2 month old child ( and myself ) to fall asleep.
Super cute and super easy. Saw it when I was playing egg tycoon and now I'm addicted to both. Love this type of game!!
Addicting! Adorable chickens Great for all ages! 1 YEAR later, and I STILL enjoy this game! BEST way to kill a few seconds while waiting for an appt. DON'T delay, download now, enjoy the play!!
I love all of your games have them all u shuld make a open world chicken game where u can fight other thighs and get armour that's a game I would buy things in!! Love u guys
Repetitive game – you just keep doing the same steps over and over. I played for about an hour and am now uninstalling
a totally avarage game for totally avarage players not too hard, not too easy, its an idle game 4 stars
Awesome and cool I really like to merge them I like how you can buy some chickens num num num num chicken nuggets.
This game is fun, I really njoyed clicking and tapping and merging new species of CHICKEN!
Cute game dont know what the purpose of the game but still cute . im sicking with it for awhile hopefully it will show me what the purpose is for the game
I love the chickens all the different ones are really funny and fun to find
Very addictive, kept me entertained for hours.
If you can go in city map in this game it would be wonderful greatest game of merging ever
Contact developer :
Download Merge Chicken from Play Store
Leave your feedback regarding Merge Chicken
Get more android apps/games/updates
Subscribe to our mailing list and get new android apps / games and updates to your email inbox.
Thank you for subscribing.
Something went wrong.