[Game] Tiny Farm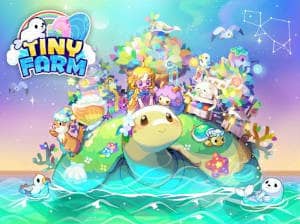 For a farm so small it fits in your hands, Tiny Farm is jam-packed with sweet surprises and endless possibilities!
Trading Center button has been added to the main menu so that you can visit the Trading Center from anywhere. The Trading Center system has also been improved.
Quest shortcut function has been added.
Package Shop has been visually improved.
You can now enter the amount manually in Shop, Send Gift, Selling, Stall, Cooking.
Other bugs have been fixed and convenience improvements have been made.
Features
A heartwarming story with the talking sheep, Ben, Ren, Alfredo, and Amy!
The unique Breeding System with Love Points.
A combination of real life and fantasy! Various mystic animals
Darling designs and decorative structures mean your farm is unique and gorgeous.
Enjoy a gardening life with fields, fishing boats, and squirrel's house!
Visit your friend's farm to help out and share the love.
Access permission notice for gameplay
STORAGE: The authority is required to use an external memory storage for additional downloads.
PHONE: The authority is required to collect mobile phone numbers for sending event SMS.
You'll be able to enjoy the service except features related to above authorities even if you don't give permission to the above.
You can play TinyFarm in 한국어, English, 日本語, 中文简体, and 中文繁體.
Items are available for purchase in this game. Some paid items may not be refundable depending on the type of item.
Terms of Service:  terms.withhive.com/terms/policy/view/M9/T1
Privacy Policy:  terms.withhive.com/terms/policy/view/M9/T3
For questions or customer support, please contact our Customer Support by visiting customer-m.withhive.com/ask
You may also like
Tiny Farm user reviews :
Its slowly gotten better since the big change. Still could use some changes to reduce loading times. Wish you would remove the restriction on what maps items can be placed on. For example theres no reason to why a fence or tile should be only available to be placed on a single specific map. Besides items that need placed on water, all the map restrictions should be removed. Also consider barn/production deco storage discounts. Or giving them as event rewards. We are piling up way too much junk
Been playing this game for about 7 years. Reviews complaining about the recent overhaul are old, the game has been optimized which it desperately needed. It loads much faster, takes up way less space, and looks fantastic! As for the game itself, there are plenty of collections and stats but I think it's really about the super cute animals/decorations and Tiny Farm never disappoints! New ones are released every couple weeks and they are generous with freebies so everyone can have nice things.
update on my review for this game and honestly it's quite more enjoyable they've done a few things and added a few more rewards that makes it a little bit better for free to play players although the game is still pay to win it's a lot more enjoyable and a lot better than it was before. I'm moving it from 2 to 4 because I've been playing it for some time and although it is a bit boring at times the reward system and the rewards they give you have gotten better.
I do t know if its just me or whats going on but I can't find the "field" for the missions I have to complete I have looked in the store were the value says to look but haven't found it I'm only giving it a 2 and not a 1 cuz the animals are cute and I have been able to get some nice ones without wasting actual money cuz the prices they have are EXPENSIVE but o well If anyone knows we're to look for the field please let me know cuz either I'm blind and I don't see it or it's just not there.
The game is really good and really fun to play. My problem with it is that, a lot of times, the game's gets stuck on the loading screen, be it going to another place, visiting another farm or even just starting the game. There's also the problem of it saying to check my connection eventhough I have good reception and then it would just immediately close.
The game is fine and all and the graphics are cute, but there is no help button that I can find. The only help buttons are about specific things but they don't really help. Took me like 30 mins to find how the transfer an animal to another place and now I cant seem to find turtle island on my map. I saw tutorials on how to get to the trading center, but how am I supposed to get to the trading center if turtle island isn't even there. Oh, and I can find a help button for the problem either.
Contact developer :
Download Tiny Farm from Play Store
Leave your feedback regarding Tiny Farm
Get more android apps/games/updates
Subscribe to our mailing list and get new android apps / games and updates to your email inbox.
Thank you for subscribing.
Something went wrong.