[App] miMind – Easy Mind Mapping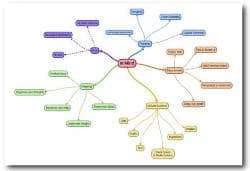 miMind is a powerful tool for organizing your thoughts, laying out schemes, and sharing them with your friends and co-workers.
Develop anything from simple bucket lists to professional engineering concepts. The app includes dozens of layouts, color schemes, shapes, patterns, and much more. Once your map is complete you can also share or export it to an image, PDF, text or XML file.
Features:
user friendly, intuitive, easy to use/navigate, and unique interfaces,
simple, flexible, smart phone and tablet-optimized UI.
export to many formats: images (jpeg/jpg, png, tga, bmp/bitmap), pdf, text, xml files
no ads/advertisements, no sign-up required
multi-level, logical, hierarchical frameworks, many layout schemes
rich text formatting
lines and curves, shapes (square, rectangle, oval, circle, hexagon, cloud, octagon, etc.)
backup to online storage such as google drive, dropbox
import from cloud storage
copy paste, duplicate, detach reattach nodes
undo redo, collapse expand, zoom scroll, crop rotate, drag-n-drop
auto-save on exit
Freemind file type import
Applications:
note taking, scrapbooks, slides, presentation, flash cards
project planning and management at work, home and businesses
helps with staying focused, goal settings, color-coding, assignments, qualitative analysis, budgeting
creative writing: novel, fictions, speech, summary (summarize things)
add images, audios and memories
Maps: topological networks, not-to-scale road maps, vector drawing
Trees: multi-layered tree, binary tree, radix tree, decision tree, family tree
Diagrams: graph, flow charts, abstract design, class (UML), state, data flow, complex, venn
Lists: To-do list, grocery list, checklist
Plan trips and vacations
It is for everyone: student, teacher, entrepreneur, artist, professional or hobbyist
and much more: Imagination is Limitless.
More info:
Please visit our webpage to get more info on the product:
mimind.cryptobees.com/
Acknowledgements:
Cryptobees team would like to thank every individual and every entity who contributed directly or indirectly to realize the product into its current form. A full section on the acknowledgements can be viewed here:
mimind.cryptobees.com/acknowledgements.html
You may also like
miMind user reviews :
HIGHLY RECOMMEND: Does exactly what it says it will do. Be wary of reviews claiming that the license is single device only – there is a separate license for the PC, but purchase allows for use on multiple mobile devices. Also, cloud storage service is spotless. While missing a few advanced features, this is one of the most versatile mind map apps out there!
I've had this app for about 3 days now, and I'm on it more than any other app on my phone. I grew up learning with mindmaps and somewhere along the line, stopped using them. Since then, I haven't realized I needed mindmaps again so badly. This is perfect for my life, and I hope to be able to integrate into many or most aspects of my life. Get my life organized. Stop forgetting things, help others Easy to use. Fun to learn using it. Love to learn more
This app is a blessing! I was growing weary of trying so many inferior and utterly unusable mind mapping and brainstorming apps but I have finally found the king of them all! Seriously, this level of quality you would expect in a desktop workspace, I wasn't even sure if it was possible for a mobile app! I am having one minor issue, the text in any given node is not responding to changes in text alignment when I apply them, regardless of the size of the text field within. Pls help
Great app to organise your thoughts. Helps me keep track of my studies/writing. I would recommend this mind mapping app because it's reliable, easy to use and updates/saves your mind maps very fast. If your a student this is highly recommended. The templates, colours, folders, sharing, converting and other features are good and the app is not too expensive either.
Very flexible and fluid with its design. Mapping and brainstorming ideas and perspectives is a lot more structured with this app, but in a very organic way. It's also not intrusive at all with ads or bugging you to pay. Which actually makes me respect them more and be much more likely to purchase this with confidence.
Nice and handy app. It has a bug however. When you use on differen devices (mine is Samsung S10+ and Tab 2016 Rom Android 11) and save maps on GoogleDrive it actually creates two different folders for maps so you cannot usenit cross platform. Something for developers to fix for instance by allowing user to choose a folder to store maps.
first impressions: exactly what I wanted and more. fyi: they have a PC version on their site. purchased both the android and windows versions. cloud sync is through GDrive/Dropbox, and it's ok – it works, just gotta babysit it to make sure it syncs. I'll come back and write more later after I use it for a while. I wanna see if it helps with my ADHD at all
Contact developer :
Leave your feedback regarding miMind
Get more android apps/games/updates
Subscribe to our mailing list and get new android apps / games and updates to your email inbox.
Thank you for subscribing.
Something went wrong.