[App] MindShift CBT – Anxiety Relief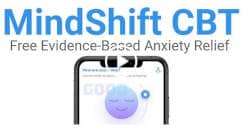 Break free from anxiety and stress using this free evidence-based anxiety management app. MindShift CBT uses scientifically proven strategies based on cognitive behavioral therapy (CBT).
Mind Shift CBT is a free self-help anxiety relief app, that helps you reduce worry, stress, and panic by following evidence-based strategies. Using CBT tools, you can challenge negativity, learn more about anxiety, develop more effective ways of thinking, be mindful, and relax.
If you are looking for anxiety, stress, and panic relief, you have come to the right place. Download MindShift CBT for free on your Android device, learn more about anxiety, practice cognitive behavioral therapy, and reduce the amount of worry, panic, social anxiety, and discomfort from phobias that you experience.
The go-to app for anxiety management
Mind Shift CBT, the free anxiety relief app, comes with a clean and user-friendly design that allows you to learn and practice CBT strategies in an easy and intuitive way. We have specifically designed the app to be your free and portable go-to tool for anxiety management.
Learn about the different CBT strategies, including writing thought journals, challenging yourself with belief experiments, building fear ladders, and doing comfort zone challenges. Listen to calming audio to reframe your thoughts, practice mindfulness, and stay grounded. Participate in the Mind Shift CBT Community Forum: share stories, learn about others' experiences, and provide peer advice in a safe environment. All the exercises are presented in small chunks with plenty of supporting information to help you naturally integrate these strategies with the rest of your life.
Mind Shift CBT includes additional features that help keep you on track. Stay accountable and track your progress with the check-in feature, which allows you to record and view graphs and journal entries. You can set goals for yourself and get reminders. If you choose to, you can easily export and share your data via email to streamline sessions with any therapists, counsellors, or psychologists you may be working with.
Mind Shift CBT is completely free, so give it a try and explore the features for yourself!
Mind Shift CBT is packed with loads of evidence-based and trusted features to help you with anxiety management. With this app, we hope that you will be better equipped to manage anxiety, find relief from panic attacks, overcome your fears, and hopefully, ease your own mind.
Mind Shift CBT main features:
Clean, welcoming, and user-friendly intuitive design
Evidence-based strategies and tools based on cognitive behavioral therapy (CBT) designed for anxiety relief and self-management
Daily check-in to keep track of your anxiety level and mood
Easy to follow guides on learning about anxiety
Facts and tips to overcome general worry, social anxiety, perfectionism, panic attack, and phobias
Goal setting tools to keep you accountable
Coping cards and statements to help you ride out your anxiety (and the ability to add your own!)
Guided relaxation and mindfulness meditations to ground you and give relief
Belief experiments to challenge the beliefs that fuel anxiety
Tips and tricks for incorporating healthy habits into your life and minimizing anxiety naturally
Sharing and data exporting (if you choose) to streamline sessions with your counsellor, therapist, or psychologist
Community Forum to share stories and provide peer advice in a safe environment
Also available in French
Free to use!
Download Mind Shift CBT on your Android phone or tablet now, and get ready to take charge of your mental health and find anxiety relief. Learn to be more mindful, incorporate CBT techniques in your daily life, and stay accountable and motivated on your anxiety management journey.
Stay tuned for more updates, and let us know about any bugs, questions, feature requests, or any other suggestions. We are always looking to improve the app and we appreciate all your feedback.
You may also like
MindShift user reviews :
I tried this because it's actually free unlike so many unethical "health" apps, but there just isn't much to this app. Everything is completely free-form, for example setting goals or trying to establish coping strategies is simply a text box where you're supposed to come up with your own things. It does not guide you through much, which is kind of an essential feature for mental health care. The whole reason someone turns to an app is for help because doing this on your own is overwhelming.
Been using this app for a long time, great app, very cool voice to help you relax, you have a quick calm breathing exercise, then other longer ones. Also a great mental guide along the beach to relax you. Plus other helpful tips , and ways to keep up with your progress. I highly recommend this.
Lots of great tools in the app. It's targeted for anxiety, but the tools like goal setting and the thought challenger are general enough that it can be helpful for everyone.
Great app & excellent tools, plus it doesn't ask for unnecessary access to everything on my phone, bonus! Some parts could be construed as simplistic & I can see how the explanations might sound patronising but the beauty of this is that it's simple. It isn't trying to be so involved that it becomes overwhelming in times of difficulty. The only reason I gave it 4 stars is they need to rethink the call option, the numbers are for Canada/US only. Plus it'd be better if you could add personal no's.
Contact developer :
Video :
Leave your feedback regarding MindShift
Get more android apps/games/updates
Subscribe to our mailing list and get new android apps / games and updates to your email inbox.
Thank you for subscribing.
Something went wrong.