[Game] Mini Basketball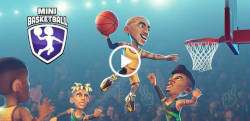 Put on your sneakers, and get ready to go onto the court in this brand new basketball game!
Experience basketball like never before, in this fresh and easy to play basketball game. In Mini Basketball you will enjoy a casual gameplay experience, while still remaining loyal to the original game. It's time for you to get the crowds roaring in the arenas, score some amazing 3 pointers, and build the strongest team that ever existed!
Pick up and Play
Welcome to the first casual experience of basketball. Mini Basketball has a casual pick up and play feel that still remains true to the original sport. No need to waste time on endless mechanics, just pick it up and jump straight into the action
Build, Upgrade and Customize Your Team
In Mini Basketball you will be able to win players, from common to epic ones, and upgrade them to turn your team into the most feared opponents on any pitch. Not only can you build your team, but you will also be able to fully customize it to your image with more than 100 customizable options from:
Unique logos, jerseys, shorts, sneakers.
Personalize your gameplay experience by choosing the ball you prefer, mascots, cheerleaders and dunks!
Name your team
Win the rarest pieces of equipment and show them off!
Play through Different Tiers and Tournaments
Unique and original arenas and courts that will get bigger, louder, and more impressive as you progress through your basketball career. Several tournaments where you will go through playoff stages and win a trophy at the end of the road!
Whether it's on your court, or in an international setting, every game will feel different. New and more impressive arenas are on their way, so keep an eye out for future updates.
Rule the World
Climb up the leaderboards to win amazing prizes and always be on top of the competition. Every week you will have a chance to move up the leagues, from the Brass League to the All-Stars League, so make sure that you grab those promotion spots by the end of the week to win bigger and better prizes!
Contact us:
support[at]miniclip.com
You may also like
Mini Basketball user reviews :
The controls is very confusing. Whenever you try to steal the ball from your opponent, it takes a lot of time but when the opponent steals the ball from you it makes it look like its easy and about the scoring, scoring around 3pt line is easy rather than scoring inside the paint and mid range, even if you hit the green in the shot meter it will still miss. I don't really get the point of hitting the green and still miss. But still a good game just fix the controls and the shot meter.
Looks exactly like Mini Football in every way but just basketball! It's still pay to win, & with the exact same bot mechanics! To the people that say we are just bad and blaming bots. 1 If you google Mini Clips they admit to using bots and suggest leveling up to have a greater chance to play with real people. 2 My opponent will be at level 10, have no upgrades, & will be play with NO EXPERIENCE points + u can looking up their stats and SEE they've only played 10 games. That doesn't add up
Love this game. Easy to control. Player management is cool. Learning pass plays , passing to the best player to make a shot from his best position (inside / outside). Just one thing…..slam dunk is hard to pull off….the tutorial does not explain dunking properly. Other than that….all is good.
So far a great game. I play the soccer game every day and probably will with this one as well. Just make it a little easier to get the legendary and mythical cards and sometimes it's almost impossible even buying mega boxes. Also please make a hockey version of this style of game play. Thanks
Game play experience was fun with good quality graphics. However, the super pack mentioned guaranteed 3 rare cards but result was not the same. Also, opponent team can still win despite the strength different is halved of mine. In the end, its just a random number game.
Gameplay and graphics are good. There are some visual bugs in Starter Packs and Unreal Tournament where all I can see is a one big red question mark when you try to view the contents of it. I know its a new game so I hope theres more amazing contents to come in the game. I'm happy its actually not a type of game that has full of paywalls so great job Devs
Enjoying so far. Might do a video on it later. There is good and bad to it. Could do without all the forced ads to unlock free stuff or speed up pack opening. Just makes the devs come off as money hungry too me when you already have in app purchases. My suggestion: Change the opening pack mechanics, drop the time counter part of it. Maybe make it take longer to aquire the packs vs having to wait to open them. Imo The ads for unlocking freebies is tolerable albeit annoying.
Contact developer :
Video :
Download Mini Basketball from Play Store
Leave your feedback regarding Mini Basketball
Get more android apps/games/updates
Subscribe to our mailing list and get new android apps / games and updates to your email inbox.
Thank you for subscribing.
Something went wrong.