[Game] Monster Alliance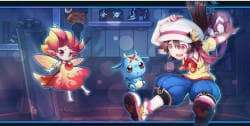 Monster Alliance is a RPG game about pet training and monster battle.
collect more than 400 pets.create your ultimate team with amazing pets and step on the dangerous but exciting journey.fight in pvp, real-time battle and more on the adventure.
What's more, now you could compete with trainers from all over the world!
Feature
More than 400 pets waiting to be captured
Evolve, enhance, and upgrade your pets into more powerful and complex forms;
Solve puzzles and fight in this round-based strategy RPG;
Compete in PVP arena and duel with others in real-time fight;
Chat with your friends in real-time voice chat;
Learn life skills & trade in markets & create clan and team up with your buddies;
Daily Boss fights to win things like senior pet hatchers!!!
What's new
New Function: Science & Sub Attribute
New Event: Pet Wanted and King of Pet
Follow and contact us:
Email:bigsun20008feedback[at]gmail.com
Forum: www.facebook.com/MonsterCastle2020
You may also like
Monster Alliance user reviews :
Its a fun game, but not worth it to pay money. Its no fun when your server is deleted. I believe that the servers get deleted so often because of how many people start a game, but never play. That game then sits, taking up space on that server. I am just trying to say that people should stop creating games they will never play. Stick to one server please. Other then that its a good game. No ads. Which is a nice change.
It was fun but I think you have to give more to the players such as event to be able to get good skills or pet without having to spend too much money. I've already spent around 15$ at most but still have trashy monster with trashy skill. Please be more accomodating to the players. Thanks and nice reworking the old pet alliance thoung some pet names can't be red because it's not in english
For rich players only, super pay to win, pets that you pull on Gacha aren't so much, even those pets that can be bought on the auction house are garbage, only those who recharged large amount of money can enjoy this game, I recommend to not play this game if you can only spend 10$ above or can't recharged at all, you will just be disappointed, in this game those with money rules while those that don't are just ignored. Lots of bugs that the devs won't even fix, lots of skill restrictions. New players might enjoy this even without recharging but they will stay at the game for 2 months at most then quit.
I really like the game. The characters are cute and cool all the same with fluid animations. But can you fix the scroll that slides up and down, please? It's very NOT smooth. Some names are written in chinese(?).. Can't read it. Please update the book shelf. The 3rd book is outdated. It sometimes glitch when withdrawing my monsters from workout. Please add a "claim all" button in messages. I'm too lazy Please and thank you. This is a great idle game.
I finally found this game after search for a long time missing playing this game. I've had this game for so many time but for some reason always get removed or disappear from google play. I was one of the earliest players when this got up again. And when I log in again, I was in server 3-4 If I recall and I don't see my server I played in. I spent so much time playing and grinding this game and just to see that my harwork has been erased. I'm done, please bring back the old servers, i miss the o
The game is giving me an error saying " didnt find class ' cn.fangcun.pocketbaby.FC_PocketbabyApplications' on path ( im guessing wherever the application puts its program in the system of my phone)" I just installed it today again after a break of playing it a couple months back and thats what the game gave me and the game wont load after that. I really like the game but it wont let me play
AMAZING game but this time when I installed it, it was different and not even a bit close to the video. If you will be able to change that, i will change my review, if not, then thank you for trying. And please answer this when you can.
Good day team,I would like to thanks to all the support staff in your company for fast and realiable action to any player have issue in misinterpret or false report and you give a fair decision by investigating the issue. Insha'Allah more issue that you can solve in this game so all players with feel welcome and safe to play this game. I'll guarantee if do the best way treat any player welcome they will patronize and suggest this game to his/her friend.More power and God bless team…
Contact developer :
Download Monster Alliance from Play Store
Leave your feedback regarding Monster Alliance
Get more android apps/games/updates
Subscribe to our mailing list and get new android apps / games and updates to your email inbox.
Thank you for subscribing.
Something went wrong.