[Game] Monster Masters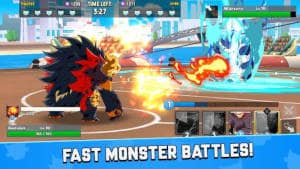 Are you ready to become the best master?
Monster Masters is a multiplayer game in real time where you can collect, train and evolve dozens of monsters. Create your strategy and get ready for battle!
PLEASE NOTE! Monster Masters is free to download and play, however, some game items can also be purchased for real money. If you do not want to use this feature, please set up password protection for purchases in the settings of your Google Play Store app.
A network connection is required.
FEATURES
Duel players from around the world in real-time
Earn Boxes to unlock rewards, collect powerful new monsters and summon them to the arena!
Defeat opponent's monsters to win Fame and become a legend
Collect and evolve dozens of monsters, make them learn new moves and summon them to the arena!
Create your ultimate monster team to defeat your opponents
Progress through multiple Leagues and become a hero!
Challenge your friends to a private duel
TWITTER:  twitter.com/MonsterMasterss
INSTAGRAM:  www.instagram.com/MonsterMastersOfficial
FACEBOOK:  www.facebook.com/MonsterMastersOfficial
DISCORD:  discord.gg/5mntHNU
WEBSITE: lanpartygames.com
SUPPORT: hello[at]lanpartygames.com
You may also like
Monster Masters user reviews :
Matchmaking is Inaccurate, other opponents have more high level monster than me, and how can I level-up a monsters if boxes are very limited and just have small rewards in it. Super lag in game play, even i have strong wifi connection.
LanParty Games

More rewards will be added soon. Matchmaking is being improved soon, how much Fame you have?
The overall game is nice but it woul be awesome if you add monsters and can catch it too ( not from rewards). Thats my opinion .
This is one of the best games ever but I think you could make this game better by adding more evolutions and more monsters.
Could be better make it easier to get gems and rainbow stones for a start everything is so damn expensive
This is a great game I love it but I don't like that the big or battle boxes take an hour and more to open it kinda takes away the fun and I don't like how hard it is to get a egg from the battle box (past the practice levels). I would make my rating higher but I cant (it would be a 4.5 if I could do so). Love this game would recommend if you like Pokémon. It is just those problems at the top that are the issue but over all it is a really fun game highly recommend .love the vriaty of monsters
LanParty Games

We will add more game modes and ways to get rewards in the future. We are aware the current system is not enough. Thanks for your comments!
This game has definitely hooked me. Engaging battles that require timing, strategy, finding good match ups, etc. Getting experience for your monsters is difficult though. Edit: had to downgrade to 2 stars. Why is it when I play someone at the same points ranking as me and win I am awarded only 2 points. Imagine winning 5 games in a row, you get 10 points, then one loss at the same ranked people nets you -23. Yeah that just happened…
I love this game very much. It's really awesome. But there are only few monster. I request you to add new mosters and new features. PLEASE make it more Adventurous like free play. Please make a map in which we can battle and catch monster. And please make something when monster evolves like when it evolves give reaction like *whoah! It's evolving* it will make the game more better and more aggressive
LanParty Games

Adventure mode and more monster will be added soon! We will make evolution more interesting too. Thanks for your comments!
Not the best game but a pretty good game I recommend you play the game if you like to tap quickly and collect different monsters it like a dragon city type of game and a rip off of Pokemon but other than it has not much adventure actually zero adventure as well as I know but it has more battling Pokemon and less waiting but still have to pretty paciant to play the game Hope you have a great time playing the game
I love this game this game is really awesome but I give it 4 stars because I want somethings . 1:I want a stone that could evolve our monsters. 2:That we could self train our monsters. If you complete my wishes I will help you (I will tell my friends and family to download the game and play it) and give you 5 stars. Thanks for this awesome game and Thank you
Love the game simple and fun to play but it's really hard to level up the monster,the boxes need some of tweaks as well to use them effectively ,and the evolution animation needs work too cause when I evolve my monster I don't feel the excitement when my monster is evolving and could you add a story mode of sorts to play it offline that would make it more to play in this case I can only play when someone is online can you make the evolution through specific level instead of money evolution
Contact developer :
Leave your feedback regarding Monster Masters
Get more android apps/games/updates
Subscribe to our mailing list and get new android apps / games and updates to your email inbox.
Thank you for subscribing.
Something went wrong.