[App] Moshi – Sleep and Meditation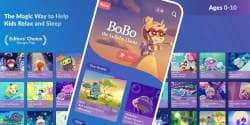 Enjoy calmer day times and quicker bedtimes with this award-winning sleep & mindfulness app.
Join the millions of parents who use Moshi to help their families relax, unwind, and sleep with over 85 hours of original audio stories, sleep sounds, meditations, white noise, and relaxing music that you won't find in any other app. Includes special guest stories and meditations narrated by legends of stage and screen, including Goldie Hawn and Patrick Stewart.
QUICKER BEDTIMES
Moshi helps the entire family sleep soundly with over 200 pieces of completely original sleep content created by the BAFTA award-winning Moshi team.
95% of parents surveyed agree that using the app makes bedtime less stressful¹.
Recommended by top sleep experts and physicians
Featured in "Hottest Health Trends 2020," NBC Today Show
Moshi helps families fall asleep faster, stay asleep longer, and wake up less. In a recent study², scientists at New York University discovered that when using Moshi, participants:
Fell asleep 28 minutes earlier on average
Slept for 22 minutes longer on average
Woke up 50% less throughout the night on average
CALMER DAY TIMES
Teach the entire family the basics of mindfulness with guided meditations designed to help the entire family relax, reduce anxiety, and manage negative thoughts.
Mindfulness topics to encourage positive emotions in include:
Kindness
Gratitude
Positive thinking
Recalling joyful moments
Staying calm
WHY MOSHI STORIES WORK
Moshi Stories are gentle rhyming journeys with dreamy lullaby style choruses
Music and ambient white noise are specifically designed to be relaxing
As each story progresses the narration becomes increasingly sleepy and ambient sounds diminish
Cosy up and snuggle down with the adorable characters from the world of Moshi including:
SleepyPaws the Snoozy Koala and his eucalyptus-fueled imagination
Yawnsy the Sleepwalking Otter and his enchanted yawn
Nodkins the Bedtime Bunny and her ability to hop into any dream
FEATURES TO SUPPORT CALMER DAY TIMES AND QUICKER BEDTIMES:
Original sleepy stories and calming meditations released each week
Audio-only. No need for screens before bedtime
Bite-sized meditations and deep breathing exercises for the whole family
Soothing sleep sounds and white noise tracks, including pink, velvet, and classic white noise
Loop and replay functions ensure sleep sounds play throughout the night if needed
Create multiple personalized playlists for any mood or family member
Tag stories, sleep sounds, meditations, music, and white noise tracks to quickly and easily find your family's favorites
Explore curated playlists for specific situations like "Nap Time," "Ease Anxiety," "Bedtime," and "Calm Down"
Moshi's originally-crafted Stories, Sleep Sounds, Guided Meditations, White Noise, and Soothing Music help to calm and relax, during the day or at bedtime.
Proud to have received Google Editors' Choice Award alongside apps such as Headspace and Calm.
Don't just take our word for it…
"Moshi has changed our lives for the better! We had to sit with my daughter reading story after story until she fell asleep…now we put Moshi on and she goes to sleep on her own! It's honestly amazing!" – Vicky, Google Play User, 25 May 2020
"I LOVE THIS APP. You can't beat a sleepy time story told by THE Patrick Stewart! ❤" – Niki, Google Play User, 8 Nov 2019
Moshi is free to download and use, and there are no ads. A subset of the content is free to use.
Some content is only available through an optional paid subscription. If you choose to subscribe, payment will be charged to your Google Account at confirmation of purchase.
The Moshi annual subscription unlocks the full catalog of Stories, Meditations, Music, and Sleep Sounds available in the app for as long as you are subscribed.
*Poll of 600 users, Apr 2019
*30 children over 10 days, NYU Langone, August 2020
Moshi user reviews :
This has absolutely changed my life! A friend of mine recommended it a few months ago and I finally "got around" to trying it and can't believe I waited so long… I dreaded nights and trying to get my nocturnal 3 year old to sleep, but now she isn't anxious about going to bed and goes to sleep so easily – it has also helped tremendously with night wake ups, so easy to relax her and settle her back to sleep. I'm so grateful for this app and my friend's recommendation!
Mind Candy Ltd

Thank you for your review and to your friend for the recommendation. We are so pleased to hear how the app has helped your daughter. We'd would love to discuss your feedback with you. Please could you pop us an email at reviews@moshikids.com and mention your review here so we can ask you a question?
Not just for kids. Initially downloaded in desperation one night while we chased sleep with our daughter. It helped us set up a routine for helping get back to sleep where we could listen to soothing music or stories. Naturally I loved Patrick Stewart reading and soon we had our favourites as a family that became our play list. I have used the app as an adult nightshift worker to help me relax and get to sleep at all odd hours of the day. Thank you.
Mind Candy Ltd

Thank you so much for your review. It's wonderful to hear how the app is helping all of the family. We'd love to discuss your feedback with you. Please could you pop us an email to reviews@moshikids.com and mention your review here so we can ask you a question?
Contact developer :
Leave your feedback regarding Moshi
Get more android apps/games/updates
Subscribe to our mailing list and get new android apps / games and updates to your email inbox.
Thank you for subscribing.
Something went wrong.