[App] SNES9X Emulator Box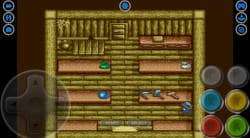 Note: This emulator does not have a built-in game, you need to download the game from the Internet!
This is the snes9x open source project website:  github.com/snes9xgit/snes9x.
I spent 3 months porting it to the android system. If you like it, please give me 5 stars to support me.
1. Core version snes9x 1.60
2. Supported game file formats: smc, swc, sfc, fig, gd3.
3. Use the latest UI interface for easy use.
4. Continuous optimization updates, I will continue to maintain this simulator.
5. The minimum support android4.1, a more stable emulator, the developer tested on android4.3-android10 before the Google store release, and it worked perfectly.
6. If you have any questions, please send me an email, I will help you solve any problems.
7. Support cpu architecture arm x86
8. You are welcome to use.
Disclaimer: This application is not affiliated with SNES9X in any way.
You may also like
SNES9X Emulator Box user reviews :
The ability to resize the buttons is a good feat, but adding another setting where you can change the location of the buttons would be better. Also, the controllers are too sensitive and clunky.
The app is great i use it to play super mario world and it works the reason why did i give it 3 stars is because the emulator deletes the in-save data from the game and even when i save when i try to load the emulator stops for a seconds and then nothing happens
Would have given it a 5 star but I couldn't find frame skip. It runs very well. Nice job. I think people can download with issues since you don't need rocket science settings.
Really needs better customization of the controller. Usually the start & select are in the way. Sometimes they are on top & out of the way, but there is no option for this. The main killjoy is it doesn't seem to save. It ignores (or deletes) the in game saves & the save state doesn't come back. I have to test if it works if I keep the ap open, though I shouldn't have to.
Tom Cat L

I am designing a new emulator which will support button setting position. Please give me some time, thank you very much. Support game saving, please click the save button in the upper left corner to save the game.
Now if the maker can come up with a PS1 emulator so I can play Parasite Eve and FFVII. That would be awesome.
Tom Cat L

Hi. Thank you for using. The game progress data can only be manually deleted or overwritten, you may have performed a wrong operation. Thank you again for your use, please support me and give me 5 stars.
The emulator is good it can run games smoothly with no lag and alos very easy ui it can easily read roms. But one problem while I am playing doom it can't played full screen, I am able to play protrait mode not in supporting landscape mode. But that's ok
The controls on the screen looks hard to remember this emulator is really bad the controls are bad I give this app 1 star because the controls look different
Tom Cat L

Everyone has different requirements for button controls, so I can only try to be compatible with most mobile phones, but 1 star I think is unreasonable, because this emulator can run any game at full speed. Thank you for your support. If you think this software is good, please give me 5 stars. and wish you happy every day.
All I want to do is play 3 games and most emulators can't seem to run mario rpg and this one had a lot of lag and ads
Tom Cat L

very sorry. Advertising is my source of income. I need advertising to support my development and life. Your phone's android version is too old. If you want to run smoothly, we suggest you restart your phone and then run the snes9x emulator. Thank you for your support. Please give me 5 stars. I will continue to develop more good emulators.
You know what I don't know if it's because I'm using an old tablet or maybe slightly new but I'm not sure this app was very good but now it's completely horrible if the person who made this app is reading this then please make it so that I can actually play the games I can't play dragon quest five also known as dragon warrior 5 I don't know if it will happen if I try another game but I keep getting rip off minecraft apps anyway if you could please fix error and thanks
Tom Cat L

Hi. Is it possible to run a game normally? I recommend downloading a version of another country or for a copy, some games may have problems, but most games can run normally. Thank you for your use.
Finally, An SNES Emulator that Inputs my controller correctly, I just wish there was a way to hide the top left arrow button
Contact developer :
Download SNES9X Emulator Box from Play Store
Leave your feedback regarding SNES9X Emulator Box
Get more android apps/games/updates
Subscribe to our mailing list and get new android apps / games and updates to your email inbox.
Thank you for subscribing.
Something went wrong.