[Game] My Jurassic Darling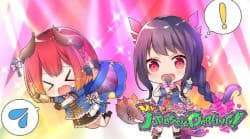 Find your perfect dinosaur girlfriend in this unique bishoujo game from Genius Studio Japan!
Synopsis
After years of planning and research, the day you've been waiting for has finally arrived! The machine is ready, and the fossils of a T-rex, a Triceratops, and a Stegosaurus are prepped—all that's left is to bring the dinosaurs back to life, and then the girl you've been crushing on will have to acknowledge you…
That is until an earthquake knocks your idol figurine collection into the machine, and you find yourself facing not a trio of prehistoric animals, but three beautiful women in frilly costumes with strange reptilian features…
Now your only course of action is to disguise them as an idol group called the Dino Divas while you search for a way to change them into actual dinosaurs… But when you realize just how much heart and soul these girls have, can you really take away their humanity?
Find out in My Jurassic Darling!
Characters
Tia – The Tenacious T-rex
With her powerful, uplifting voice, Tia thrives on attention and burgers. Whatever she says goes, or else she'll bite your arm off. Can you help this T-rex reach stardom, or will you end up being her next snack?
Kris – The Headstrong Triceratops
The most graceful dancer of the group, Kris isn't fond of you for taking her away from her herd. Though stubborn to a fault, she's highly protective of her fellow Divas. Can you get on this herbivore's good side, or will she crush you into dust?
Stella- The Shy Stegosaurus
Although Stella is the clumsiest and most timid of the Dino Divas, her sweetness, charm, and dedication to her friends and fans are peerless. Can you show her that she's not a spiky monstrosity, but a majestic queen?
You may also like
My Jurassic Darling user reviews :
These are always released here hours before it is said on Instagram 11:44 is the time
Can u fo that we are not the human that we are vampire or demon ? That we will meet the girl and save them i think plsss do something like i want something different
Such a fun and rewarding exciting game! The designs are so cute and the story is so well written! It's a light hearted comedy but also has it's sweet moments, plus tons of drama! I highly recommend this game! Stella is just the cutest!
really really love how cute the girls are!! and I also love how the story is quite well written. They're Dinosaurs from the past but their behaviors seem to show that they're already know how to behave/blend in the humans time. I expect them to act more like a pre-historic species.
ha well done very different and still great !! you guys killing it !
Amazing game once more genius team…U never fail to amaze your audience.. Love from India
Nice story gets better everytime but for real u must be running out of ideas but who cares keep up the good work
All I gotta say is, this game was 10/10 for me in so many ways. Thank you genius inc, I look forward to the next game!
Contact developer :
Leave your feedback regarding My Jurassic Darling
Get more android apps/games/updates
Subscribe to our mailing list and get new android apps / games and updates to your email inbox.
Thank you for subscribing.
Something went wrong.