[App] pCloud – Free Cloud Storage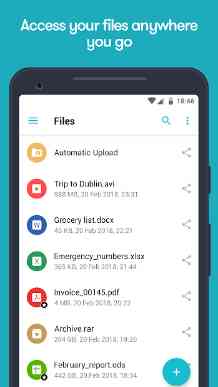 With pCloud you can store files from multiple devices to a one beautiful and intuitive cloud storage space.
Upon joining we will present you with 10 GB FREE cloud storage!
With pCloud you can:
expand your phone's storage with up to 2 TB!
backup all camera photos and videos automatically.
sync files across all your devices.
access your files even if you are offline.
share files, track changes and statistics.
encrypt your sensitive data with a military-grade client-side encryption – pCloud Crypto®.
play music with a built-in audio player.
upload quickly, regardless of the file size.
pCloud is also available for iOS, Windows, MacOS, Linux and any popular web browser.
Read our Terms of service for full disclosure.
Learn more about the permissions we use:
www.pcloud.com/help/android-help-center/what-permissions-does-the-android-app-require
pCloud user reviews :
The app works well and the service is great. However, files downloaded for offline use are in a walled garden: they are stored in a private location on the phone that's not accessible without rooting. This creates pressure for this app to be the best viewer of any type of file (images, music, videos, etc.) because no other app can access the downloaded files. That's clearly completely unrealistic. An option to keep offline files in an accessible (if not discoverable) location would be great!
pCloud LTD

Thanks for your feedback! We deeply respect your advice, and we will try to combine your feedback with our R&D, in order to provide better products.
This is a life-saver!! 10GBs of free storage with auto backup of snaps and videos?? Any day of the week and twice on Sunday.. One never bothers until that ALL IMPORTANT dental OPG X-ray is missing from your drive… and you find that p Cloud has faithfully backed it up to your 'Automatic' folder… I really appreciate p Cloud storage!!
It could be a great alternative to Dropbox but it fails at editing files on mobile devices. It's possible to open files and edit them but you can NOT save the changes.
I was looking for an app for a long time where I could store my music library. Finally I got this app. I like this app because of these features: no ads, built in player, light weight etc. Thanks to the developers.
works well so far for viewing and sharing single photos or whole folders. I'm also using the crypto folder for tax forms, etc that I want secure with "zero knowledge" from the cloud service provider. refreshes in real tine as I make updates on one device across all other devices. download speeds for…
Update on 'Updated review': This app is now (finally) fit for purpose. Previously, when the time came for me to retrieve some of my backup files, I discovered that they weren't retrievable. "Some tasks° failed due to an error" was the error message I saw every time I attempted to download files. I still stand behind the following fact: the tech support persons were the most incompetent & inept bunch of clowns I've ever dealt with. ° It's actually ALL tasks.
pCloud LTD

January 17, 2019

Hello, Thanks for the awesome review! Let us know if you have some ideas how to improve the app
Update: After using the app for awhile now, it's starting to grow on me. The file sharing is a nice touch that comes in handy when you need to share multiple or large files. I was informed by app support that music files will not sync between files, which is a bit of a bummer. My first attempt to get my music library uploaded was very frustrating. I tried it again the next day and all my music uploaded without issue (Spectrum Router – their firewall caused the issue, which I disabled) The included music player within the app is a very nice touch. Currently, I'm trying to find out more information about the synced folders in this app in regard to my phone and PC, in that what happens to a file deleted on one device and what happens to the file on the other device, or if syncing between devices will result in files being added/deleted to the other device.
pCloud LTD

September 4, 2018

Hello Gregory, We are glad to hear that you like the pCloud app and the included music player. We really appreciate you taking the time out to share your experience with us. Get the help and guidance you need from our experienced Tech Support team at support@pcloud.com The pCloud Team
Cool Works great since update.Seems faster now.Good job
Loved it great app but y it's take too much time for delete video?I can't wait or it's can't finish I don't know?
Contact developer :
Video :
Download pCloud from Play Store

Leave your feedback regarding pCloud
Get more android apps/games/updates
Subscribe to our mailing list and get new android apps / games and updates to your email inbox.
Thank you for subscribing.
Something went wrong.