[Game] Perfect World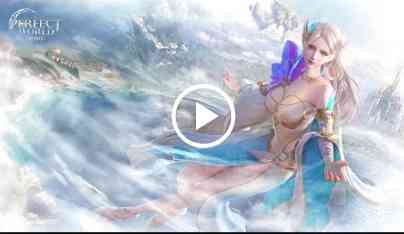 Perfect World has made its grand return!
This new installment restores the beautiful scenery and rich class choices that made the original game famous. Gather your friends and raise an adventure in the iconic seamless world that has been overhauled to reach an unprecedented fidelity.
The bonds between you and your fellow challengers have never been so strong thanks to improved mentoring, marriage, guild and party systems. It's about time to unite and fight for glory in this brand new world forged with next-gen graphics. The vast skies, the endless lands and the mysterious oceans are all yours to explore. Find your Perfect World here!
Reforging of a 12-YO Classic IP
Inheriting the legacy of a 12-year classic, Perfect World Mobile carries on the passions of the original, restoring the classic settings and class choices to bring you the most authentic PW experience. The Human, the Winged Elf and the Untamed has made their return to the Perfect Continent!
Fulfill Your Ultimate Xianxia Fantasy
Oriental-inspired art style and a Spirit based skill enhancement system. Immerse yourself in the balance of Yin and Yang and meditate with the flow of the five elements. Raise an adventure in this Perfect World and fulfill your ultimate Xianxia fantasy!
Next-gen Graphics & Seamless World
Movie-level graphic quality incorporating realistic light and shadow effects guarantee the most immersive season and weather experience. A massive panoramic world where the three major cities are at their best and most gorgeous!
Every Flight Is a New Adventure
The Perfect Continent spans over 60,000 square kilometers, while the panoramic three-dimensional map seamlessly connects and integrates the unique flight system from the original game. Let's fly the Perfect sky!
Thrilling and Diverse Battles
Perfect balance and cooperation between multiple classes, each having its distinct characteristics. Bring your combat to the air, the land and the oceans as you wish. Wage wars in massive multiplayer dungeons and claim your glory in epic guild conflicts."
Join the conversation
Facebook: www.facebook.com/OfficialPerfectWorldMobile
Discord: discord.gg/perfectworldmobile
Contact us
Email: pwmglobalservice[at]pwrd.com
You may also like
Perfect World user reviews :
A good game, and a not so good game…average. The time between stages, teleportation from quest to quest, map to map, you lose half of your time waiting on "open". Too many cinematic videos, 'trailers', short videos things like such, many movies, less action, and dont get me started on the lag. A good game on the pc though, less on mobile
Perfect World Games

Thanks for your support! This is the new trip of our Perfect World, and we are continuously working on game improvement, please stay tuned for the further development
The game just screams: "WOW!", I wasn't expecting the game to actually be an actual imersive game that sucks you in just 5 minutes into the game, but 5 gb for a mobile game is a little bit much, and the graphics are so damn high, my fairly midrange phone is struggling for the first time. Overall good, if you're looking to grind from your phone then great, be prepared to be heavily invested in the game tho…
Perfect World Games

Thanks for your support and we appreciate it. A perfect world is waiting for you!Come on!
The game is great and love the auto feature. Only issue I'm having is the brightness. For some reason when I start the game, the brightness is set halfway and won't save to the lowest. Not only that but if I lower the brightness manually, it'll brighten the screen to max. It appears to be a bug. Please allow the brightness to synchronize with my phones brightness. Edit: The phone I'm using is a Google Pixel 2 XL. My phones settings are not what's causing the issue.
Perfect World Games

Dear, for this issue, please check the device's system Setting and turn off the automatic brightness adjustment function before playing the game. Hope this would be helpful. Have a nice day!
Excellent game! I use to play PWI years ago on the PC and I was excited to try it out on mobile. Controls are straightforward, plenty of events going on. There are some things available to purchase with cash but you definitely done need to in order to enjoy the game. I usually try to spend a little on games I enjoy. I like the option of auto play and auto route during some things but it's not strictly auto. You can take control and play it like you would any other game. Keep it up Devs!!
My experience with the game so far has been good. I gave it 4 stars because the skins and makeover scrolls are extremely expensive. It's more expensive than most games on PC. Makeover over scroll for example would cost me $20 per 1 scroll in Canadian dollars. To me that's ridiculous. These items should be able to be bought with bound currencies as well. Otherwise it's a decent game. It does have p2w aspects like BR (Battle Rank) which is needed to be able to compete in the game.
Perfect World Games

Thanks for your support and we appreciate it. Besides top up, you can grow stronger by all the interesting events and tasks every day. Believe you can make the game more interesting by experiencing and exploring through your own unique understanding! Have a nice day.
Just Wonderful! This game is simply perfect. I love the game play, it's easy, fun and the graphics are lovely. I enjoy being able to pick between 2D or 3D gameplay. The quests are interesting, and the community friendly. I've only had the app for 2 days(installation was rough) but I can see me having this app and using it for hours daily for a very long time.
Contact developer :
Video :
Download Perfect World from Play Store
Leave your feedback regarding Perfect World
Get more android apps/games/updates
Subscribe to our mailing list and get new android apps / games and updates to your email inbox.
Thank you for subscribing.
Something went wrong.