[Game] PewDiePies Pixelings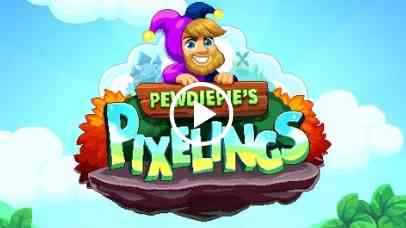 PewDiePies Pixelings : Journey to Pixeland, home of the cute Pixelings.
Trouble has been brewing across the land; a mysterious being has been consuming Pixeland's inhabitants. It's up to you and PewDiePie to defeat the threatening invaders and restore order to Pixeland's different worlds!
Assemble your team of Pixelings and take them into battle! Collect and upgrade over 30 hand drawn creatures. Meet memorable new allies and familiar faces from Tuber Simulator & Legend of the Brofist.
Go head-to-head against other players in gripping, real-time PvP battles. Devise the best strategy, use cunning tactics, and make your name known within the arena!
Drag, drop, and swap! PewDiePie's Pixelings boasts a unique, fluid combat system that captures the essence of idle gameplay and the strategic depth of turn-by-turn strategy RPGs.
Create a guild and chat with your friends!
TL;DR
Collect & upgrade cute and quirky Pixelings
Join PewDiePie on a memorable & quest across Pixeland
Compete against other players in real-time PvP matches
Experience a unique, fluid combat system
Enjoy a meme-tastic storyline set in PewDiePie's Pixelverse (Tuber Simulator, Legend of the Brofist)
Join guilds and chat with your friends!
PewDiePies Pixelings user reviews :
As much as the overall game is visually pleasing and fun, it has issues (expected from a newly released game). My issue is that it runs very slow, and makes the game impossible to play unless you have a mid-high spec phone. I would rate the game 4-5 stars if there was an option for lower end phones, maybe less animations or to reduce the overall quality of the visuals. Either way, it's a great game when it's running smoothly, would recommend!
This game can be addicting and frustrating at the same time. Matchmaking ain't the best at the moment, others pixelings that are higher lv than mine are unbeatable. Gameplay is quite fun, however, you need to act fast in order to defeat your enemy. One wrong step and you can lose the game. This game is basically a pay2win game. Overall, not a bad game, some bugs can be forgiven since it's still early, the animation and artstyle are great too.
This game is incredible! Very nice! The animation style and quality is amazing and the gameplay is addicting. The design is definitely worth experiencing, especially since it was hand drawn. Each part of the game feels nostalgic in a fun New style. It feels as though it's an update of all the memories of PewDiePie and his channel. The strategy and battle style is incredibly difficult in the arena and much more subtle in story, but still challenging enough for all mobile gamers.
Since this is a pretty new game, I have hopes that this will be fixed soon. I've read one other review with the same problem, basically the first time you need to click brotown, the came just crashes. The gameplay does look great and i want to play more of it, but i can't do that without this bug being fixed. So I'm leaving a three star review for now, and it will probably go up if the game is fixed.
so fun and I'm really enjoying this game the character are affordable with money you can earn by just playing. One thing I want to say and the reason I didn't rate 5 stares is I wish you could battle friends. Also about 40% of the time the game would sort of freeze where nothing is possible but the time in the background goes up and I get mana I just can't do anything. I just won a PvP battle but it did that glitch so I had to back out and I didn't get my chest. That the game is very fun
Contact developer :
Video :
Download PewDiePies Pixelings from Play Store
Leave your feedback regarding PewDiePies Pixelings
Get more android apps/games/updates
Subscribe to our mailing list and get new android apps / games and updates to your email inbox.
Thank you for subscribing.
Something went wrong.