[Game] Pocket Mortys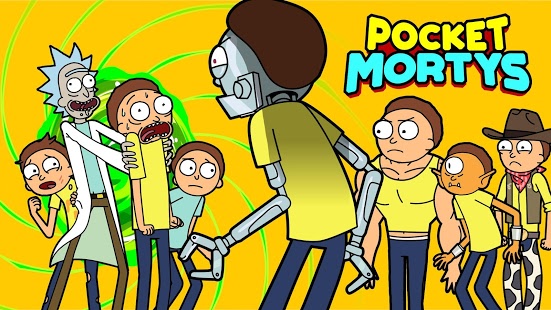 The #1 multi-dimensional grandson fighting simulator in the galaxy is back and better than ever!
You're Rick Sanchez, everyone's favorite unstable genius. You're yelling at Morty in your garage when a Mysterious Rick pops out of a portal and ruins your life. He traps you in an unfamiliar dimension where you discover that Morty collecting and fighting is the hottest new trend in the multiverse! Some more stuff happens and long story short the Council of Ricks takes your portal gun. Now you have to defeat Ricks across the multiverse and collect badges to get it back.
Good thing there are hundreds of versions of your grandson you can capture, train, and evolve! Stack your Morty deck with strong and diverse Mortys and travel dimensions to take down Rick after Rick for your Portal Gun and your freedom.
Insane Morty-based action:
300+ unique and bizarre Mortys. We got Cronenberg Morty, Pickle Morty, Car Morty, and more.
Train, combine, and evolve Mortys to create your perfect Morty Deck.
Battle & trade Mortys with your friends & enemies in multiplayer.
Sustainably sourced Morty sounds.
Let's get these Mortys!
Other non-Morty related stuff to do:
Battle for your freedom across the multiverse in Campaign.
Fight your way through multi-tiered challenges in the Morty games.
Craft items, complete side quests, or make investments to increase your wealth.
Lots of characters and references and whatever from that show you like.
Hours of distraction from your futile existence.
Follow Us:
Facebook – www.facebook.com/adultswimgames
Twitter – www.twitter.com/adultswimgames
Our Website – www.games.adultswim.com
Ad Choices: policies.warnerbros.com/privacy/en-us/#adchoice
Terms of Use: policies.warnerbros.com/terms/en-us
Do Not Sell My Personal Information: privacycenter.wb.com/donotsell
The Terms of Use for this app includes arbitration for disputes – see www.adultswim.com/footer/legal/terms-of-use.html
You may also like
Pocket Mortys user reviews :
Alright, changed my mind. Was 5 stars before but now 3 or ill edit it to 2, game has gotten boring, you can tell since 5-3 years ago Youtubers were making videos on it, now there is no one, also it has always been 4 dimensions since the last 3 years, we actually need a big update, and new dimensions or the game will die, in the future. And its crazy how you guys removed the 1 coupon 1 morty thing, it was too good, please bring back the old pocket mortys, we need it. Please respond to me.
I like the game A LOT and spent 26 hours on it and my Mortox morty that I spent around 30k smekles on so it could have an outrages amount of attack 500 at level 46 to be exact,when one day I got on and it was just gone I looked in the daycare and everything and it was nowhere.I beat the final rick and still nothing…I reinstalled hoping that since its backed up to the cloud I could get it back yet somehow my save didnt run…HELP DEVS
This game has a lot it needs still I've found so many things differently between mine and my Bros game. Things I could get he couldn't saying try again later but still nothing. Also pisses me of that my first fight my exotic lost to the same level of a common Morty.
I dont give anyhting 5 stars. But 4 mans its pretty freaking great. 5 stars when I can battle and trade with friends!
Just in time for the 20th anniversary! I grabbed this on a whim, looking for a Rick & Morty fix. It fills the bill, and so long as you understand it's not meant to be deep it's a fun diversion
Been playing a bit since 1.0.9. But i had a problem with crashing when i got to council member #1 and when purchasing a $4 ticket bundle. Paid but never got tickets. Anyways, now i can't even play the game when 1.1.0 hit. It crashes when loading a save. I deleted my old one and restarted only to have it happen again after tutorial. I got the lg volt so im pretty outdated but the game runs fine despite crashes. Plz fix.
Latest Update :
Fixed an exploit with the trading system that negatively impacted the Fight Pit experience for users.
Contact developer :
Video :
Download Pocket Mortys from Play Store
Leave your feedback regarding Pocket Mortys
Get more android apps/games/updates
Subscribe to our mailing list and get new android apps / games and updates to your email inbox.
Thank you for subscribing.
Something went wrong.