[Game] Pocket Troops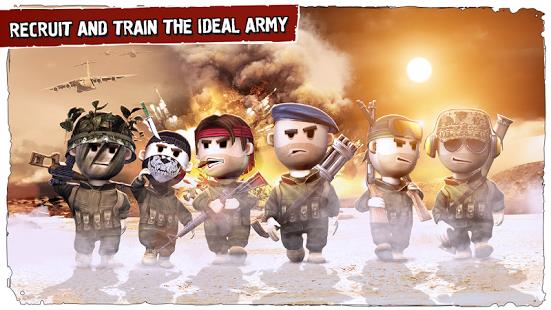 Pocket Troops : Looking for a team of tough guys you can put in your pocket?
Recruit and train a ragtag band of soldiers and take them into battle.
Take on other players and show them who's the boss.
Features
Light-hearted gameplay with strategic and tactical battles and indirect troop control.
Tiny, angry army dudes with a huge collection of crazy weapons and gear.
A crazy backstory with an evil bad guy who plots to take over the world so he can make everyone wear black.
Military base upgrades and cool interactive facilities: cash device, fish tank, "soft kitty, warm kitty, little ball of fur" and other truly military toys.
Handcrafted music and cartoonish graphics inspired and approved by a guinea pig named Boris.
This is just how an Expendables game should be in our world.
Connect
Join the Pocket Troops community and stay tuned on Facebook: https://www.facebook.com/pockettroops
We are happy to answer all your questions at team@heyworks.com
Pocket Troops user reviews :
Best mobile game I have ever played. Sadly doesn't recieve new in game content, some characters can only be bought with real money, and when you finish the campaign there isn't much to do. I would like for the campaign to reset when you're finished with more difficult enemies and more rewards. Thanks for reading.
Highly addictive tactical RPG, without too much grinding! I love the little quirks and personality the programmers put into it, you can tell this was well planned and well executed! I especially enjoyed that the currency and wait time systems were manageable, this isn't a pay to win game. (Hallelujah!) It has basically no major bugs or flaws that I can find, and has smooth controls to command your troops and wonderfully intuitive user interface.
Absolutely love the game. The little messages in the loading screens are just hilarious. I don't really have any suggestions other than maybe having better pay outs for stars and coins. I don't mind buying them at times but sometimes I can't support the game like I want. But please don't do like other games and start forcing people to watch ads. I will happily watch them by choice to get the little rewards. Force ads are just a turn off.
Pleas fix this bug that im going to talk about. So when I finish a battle the screen turns black, then when I go out of the game then go back in it works but frozen on the animation when your army or the enemy wins. Then when I press a back button it has to load again, but sometimes it crashes. Im enjoying this game so far so please fix it. EDIT: Okay its fine now. Thanks if you did it.
good concept, half decent execution the game is fun to play and it has some very good and innovative ideas, however, there is not enough to do to progress fast other than to spend money. In a way it forces you to be spend money or you have to be extremely patient/lucky. I get it should be a little slower if you don't spend money, but at this point it is to slow. edit: the game has been updated and some of the issues have been solved, however, there is still a lack of variation in the fights.
pretty fun game. my only complaint is the friendly fire from your own troops. when your troops automatically move, getting set on fire and blown to smithereens by your own team mates is extremely disappointing, especially when fighting difficult opponents. this should really be changed. also it would be nice to have actually statistics on weapons to give players a better idea of a weapon's strength and weaknesses. other than that, pretty decent game.
This game is great. Great to kill time or even sit on for hours.The cut scenes are great also they are comical and I sometimes find myself itching for the next one then boom there it is. Game play is fun and exciting. The game is also very fair ( you don't have to pay to win). Just always remember to update often to keep everyone interested or it will just be another game we all play for 2 months and drop off. My main complaint is a glitch where the game freezes and you have to exit out and reboo
I don't usually rate games but I have to share my satisfaction. Tired of games to "kill time" filled with intrusive ads? This game is perfect for you. The game is very polished and really fun! You only watch ads if you want free in game currency or to shorten time. The characters have unique dialogues and the missions are easy to overcome if you train your troops and upgrade your weapons. I couldn't be happier. Congrats to the devs for this work of art.
I hate this game so much. Because it's so freakin GOOD and I'm supposed to be studying. Simple, intuitive, challenging, funny, different. Not an action game really. More of a strategy/tactics game. Just my kind of game. Doesn't constantly ask for your money like some pay to play games. Pay for boosts if you want. Otherwise, just enjoy it and grind.
Video :
Download Pocket Troops from Play Store
Leave your feedback regarding Pocket Troops
If you like the content that we provide since 2012, put a smile on our face and give us a like or share this with your friends on any social platform. If you want to support this project, any crypto donation of $0.5, $1, $2, $3 is welcome!
You can find our crypto wallets on https://free-apps-android.com/buy-us-a-coffe/
Sponsored Links