[Game] Power Rangers Legacy Wars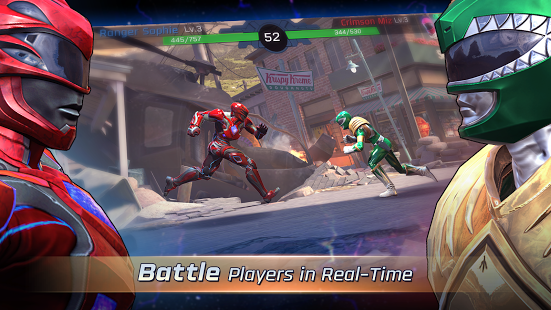 Rita Repulsa, the space witch, has infected the Morphin Grid, creating virtual monsters and Ranger clones programmed to fight on her behalf.
Fight back with your own curated team of legendary Power Rangers and villains from the multiverse! Unlock new Rangers, upgrade your best warriors and create the best team to defeat Rita, and save the Morphin Grid.
FEATURES
BATTLE PLAYERS IN REAL-TIME
Strategize, dodge and fight against real players in real-time PvP and unlock different arenas from famous locations in the movie and TV Show!
STUNNING CONSOLE QUALITY GRAPHICS
View your favorite Power Rangers and their iconic moves like never before. Full-blown 3D character models with stunning visuals and animations!
COLLECT NEW & ICONIC POWER RANGERS
Unlock new Rangers and collect 40+ warriors ranging from the new movie Power Rangers to classic Rangers to villains from across the Power Rangers multiverse!
CUSTOMIZABLE TEAMS
Create the best team to fight for you. With your ultimate team, you can challenge top players from around the world!
GROW STRONGER
Upgrade your best warriors with Zeo Shards earned through battles, missions and more to increase your winning streaks and battle stats!
TEAM UP WITH YOUR FRIENDS
Build alliances to share, chat and trade tactics, strategy and combos! Watch replays to learn from other members and follow your favorite players.
Like us on Facebook:facebook.com/PowerRangersLegacyWars
Like us on Twitter: twitter.com/PRLegacyWars
Visit us on Instagram: Instagram.com/PowerRangersLegacyWars
www.playlegacywars.com
By downloading this game, you agree to the Terms of Service and Privacy Policy Agreement.
nway.com/terms_of_service.php
nway.com/privacy_policy.php
Power Rangers Legacy Wars user reviews :
I absolutely love this game, there's so many different characters to collect and it always seems to be full of surprises with new events happening almost all the time, however I genuinely wish there was more in the way of communication with other players for example: (a friends list) so that I could continue to fight members of previous guilds and other people that I have lost to in the past, the game already has an inbox however all it seems to be there for is daily rewards.
At the beginning the game is very easy. However, as you get further in the game and rank up higher the game forces you to pay-to-win. If you plan on playing this game without paying you will lose a lot. There are many times where I cannot block. A lot of the moves do not register even if I click it. Only way to win this game is have a lot of money.
This game was so much fun when it first released and has fell way off since. Some of the updates and changes made are good but majority aren't. More money you spend, better chance of being a elite ranger. Choose VERY wisely with new rangers being released. When they first appear, some are made really good and tough to beat. Better believe its a trap and in due time they will be nerfed while much isnt done to others. Its a great way for Nway to collect a lot of money from multiple players.
I LOVE this game. Sometimes i think people forget there playing a game on a phone or tablet. They expect to much, especially if theres a hype. But i am a true power rangers fan. Even though there are some things that could be fixed. Its a game…. And it just got released it takes trial and error. If you loved the power rangers growing up. Than you love this game. I say great job! Keep up the great work. I love the potential this game has. And im excited i cant wait!
I love this game and its actually my first Power Rangers I have ever played, the controls could use more upgrading since i was expecting swiping and tapping action so there is definitely room to improve. Also I think there are signature special moves that always triggered cut scenes in the series, that should be added to this game and why not try including megazord action. Once you get it right it would make people flip in amazement so please deliver.
Latest Update :
New Feature – Patrols
Select and customize different teams in order to take back the grid by sending them off for alternative Patrol missions and collect special rewards!
Contact developer :
Video :
Download Power Rangers Legacy Wars from Play Store
Leave your feedback regarding Power Rangers Legacy Wars
Get more android apps/games/updates
Subscribe to our mailing list and get new android apps / games and updates to your email inbox.
Thank you for subscribing.
Something went wrong.