[Game] Pro Series Drag Racing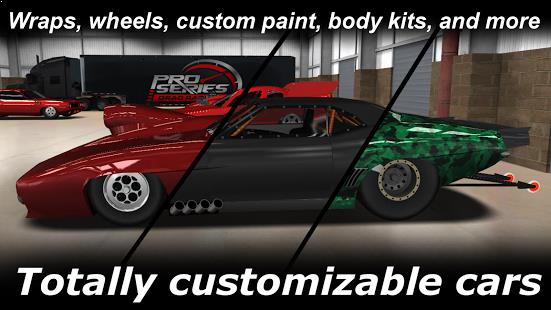 More realistic, more customizable, more fun!
Pro Series Drag Racing – the most realistic and engaging drag racing experience ever created for mobile devices – is finally here! Build, Race, and Tune your car until it's at the absolute peak of it's performance.
Get your experience in career mode, then take it online and go up against the best of the best in online multiplayer play! This is no over produced side-scrolling pseudo racer.
This is raw drag racing – NO FLUFF! – just you, your car, and your competitors.
LIKE US ON FACEBOOK:
facebook.com/NoLimitDragRacing
Note: The app is brand new, if you find a bug please give me a chance to fix it before leaving a negative review.
FEATURES
CAREER MODE
With 4 different classes of cars the Pro Series career has something for every gear head. Street cars, Pro Mods, Funny Cars, and Top Fuel Dragsters. Career mode is an in-depth look at what it's like to work your way through the ranks of drag racing, and will test even the best driver!
FULL CUSTOMIZATION FOR YOUR CARS
Pro Series gives you total control over how your car looks: Custom paint, wraps, wheels, body kits – the list goes on and on. You can even change the color of the roll bar in the Pro Mod cars! There are millions of different combinations, and that lets you get your car the way YOU want it.
ONLINE MULTIPLAYER
Play other racers from all over the world in online multiplayer play. There are three racing types in multiplayer – Bracket Racing, Heads Up Racing, and Grudge Racing. If you're not familiar with these please look them up before attempting a race! These races are TOUGH, and are wagered races.
TUNE YOUR CAR
In Pro Series you get complete control over the gearing, rev limiter, suspension, timing, fuel delivery, boost, and launch control of your car. The included dyno allows you to test changes made and make sure you're going the right direction! The tuning is almost unlimited – Want to run a tall first gear with a short rear? You can! Want to launch on the limiter? You can! The tuning aspects are so in-depth that you can even adjust how high off the ground your wheelie bar is! Mess up your tune? No worries – just visit the mechanic and he will reset you to a base tune. Pro Series also gives you an unlimited amount of Test-n-Tune races to make sure your car is the best it can be.
MODIFICATIONS
In Pro Series you won't survive long running around in a stock car. So we've given you over 300 different modifications across the classes to keep up with the rest of the racers. Different engine blocks, intakes, valve trains, exhausts, tires, etc… As you modify your car you will have to keep up on your tune as each modification slightly changes your car's ability. To stay at peak performance, make sure you're constantly testing and tweaking your tune – or hire a Crew Chief and they'll take care of it for you!
FREE
Pro Series Drag Racing is ad supported, and completely free to download. If you want to disable ads, all you need to do is purchase gold within the game. Ads will be disabled with *ANY* purchase of gold in the game!
Also like our best free racing games list
Pro Series Drag Racing user reviews :
There isn't anyway to continue playing this game unless you buy gold .that is if you want to win because the game will constantly put a car next to you that has more top end speed . The more upgrades you do yes it will go faster but the end you will not have enough money or gold to keep winning. Which really bites. You come so far but in the end doesn't even matter. Woo flash back . 60 foot will be your fall .computer will go 1.2 and you will go 1.6.and thats after 30 grand on up grades.
It is really the best drag racing game i am a real drag racer and i have friends that play this to and the pro tree is my type because im used to it and i prefer this game to anyone who is intrested in drag racing or racing at just try this game out and if you like it your true to who your are if you dont then what are you doing download the game and get started doing racing and being the best i reccomend this game to anyone let me know how it goes so i can give you some tunes to play around.
Awesome!!! Best Drag Racing game out there. It's a real drag racing game not like the other garbage that's out there. You can tell the developer is a racer himself in order for it to be this detailed. Which is awesome in and of itself! Keep it up bro. There are some minor bugs but that's with any new game. Like my car not launching after I release the button. It'll stay there for like 3-4 seconds sometimes then some other times it's perfectly fine. But you still get 5 stars from me. That's a just minor glitch
Great game. Keeps you busy when real drag racing season is over for winter I was playing the old version of this game. No Limit has been in my phone for years. Then i got hooked on Nitro Nation game, because it had more cars, and every car had different horsepowers as you built it. This game seems like every car….you just upgrade everything to the max, and all cars are even in all categories. I play this game more now, with this updated. Just wish there would be more cars, and maybe more options. Great job, and i know your still working on game. Cool.
Contact developer :
Video :
Download Pro Series Drag Racing from Play Store
Leave your feedback regarding Pro Series Drag Racing
Get more android apps/games/updates
Subscribe to our mailing list and get new android apps / games and updates to your email inbox.
Thank you for subscribing.
Something went wrong.