[Game] Skylanders – Ring of Heroes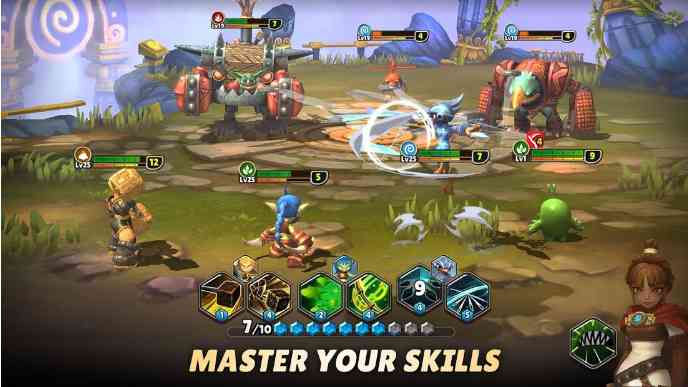 The ALL-NEW Skylanders™ mobile RPG is finally here!
Join Spyro, Stealth Elf, Eruptor and many more of your favorite Sky landers in this epic adventure of Sky landers™ Ring of Heroes.
Reassemble the squad:
Collect 80+ in-game Skylanders from 10 different elements.
Awaken your Sky landers for the first time to make them stronger than ever before.
Equip your Sky landers with up to 10 magical Rune abilities.
Summon Sky landers and Villains alike to battle by your side.
Get ready to battle:
Mix and match Sky landers with unique skills and abilities to create the ultimate team.
Use elements to your advantage and knock down your enemies defenseless.
Test your strength against Portal Masters from all over the world in the PvP Arena.
Watch Skylands come to life:
Experience the rich and colorful world of Skylanders™.
Reimagine Skylands and give it your personal touch.
Visit Here to Learn More About Skylanders™
Official Website: skylanders.com2us.com
Facebook Fan Page: www.facebook.com/skylandersringofheroes
Instagram: @Skylandersrpg
Sky landers™ Ring of Heroes is available in 13 different languages!
English, 한국어, 日本語, 中文简体, 中文繁體, Deutsch, Français, Português, Español, Русский, Türkçe, Italiano and ไทย!
Please Note
Android devices with OS 4.3 or above with 2G of RAM or higher recommended. You might not be able to play the game if your device doesn't meet these conditions. We ask for your kind understanding.
Access permission notice for gameplay
STORAGE: The permission is required to store game data and will not access personal files such as photos.
PHONE: The permission is required to proceed with in-game events and rewards and will not affect calls.
CONTACTS: The permission is required to sync your friend list and Google Account.
You'll be able to enjoy the service except features related to above authorities even if you don't give permission to the above.
Items are available for purchase in this game. Some paid items may not be refundable depending on the type of item.
For Com2uS Mobile Game Terms of Service, visit www.withhive.com/.
Terms of Service : terms.withhive.com/terms/policy/view/M9/T1
Privacy Policy : terms.withhive.com/terms/policy/view/M9/T3
For questions or customer support, please contact our Customer Support by visiting www.withhive.com/help/inquire
Also check our list
Skylanders user reviews :
A shard game indeed, but one that lets you farm most of the units. 1/2/3/4* farmable. Some a bit more harder to obtain than others, but at least it gives you the opportunity to get them. I dont need to farm food to 6*, just a ton of shards plus gold and some power ups. A grind fest. As a f2p just summon 3 times in the 800 gems option and get your free 5* then keep the rest to farm. P.S. It has auto replay x10
I only been playing for less than 12 hours to be honest but I'm having loads of fun. I just got my first 5 star Skylander so I like the random character drops from the chest. I like that i don't have to spend money on a figure or a card. the graphics and sound are great. it looks alot like the ps3 game i use to play. I will say I would like it if I could roam around the levels like on the console but other than that I have no complaints.
Amazing! oh my, great graphics, cool character, smooth game play. The best part about this game is the options there are so many options to so many things. If you've played Summoners War youll immediately notice the huge difference! see for yourself youll fall in love.
The game is overall good and I also like the graphics and the rewards system, the story is nice, and it is well done. The only problem is the runes and the impossibility of upgrading them after level 9, I know it gets harder to upgrade it, but it supposes that every fail should raise the chance of success a little bit.
haven't even started playing the game and i already agree with others that this is a Summoners War ripoff/reskin.. all the elements of the game they discribe is exactly like Summoners War. Would rate 0/5 stars if i could, cause i dont apreirate waiting months for a reskin. Put in some actual effort next time
Com2uS

[Com2uS] Hello Portal Master! We're sorry to hear that you haven't been enjoying the game. We would really like to hear more of your suggestions, so if you have specific feedback you'd like to share please feel free to message us via HIVE 1:1 inquiry @ m.withhive.com/customer/inquire ~ Thank you for your review!
For everybody who is saying this is a ripoff of summoners war, its made by the same flippin people! Overall 9/10 amaxing game, would recommend to my friends
really enjoying the game so far, Only issue is it won't let me make a Hive account keeps saying nickname taken. Bare in mind I am using complete jibberish for nicknames that wouldn't be taken. Please fix.
Good game. I have a problem with the Guild, spending 200k is too much and entering the name is a bug, I put 11 characters and I couldn't add more as 16 is max. Please fix it! Also, please put more than 16 characters!
Been playing since day one! And for anybody who is on the fence about Skylanders, this game might be for you! This game's use of the gatcha system is amazing and genius! I love it! Also a tip for beginners:Blades' critical hit rate is high and he will get you through the first bunch of levels relatively easy! Use this to your advantage and enjoy!
These are some very nice and appreciative developers. I made the comment I thought a disable function would be a good idea and they actually replied saying that's a great idea. You don't get quality game developers like that anymore. Besides that games great and I'm loving the free gems I only need 100 more till my next multi! Only think keeping it from 5 star is that chat but hopefully it'll he fixed soon now!
Com2uS

[Com2uS] Hello Portal Master, Thank you for your review. This is a great idea to add to the chat. We ask that you please submit a ticket to our support team so they may relay your message to our development team for further review. Please contact support at: m.withhive.com/customer/inquire We hope to hear from you! Thank you!
Latest Update :
Last extension of Evolution stages! Upgrade your Skylanders to Lv. 140!
Increased the entry limit for Black Dimension and Awakening Dimension Investigation to 20 times per day!
Increased the Dark Subjugation entry limit to 6 times per day!
Got feedback? Leave a review or visit  customer-m.withhive.com/ask and drop us a line!
Contact developer :
Video :
Download Skylanders from Play Store
Leave your feedback regarding Skylanders
Get more android apps/games/updates
Subscribe to our mailing list and get new android apps / games and updates to your email inbox.
Thank you for subscribing.
Something went wrong.