[Game] Stock Cars Racing Speedway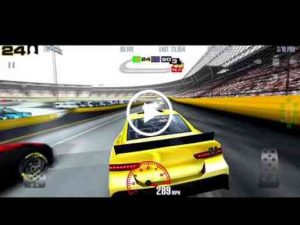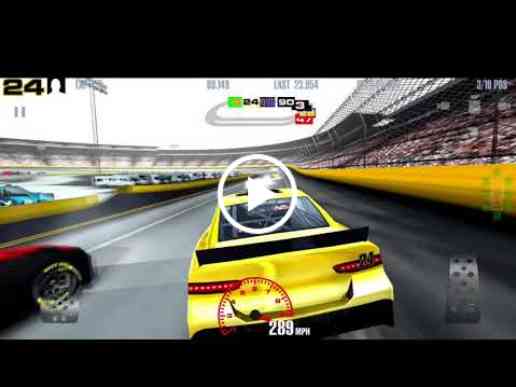 Drivers start your engines!
This is the professional oval track stock car racing game that explodes with racing action!
LOVE THIS GAME!!!! -RMcHenry16
Very addicting, especially if your a Nascar Fan! -Dmyr
Best NASCAR app I've ever downloaded. -HitMan6970
Experience the adrenaline as you power over 600 horses around the track. Choose your stock car and race on 5 different speedways including the 1 Mile, 2.5mi Quad-Oval, a 1.5mi Tri-Oval and the Paperclip!
RACE MODES :
Multiplayer – Race head to head against other players
Regulation – Race and set the difficulty for higher prizes
Ladder – Race against progressively faster opponents for increasing prizes.
Endurance – Race the full 400 lap distance.
Hot Lap – Set your fastest single lap on Game Center
Practice – Practice racing lines and setup car for race trim
EXPERIENCE THE SPEED
Feel your machine on the absolute limit of adhesion. Earn in-game cash to buy, upgrade, repair and adjust your Stock Car. Qualify to unlock new tracks for increasing prize money.
ONLINE MULTIPLAYER RACING
Beat your friends and join the privileged few to make it onto the leaderboards.
MULTIPLE TRACKS
4 unique tracks to unlock.
REAL CRASH PHYSICS
Persistent car-damage with sparks, smoke and flames for realistic racing.
CUSTOMISE YOUR STOCKCAR
Design your Stock Car with team colours and racing numbers in the Paintshop.
UPGRADE YOUR STOCKCAR
Engine, tires and chassis increasing your car's overall performance.
SETUP YOUR STOCK CAR
Allows you to adjust your car for race trim.
REAL SIMULATION
Visually stunning 3D graphics and realistic physics.
RUBBER-BANDING ASSIST
Helps gets you back into the race quicker.
EARN IN-GAME CASH
Based on finishing position and calculated each lap round, the higher you place the more you earn.
Drivers start your engines!
What people are saying:
I love this game. It reminds me so much of Nascar 2003. The one everyone loved. -Kannesss
Very realistic, good graphics and VERY ADDICTIVE!!! A must for any NASCAR fan!!
GyroDrummer
Stock Cars Racing Speedway game is the best, nascar related game (next to Nascar Redline and Daytona 500), I've ever played! The racing is really cool (minus the few players that want to wreck you), and I will never delete it. -Awesome Bro 6
Game so far is one of the better nascar type game. -Hereismyname
Never played NASCAR app sooo intense. OMG OMG this app is amazing races are soooo intense!!!! Nice job -Popeye18407
Great game and even better with the new update! -Brandon Parker POPPF
Stock Cars Racing Speedway user reviews :
The only gripes in the reviews are nitpicking little things that are very easy to overcome with any amount of practice. I'm a racing fan but stock cars are probably my least favorite yet this is my second most played car game. The physics are great, the cars obtainable, the only thing I'd gripe over is mostly subjective, not a gameplay or UI issue at all. Give it a shot if you're even considering it, this game is worth the try.
Minicades Mobile

Thanks for the awesome feedback!
Good game, nice cars, awesome gameplay. Wished to be able to tell if painshop is available for everycar before buying it but no. I hope that you reduce the endurance to 100 laps MAX, or add option to set race lenght. Just today I raced 200laps, paused game to charge phone battery before continuing. Also there is no total race time results. What's the point to endurance race without knowing the raced time? Also overtake opponents time difference is by lap only. Pls make it count every lap time.
Minicades Mobile

Thanks for the feedback!
A great game overall. However, the AI is too aggressive and isn't very realistic. Another thing is qualifying. I wish you can qualify like you do to unlock tracks. A other complaint is the matchmaking. It's too inconsistent and new players constantly get lapped by experienced players in online races. The customization is top notch and should be the standard for moblie racing games. Overall keep up the good work.
Sadly…This is a very well done and well put together game… EXCEPT FOR, the "invisible wall" that you hit when you get sent down below the white line! Where did that come from?! That totally takes away from the realistic racing and ACTUAL conditions of the racing experience within the game. Remove the invisible wall and you will get 5 stars.
This game is allright but some there are some parts of the game that is so annoying, first of all the champion ship track 3, every time I start the AI's just ram into the back of your car and then you end up loosing control, overall the game is fine but it's just a AI's that are annoying please make them a little less ruthless
I don't understand how this game as a 4.0 rating. Literally, everytime you start a race you get out in a wall by some maybe 6 people behind you. The endurance runs a way too long. The A.I is actually out to put you in the wall. The Pit Stop doesn't work. Should have been called Stock Crash Derby, because all you do is crash. Any slight tap, and your flipping your car. Only good thing about this game is the grass, only realistic thing about it. Fix the A.I and receive another star.
Minicades Mobile

Hi Stanley, thanks for the feedback. Crashes do happen in races but we hear what you're saying. AI improvements coming soon. Shorter endurance races too. Pit Stops work, just go all the way over to the side and tap the brakes and wait for the countdown. Try pushing an AI out of the way, just tap their side at the back (avoid front).
I love the game but the game could caution, black flags, and pit stops and real tracks awesome game.
Finally It's out for Google play
I love it good actoin
Contact developer :
Video :
Download Stock Cars Racing Speedway from Play Store
Leave your feedback regarding Stock Cars Racing Speedway
If you like the content that we provide since 2012, put a smile on our face and give us a like or share this with your friends on any social platform. If you want to support this project, any crypto donation of $0.5, $1, $2, $3 is welcome!
You can find our crypto wallets on https://free-apps-android.com/buy-us-a-coffe/
Sponsored Links