[Game] StrikeFortressBox 2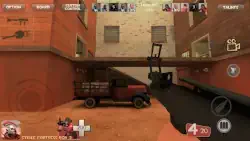 StrikeFortressBox 2 is a super attractive and fun hero shooting game.
There are 9 character classes for you to choose from.
There are many types of weapons and equipment.
Many attractive game modes.
StrikeFortressBox 2 user reviews :
It's okay but there are a lot of bugs for example after I won on survival mode I wanted to play again but it wouldn't load. Ads don't bother me too much as they only appear after matches and can you please add an offline mode.
Nice game like tf2 but this item should be added like spy dead ringer clock,and other clock and other items like bow and other Classes itmes and like when ur in a game team switch and switch class option by the way others are ok
It's an overall decent game, surprisingly looks like the actual game. The bugs however are to be looked on heavily. Sometimes in 2Fort, you can noclip through the roof of the bridge and the wooden stairs to the intelligence. Also it lags, even at low quality.
Such a great game absolutely ruined by overly long and incessant ads, such a shame. I would have played the heck out of this, but forced ads every wave is going to keep this from being a game to recommend…..unless you like ads that you can't close and force's the game to restart
It is a bit glitchy and I don't understand the metal for the engineer since there is no counter or bar on how much you have but its a pretty faithful recreation I mean I would obviously prefer the original over this so maybe add some kind of offline mode for when I can't play tf2 on my computer
man pc version better your mobile version is trash awaly stuck in loading awaly give bot awaly lagging for no reason come reply to me give me a reason for that loading stuck i really want to play this game but awaly stuck in loading
This game is a fun experience I can't wait for there to be more weapons for other classes, but I have noticed some possible errors. 1. Demoman's Smiley Face for his taunt clips through his armor. 2. Some Items during lots of the taunts are missing, ex. Demoman's Scrumpy, Spy's Cigarettes, etc. – Please fix if possible.
After the new apdate the game is perfect download it the only problem is that not that many people play it and most of the lobbys or bots
Really good game but I play game but after showing Tier view. After game is stuck not running for many days. Iam very pls check this essue
This is game pretty funny but it would be nice if they fixed the problem with spy's knife whenever I try and back stab some one it take more then one stab to get a kill.
Pls change the shotgun, sentry, minigun, sniper rifle, revolver and scattergun to hitscan since it uses less resources and easier to hit.
I loves this game every since tbay make a mobile game about it play this game and you will be a true team fortress gang and don't forget subscribe and cut the like button for samurai_montario peace
I wish you give every class a secondary weapon like heavy solider and pyro shotgun sniper SMG scout and engineer pistol Demo man sticky bomb launcher if you do that people will play your game please do it.
Just a copy of Team Fortress 2 but still good if you can't play Team Fortress 2 in your region.
It's good but the enemy base you can't get in the base and spawn kill
Very nice tf2m also add some characters's missing weapons
it's a great game and the last update made it better but I have one question: does this run on the same servers as team factory mobile?
There is something wrong with the game. The game keeps sending me out of it. And I don't know what to do about it.
it's really good the mechanics and characters great and tf2 for life fortnite suckz
The game is good but when I watch a add for a create it doesn't give it to me and the bots are very easy to beat
Game is good and ever day we got daily reward and this game is super cool i love this game for fist it hard but if you play ever day you can be pro just like ohhyea
a really really cool game but I wish there was the map payload and a uber charge that will be awesome
This game is very nice its real team fortress 2 game to make a acount in the passord put 121212 and boom you have been login to the game
Contact developer :
Game was Removed from Play Store
Leave your feedback regarding StrikeFortressBox 2
If you like the content that we provide since 2012, put a smile on our face and give us a like or share this with your friends on any social platform. If you want to support this project, any crypto donation of $0.5, $1, $2, $3 is welcome!
You can find our crypto wallets on https://free-apps-android.com/buy-us-a-coffe/
Sponsored Links