[Game] Survival Squad
 free android apps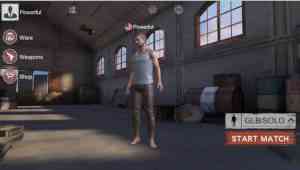 Survival Squad is an free online shooter game that players against each other in a shrinking range.
Collect supplies to eliminate enemies to become the last person standing in this 100 player Battle Royale battleground. You will get extremely fun no matter you are solo, dual, or team.
Do you crave that indescribable thrill that gets you all pumped-up? Then Survival Squad is for you!
Join thousands of others on your server and try to win over the other players on the island—it's that simple.
No unfair mechanics, no random draws. All you can rely on is your skill and your chill!
Now, better get ready for the adventure . The last one standing just might be you!
Facebook: www.facebook.com/Survival-SquadCommando-Secret-Mission-102395838583510
Survival Squad user reviews :
This game is a really good game . I told other to download this game really good graphics, good control better than PUBG and Free Fire. It has only 4 problems. 1)it has only one mode please make 5 mode -Team death match,Ranked ,clash squad and one other map 2)it has maximum 20 players please make boat or noob and improve it to 50 minimum players 3) Please make many characters. 4)please make gloo wall. this is a good game but after updating these problems this game is best game forever
Thank god! I am very happy to play this game after shutdown of Hopeless land. This game is closely similar to that of Hopeless land. It's earnest request to developers that increase the number of players because it's less satisfaction to play with only 10-12 players in squad mode. If and only if, no real players is not available then please increase the number of bots also because instead of players we can get more number of kills with bots. Still less number of players is known to it.
i like this game too much….it really has good graphics but when i start match making it takes so many times i understand because it has recently launched that's why it has less downloaders but after 6 months i dawm sure it has 50+downloaders….the most poor thing in this game is bug and glitch plz fixed this things and control setting that is customize
Nice game and nice grpahics but it needs more update like more weapons more clothes and others skins off guns and cars your team mate wont kill you and you can shot on the car and add some bot so it will make the players more plssss hope you will add this it soon and it needs more updates on the effects and need an event and plss add more servers like asia europe and more this game had a potential tobecome an poppular and last one the adds are anoyying plss lower it thanks
amazing game ,full same as pubg ,graphics were awesome . finally this game is back .this is a perfect battle royal games thanks to the developer of this game. install it guys, this is amazing,only thing is the game lag too much ,i have 4 gb ram device then also it's lag too much , request to developer please fix this lag problem
2 days ago a game started to match in solo mode but now it has stop to find match whether we get to play with 2-3 players ..but now we can't find any matches ….I think they should add bots to a game to fullfill players experience and game updates are not coming graphics setting also cant set to high and low it kept set to high graphics
Glaciers Game

Hello,Wangsu G70, Currently there are few players and it is difficult to match others. As more players enter, this situation will be improved. Thank you for your support.
This is one of my most favourite shooting game, but the problem is it takes a lot of time to do matcmaking . This is the only problem ,for me other gameplay, graphics are very good, please fix the matchmaking problem.
Nice game but is see all reviews so the match is not start because there is a time for playing surival squad time =7:00 pm to 10:30 pm. play this match at the time the match started quickly in solo mode in 2second , duo mode 30second & squad mode 30second. Play this game it is a very nice game .
Wow its like pubg Mobile and hoppless land i like this game very much but i give 4 stars because this game has an problem that when we are playing this game it will exit automatically please update this game and fix that problem i think you will fix that problem thats all about this game thankyou
Game is okay but you Relaunch this game have some mistakes In before 1) No player 2) you don't fixed server 3) game not goes on High graphics 4) We can't talk To all players And Mice always close not work etc.you give many adds I seeing them but please fix but I can't delete game I love it
I like the game it has a pottencial to be next to pubg lite mobile but i have some issues 1.late match so i think you should put bots in the game because its just realeased so theirs no many yet 2.the laggy even if i have low grahics should fix that 3.the car driving its good but add some breaks and its laggy when i drive and i think thats it i try posting gameplay in my youtube channel and so far the game is good keep up the good work
Contact developer :
Download Survival Squad from Play Store
Leave your feedback regarding Survival Squad
Get more android apps/games/updates
Subscribe to our mailing list and get new android apps / games and updates to your email inbox.
Thank you for subscribing.
Something went wrong.