[Game] Taming Master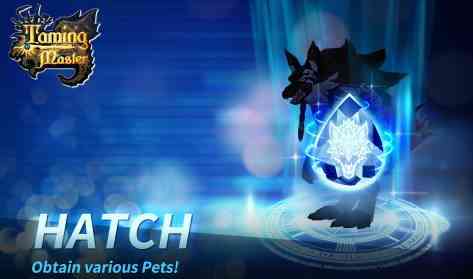 Endless capture, incubation, evolution!
Enjoy the 'Real' collection of RPG with your own Pets!
1. More than 300 different Pets
Collect 15 species of Pets.
Can collect a variety of Pets with seven different attributes!
2. Gain new Pets with Evolution Content
Develop a Pets to acquire a new high-level.
Evolving, you can maintain or change your previous skills!
3. Let's make my own unique deck.
Organize your deck according to your enemy's situation and defeat the enemy!
From a typical combination of tank, dealer and healer to a unique combination such as tank, tank, tank, tank!
4. Let's take the Pets, we met in the wild!
You can catch Pets in the field by feeding, taming, and capturing them.
Make a wild Pets to my own.
5. Pets who look the same but have different abilities
Every Pets has a different potential for each acquisition.
Train and nurture the most powerful Pets to become a taming master!
Taming Master user reviews :
Such a shame it's not more popular, about the best game I've ever played, smooth gameplay, excellent graphics, nice story and rewarded tutorials for everything to get you involved English isn't perfect but understandable, I especially like the fact that it's not overwhelming with game modes like others games of this genre, the layout is nice and easy on the eye and I've played for 2 months and never been short of energy this is f2p gold a must play
goood game..though i hate that you cant manually control your pet moves thus makingthe game kind of boring.. the graphics is not that good to much 3D,i prefer 2D anime style.. also the view of battle seems so zoomed outwvwn when you adjust the cam view, the characters appear to be too small, making it less appeling..the game need improve ment specially on game play and 3d/graphics..
The game is overall avg. The game could be smoother and also the initial download keeps restarting after its over. Pls look into it. But the concept of the game is good. Looking forward to it.
Studio LB

Thanks for the good comments. We will continue to improve.
I expect more from this game since i read taming master novel and well i'm a bit disappointed with the game , because i expect the game mechanic will like the game mechanic at the novel , and when i'm move yrough the portal it's always notify me data error
Studio LB

If you continue to have problems, please download the latest version from the Google Play Store. Problem is still not resolved, please e-mail contact[at]studiolb.co.kr.
Good game but when it updated it wouldent even let me play it! It kicked me out and said error unity not detected? Or something like that Other then that i love it and if u fix it ill def rate 5 EDIT: They Fixed it! Now i can play again
It a good game, but there are a couple of things that need to be fixed such as the semi slow time reaction and the long loading screens. Other than that, it's a decent game.
Not good, I kept geting kicked on the first stage and it doesn't say what type of phone the game works best on. It looks good but I can't make progress like this.
Studio LB

Thanks for the good comments. We will continue to improve.
Its really good, you should give it a chance. I actually didn't expect the gameplay to be good. No need to pay cash to get stronger, there are also a lot of rewards.
First of all, this is a great game with a lot of potentials. However there are still many bugs and usability issues. The energy for example, is it a bug that it doesn't replenish by itself or are you suppose to constantly spend gold on food? There are not alot of tutorial on how most of the game mechanics work. Still have no idea what morphing does. Lastly, the growth rate for the monsters are horrible, you'd be lucky to get a higher tier with an A grade.
Studio LB

Thanks for the good comments. We will continue to improve.
Have been enjoying the game a lot so far, I definitely recommend trying it out. You can catch rare pets without having to spend gems, which is much appreciated! The battles are mostly automated, but there's a lot of detail in team building that makes it worthwhile and rewarding. I hope they expand the open world (like a hub/town to meet players other than the levels), add more charecter customization, and maybe even a house you can edit ;) The possibilities are exciting!
Contact developer :
Download Taming Master from Play Store
Leave your feedback regarding Taming Master
Get more android apps/games/updates
Subscribe to our mailing list and get new android apps / games and updates to your email inbox.
Thank you for subscribing.
Something went wrong.