[Game] Team Factory 2 Mobile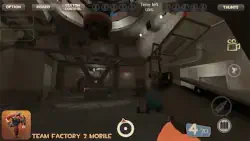 Choose your favorite hero and participate in a 5v5 or human vs robot, super fun match.
Various weapons for each character, vx melee weapons and ranged weapons.
Nice equipment.
Funny funny dances.
Various game modes and maps.
Let's go!
Team Factory 2 Mobile user reviews :
This game has huge potential but there needs to be focus on bug fixes and gameplay balance first. Rework spy's cloak, limit engineer's buildings to 1 each, remodel the multiplayer similar to TF2's community servers, and add hitscan. Theres a lot more to change but thats the idea. I know it may not be possible to add everything from TF2 but we wouldn't mind these updates being spread throughout and not all at once. As long as the core mechanics and functionality is there, that's all that matters.
its pretty good it's a impressive Port of Tf2 and runs rather smoothly as mobile game however ads are sometimes a bit to abundant and will sometimes go off in the middle of gameplay also the workshop is far too limited for all the characters there's barely any cosmetic options and virtually no weapon choices other than for the soldier and the heavy also the chat is clearly not cared for as we can't actually see each others message in game if those were are fixed this would be a different review
I request that you make the scouts and engineers gun shotguns like in the real game. I have been watching ads to donate so all I ask is that you make the guns like that. Please respond a yes or no. It's fine if you don't. But atleast make it easier to land shots. It's nearly impossible with engine or scout.
Neat tf2 port but unplayable. The game is all ripped assets from team fortress 2 but its loaded with highly invasive ads. 12s into a game an ad that is sized and positioned to cover the joystick will appear, and they are always malware. At this point it should have just been p2p but thats probably illegal.
3 for a lot of reasons. First where is the secondarys, second when a multiplayer match ends you're only option is home no resume or like stay in match button, third just so many wrong I can't say it all. Engies Sentry limit. Victory sound plays when it says defeated. I mean roblox Tetragon fortress can do better
Overall, this game has great potential to be a masterpiece. But, the thing is that the oversized ads that block the buttons should be reworked but, it's a great tf2 mobile. I MAIN ENGIE!
Great game! I enjoy playing it in my free time, If I were to make a suggestion, it'd be able to change characters mid-game. A part from that, Great game.
The game is really fun but it's getting 4 stars because sometimes a pop up ad covers the button to go to the main menu so you can't leave a game after its done sometimes.
Enjoyable, but very stripped down version of tf2. No secondary weapons, no hitmarkers, most animations absent. Buggy and has invasive ads unless you pay £5 to remove them. Ended up uninstalling.
Not bad. The only mode I can play without lag or game crashing is the first area on competitive mode. The AI is OP at times (Sniper and Pyro) but most of the mercs are WACK when you play as them (Soldier, Demolition Man, Medic, Pyro and Spy.). And hopefully someday you guys can make enough profit off of ads that you can fix ALL the bugs in game. Also this is so good someone needs to tell Valve Corporation.
Wish more people can find this game and play. this is actually fun fan made tf2 and very accurate, including graphics but I rarely see other people and yea could be buggy sometimes.
Great game. Closest thing to TF2 on the phone you can get. It is nowhere near the full game and could use a few updates to make it much better but It definitely serves its purpose and is not a bad game.
Hello so yeah I give it 4 stars and the only problem I have the a AD that just appears and won't go away and it bothers me please fix it IDK if it's a glitch or something that you guys put in the game thank you for reading this.
This game is great I think you guys can improve more like add a crouch button and make the game not laggy and make the battle not loud and make the maps more bigger like tf2 make it 9v9 because it's way more fun, there a lot for you guys to fix and make there's a future for this game to be better
I love game is the best is just one problem to much ad i can't even press the home button after a match because there is a ad blocking the button to press.
Contact developer :
Game was Removed from Play Store
Leave your feedback regarding Team Factory 2 Mobile
If you like the content that we provide since 2012, put a smile on our face and give us a like or share this with your friends on any social platform. If you want to support this project, any crypto donation of $0.5, $1, $2, $3 is welcome!
You can find our crypto wallets on https://free-apps-android.com/buy-us-a-coffe/
Sponsored Links