[App] To Do List with Reminder
 jw library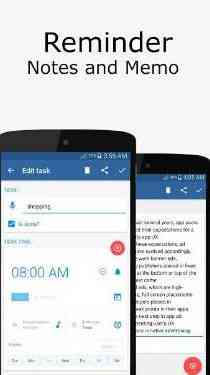 You can use the app to manage your routines, plan your schedule and organize your daily tasks in a clear and easy way.
The app helps in increasing your productivity and keeping track of your to be done tasks.
You can easily add repeated alarm for your routine activities, or add an alarm to any specific task so you won't miss any of them.
New features :
Versions 1.7 , 1.8 :
Synchronization, you can synchronize your tasks with Google Tasks.
Widget has been added.
Lists , create and manage lists to group and classify your different tasks.
Alarm snooze.
Minutes repetition , Beside (months, weeks, days, hours) now you can set the repetition in (minutes).
Other theme and performance enhancements.
Version 1.6 :
Periodic repetition , beside weekdays, now you can set the repetition to any time periods (months, weeks, days, or hours).
Night mode , dark theme has been added.
View type, You can choose the view type (list or grid).
Now you can also create a task with only date without determining specific time.
Add the ability to create multiple tasks at once (saving each line as separate task).
Select many tasks and share them as one task.
You can set the default ringtone for all tasks from app settings.
Other usability improvements.
To Do List with Reminder user reviews :
This app is almost perfect some disappointing parts are when we are working with our device and a reminder comes up a notification with no name!!! Shows and I don't know what was that!!! And another important thing it does not sort by nearest due time to latest, another suggestion is reminder by specefic location and the ability to attach files I appreciate if you consider them in the next version.
tact

Hello Mohsen, I'll consider your notes and suggestions in the next version of this app, thanks a lot for your great help, I appreciate it.
Initially, the application worked pretty well, and then, after 7-10 days, I stopped getting any notification. Had mailed about the issue, but didn't get any response, let alone the resolution.
tact

Hi Lalit, if the phone on silent mode app notifications will be silent too, unless you changed that from app settings. Also, try to set the battery optimization settings to off for this app from phone's settings.
Excellent app. Tried a few other ones. This one has the best user interface. A joy to use, Apart from the adverts, they are really taking over, Can I pay for this app to get rid of the adverts ??? Thank you for your reply. Some ads are bright red colour, they just take over the page, look forward to your future update.
tact

Hello Tony, I'll add a paid version with no ads on a future release of this app, by the way this app currently shows only small ads at screen bottom and doesn't show any pop-up ads for more information about this app ads please refer to this app privacy policy you can access it from app settings under about us section. Thank you for your kind words
By far the best app I've ever downloaded in my life and I'm not over exaggerating, I wish it had a student feather (I'm a students and I use work) it helped me a lot with online school to stay on track in my day but also the whole week, I get notifications on time wish is something not all apps provide, I love it and it's staying in my phone, Not to mention, the person who made this app replies to reviews… like c'mon it's so underrated (hope video ads won't mess it up)
tact

Hello Peanut, really glad you are finding my app helpful. Thank you so much for your encouraging words, and I'll take your note on account. Happy organizing
I haven't been on point as I had hoped therefore this app wasn't used as frequently. The reminders I needed, Dates, Ect were efficient, effective and mostly productive. I'm looking forward to using it more to organize my and business. Features were perfect for anyone. Great
tact

Hello Terri, really glad you liked my app. Thank you so much for your postive review. And all notes and suggestions from you will be always welcome. Happy organizing
Have tried many apps, ended up writing reminders on sheets of paper. Now been using this app. This app is simple to use and its reminder layout is brilliant. The best 'to do and reminder' App!
tact

Hello Malai, really glad you liked my app, thank you for such a delightful review. Happy organizing
Contact developer :
Download To Do List with Reminder from Play Store
Leave your feedback regarding To Do List with Reminder
Get more android apps/games/updates
Subscribe to our mailing list and get new android apps / games and updates to your email inbox.
Thank you for subscribing.
Something went wrong.