[Game] Transformers Earth Wars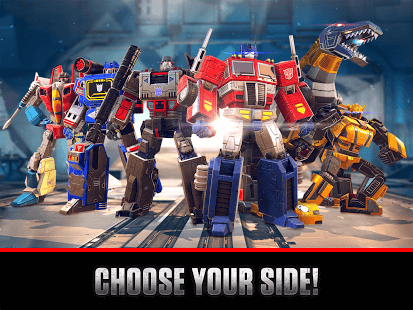 THE TRANSFORMERS ARE BACK ON EARTH!
In this digital version of the classic battle of Good vs Evil, Autobots vs Decepticons, commanders around the world must choose a side, assemble the ultimate team of Transformers characters and prepare their defenses in the final fight for planet Earth in Transformers: Earth Wars!
Whose side are you on? Earth's fate is in your hands!
ASSEMBLE THE ULTIMATE TEAM OF TRANSFORMERS CHARACTERS
Create the ultimate team of Transformers characters by choosing from over 40 legendary bots including Optimus Prime, Megatron, Grimlock, and Starscream!
Use the Space Bridge to summon extra reinforcements from Cybertron!
USE ABILITIES
Change form to turn the tide of battle; deploy Starscream's Airstrike, ram defenses with Optimus Prime or repair your team with Ratchet's healing ability!
BUILD A MIGHTY FORTRESS
Construct an impenetrable fortress using advanced Cybertronian technology!
Build up your resource stockpiles and construct powerful defences!
JOIN ALLIANCES
Autobots alliances defend against Decepticon attacks in global competitions and weekly events!
Co-ordinate your Decepticon alliance to rain devastating strikes upon Autobot bases!
FIGHT FOR THE FUTURE OF EARTH
Stunning 3D graphics and animations bring the characters to life in the app; check them out in the showroom!
Global chat and alliance features make it a multiplayer experience worth fighting for!
Choose your side, the battle is in your hands!
Roll Out!
Please note that Transformers: Earth Wars is free to download and play, however, some game items can also be purchased for real money. If you don't want to use this feature, please disable in-app purchases. Wi-Fi or cellular connection is required to play.
Transformers: Earth Wars is brought to you by Backflip Studios, Space Ape Games, and Hasbro, Inc. Search the Play Store for "Backflip Studios" to see all of the other Backflip games.
TRANSFORMERS and all related characters are trademarks of Hasbro and are used with permission. © 2015 Hasbro. All Rights Reserved.
Thanks for playing!
Transformers Earth Wars user reviews :
This game is nice especially if you are a transformers fan (which I am) but I am having a bit of a problem, I can't seem to change factions (from Decepticons to Autobots or vice versa) and I can't even delete my save game to start a new game with a different faction. I truly do hope you can solve this problem because it is very annoying.
he game is great, BUT,…..There is some issues. If you are a leader of an allience, you must check to see wh is active and who are not. If you find a player that has not playes in a month or even more, you can not kick the person there and then. You have to go out of that screen back to the game then go back into Leaderboard, find the person you want to kick and remove him/her. If you can fix this, the game would become easyer for Commanders.
My first thought on this was that it might just be yet another CoC clone but I gave it try and it was totally worth it , this is one of those games where your strategy actually matters of course there still exists a pay to win criterion but that just gives you a boost and nothing else so even if you just spend enough time on the game , it will reward you for it .
Nice game so far Great G1 transformers characters in a fun game. The gameplay it's self is a bit frustrating though as you can not control the target of the bots thru out the attacks. Time will tell if this is a $ player wins all or not. With it being a Transformers game I only assume that will be the case long term. As of right now a must play for a Transformers fan
I love the game at first I had a few problems like when I went to get a new Autobot it wouldn't teleport it in. Other than that it's all good love it keep up the work guys
They promised a free character if you signed up early, sent the link when the game went live, then failed to give me what they promised, because I clicked the link from a PC instead of my phone. No warning in the email and no way to fix this. I'm really disappointed.
Hi Zack, Thanks for contacting us. We are aware of some problems with getting the pre-reg bot. If you could please contact support from the game by Menu > Community, then we will be able to assist you more. You can contact us at Support[at]transformersearthwars.com. I apologize for the inconvenience. Kind Regards, Chris TF: EW Support
Latest Update :
Battle Pass is here!
We are introducing a new Battle Pass feature where by completing daily and seasonal challenges you can earn Battle Pass points that can be used to get exciting new rewards, including a new Shattered Glass skin for Megatron and Optimus Prime.
The first Battle Pass season will start on 10th of February.
Contact developer :
Video :
Download Transformers Earth Wars from Play Store
Leave your feedback regarding Transformers Earth Wars
Get more android apps/games/updates
Subscribe to our mailing list and get new android apps / games and updates to your email inbox.
Thank you for subscribing.
Something went wrong.