[Game] Vainglory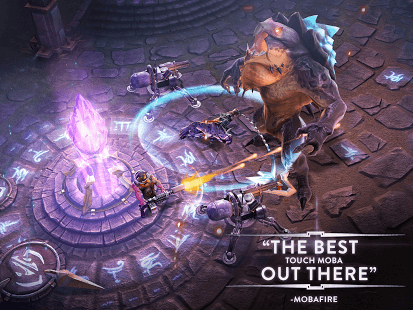 Outplay real opponents in this deep, uncompromising real-time MOBA.
Fight with lightning-fast controls using powerful heroes. Destroy the enemy Vain crystal and claim glory! Watch the preview video now to see real gameplay of 3-vs-3 multiplayer battles. (Yeah, it really looks like the screenshots.)
GAME FEATURES
FREE TO PLAY AS MUCH AS YOU WANT.
Dive into a complete MOBA by veteran developers from top AAA studios.
Immerse yourself in a stunning world with ultra-high fidelity graphics.
Play with precision controls that amplify your skill.
Blaze through fast-paced, 20-minute matches.
Explore immense variety and flexibility in item builds for each hero.
True laning, ganking/objective-taking and teamfighting phases.
Party up with friends or follow matches in spectator mode.
Collect cards and trade them in for three tiers of hero skins!
New heroes and features coming regularly.
POWERED BY THE E.V.I.L. ENGINE
60 frames per second!
Sub-30ms control responsiveness
1.3 million polygons in the game map
TELL US WHAT YOU THINK!
We want this to be the most fun, legit core MOBA experience possible. If you have suggestions, feedback or bugs to report, let us know! Your thoughts matter to us: feedback[at]superevilmegacorp.com
JOIN THE CONVERSATION
forums.vainglorygame.com/
twitter.com/vainglorygame
www.twitch.tv/vainglory
www.reddit.com/r/vainglorygame
www.facebook.com/vainglorygame
A MESSAGE FROM VAINGLORY'S DEVELOPERS
We've spent the past few years crafting a new breed of mobile game with the polish and quality you've come to expect from PCs and consoles. We want you to have an edge-of-your-seat MOBA experience, but we know things can always be better. Your feedback and priorities will drive our work ahead, and you'll also see new app and feature updates regularly.
We are a small startup and this is our first game ever, so we'd love to hear your thoughts and learn from you. Check out the game and drop us a note from time to time at feedback[at]superevilmegacorp.com. And keep an eye out for Super Evil devs in battle!
Vainglory requires Android 4.4.2 Kitkat or newer.
Note: You'll need a network connection to play.
VAINGLORY
We've been waiting for a game like Vainglory to come along on touch screens. It's not just the best touch screen MOBA out there; it's a completely legit core game in its own right. Once you play it, you'll understand why we got excited about it! -MOBAFire CEO M. Scott Reinders
Immersing you in a colorful and beautifully realized world, Vainglory gives you fast-paced and intense 20-minute matches on the go. Pick a hero and duke it out with unique abilities played with intuitive precision controls. -Curse.com
…when it comes to bridging the gap between PC and mobile, Vainglory might actually be the missing link. – MMORPG
This is one of the best multiplayer experiences on mobile. Vainglory is a totally legit MOBA experience, available any time in the palm of your hand. – IGN
Vainglory is the first mobile game to be a legitimate competitor with the best of the best PC MOBA iPhone Life
People's Choice Award -11th International Mobile Gaming Awards
Best Technical Achievement -11th International Mobile Gaming Awards
Vainglory user reviews :
I first downloaded this game back in 2014/15 and had been invested to it ever since as it was a game like no other. It's animation, visual effects, graphics, and overall design with each character/hero was enough to draw in anyone (clearly not enough recognition, most people I asked wouldn't know about it). VG golden time for me, was back in 2014/16/17, when things worked well, but over time became…whatever it is now. Just wished they kept it alive for us fans who still want to play.
Amazing game! I've been playing this game for years and I can at least say that the graphics are spectacular, gameplay is smooth, and the game in itself is really fun. However, my biggest problem is the typical toxic player base and long wait time that are usually found in MOBAs. It could also use some quality of life improvements in team communication during a match.
Samsung Galaxy Note 4 Im really enjoying what I am playing. And please add skins for Taka devs, everybody is waiting.
Amazing Competetive, skill based, immensely entertaining game.. cant believe its on mobile. Good community with dedicated devs that are very involved. Truly amazing
Latest Update :
Updated App Icon for Vainglory: Community Edition art contest.
For more info:  www.vainglorygame.com/news/vainglory-ce-art-event
Contact developer :
Video :

Leave your feedback regarding Vainglory
Get more android apps/games/updates
Subscribe to our mailing list and get new android apps / games and updates to your email inbox.
Thank you for subscribing.
Something went wrong.